---
Virtual Playgrounds See Gradual Decline
Despite Loss, Webkinz Maintains Lead; Club Penguin Holds Steady
"All indications are that the virtual playgrounds around the world have not lived up to the widely held expectation that they could somehow defy the dynamics governing brick-and-mortar toy sales."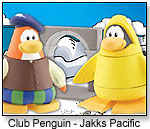 About a year ago, I wrote an article in the UK Toy News Magazine that said that there were really only five virtual playgrounds worth talking about – Mattel's Barbie Girls, Ganz's Webkinz, Disney's Club Penguin (toy license: Jakks Pacific), Neopets (toy license: Jakks Pacific) and Russ Berrie's Shining Stars. I also said the following:

"on the basis of all these metrics, I must conclude that virtual playgrounds are no longer growing either in terms of traffic or in terms of interest. That is at least anecdotally supported by the reports received from retailers that Webkinz sales

have slowed down fairly significantly. Also, to judge from their most recent quarterly report, the same seems to have happened to Shining Stars of Russ Berrie."



According to the NPD Group, brick-and-mortar retail sales of Web-connected toys (i.e., those with a physical and virtual component) for the 12-month period ending April 2009 were $446.3 million, down from $465.4 million the year prior. This is a drop of 4.2 percent and is approximately in line with what the sell-through numbers of my retailer panel show for the same period. There were also a number of changes for the category at the key brick-and-mortar retailers, which again are not suggestive of a buoyant trend line for the category.

First, the line-up of the five has not changed. Nobody out there even comes close. The main characteristics of these five properties are:

| | | | | |
| --- | --- | --- | --- | --- |
| Character | Manufacturer | Type | In Mass | How |
| Barbie Girls | Mattel | Subscription | No | The line of MP3 players has been discontinued |
| Webkinz | Ganz | Buy dolls at retail | Yes | Wal-Mart no; Target now online only, used to have shelf presence and an endcap; Toys "R" Us yes, aisle cap |
| Club Penguin | Jakks Pacific | Buy dolls at retail | Yes | Wal-Mart and Target no; Toys "R" Us yes, now also has endcap |
| Neopets | Jakks Pacific | Buy dolls at retail | Yes | Wal-Mart no; Target on shelf, used to have endcap, Toys "R" Us on shelf |
| Shining Stars | Russ Berrie | Buy dolls at retail | Yes | Wal-Mart and Target no, Toys "R" Us aisle cap |


Note that Barbie Girls used to have an MP3 player on the shelf, but this was a flop and has now disappeared. The only product that has expanded its brick-and-mortar presence is Club Penguin, which tells me that Disney's sharper focus on choosing highly competent licensees — which led to the appointment of Jakks Pacific — is paying off on the shop floor.

From all accounts, it appears that the virtual playground offering overall has been a less than stellar success, at least in mass. When you lose endcaps and shelf positions, it basically means you did not perform up to expectations.

However, since the action for virtual playgrounds is in cyberspace, it behooves us to have a look there. Again, it does not seem that they are doing too well.

First, Web traffic and blog metrics in the United States. Web traffic in terms of unique visitors:
(Key order: Webkinz.com, BarbieGirls.com, ShiningStars.com, Neopets.com, ClubPenguin.com)




Secondly, Web traffic in terms of visits:




Thirdly, blog metrics: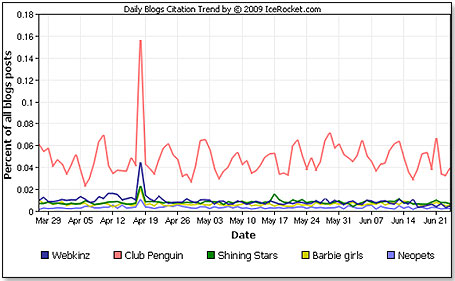 The only one that seems to be doing acceptably well is Club Penguin, both in terms of Web traffic (which denotes active consumer involvement) as well as in blog metrics (which relate to consumer interest). All others are either flat or down.

I also looked at the Web traffic picture (as per Google searches) outside the United States and took three key markets as an example, Canada, the UK and Germany:

Canada - Again here, Club Penguin seems to be doing pretty well wheras the other four are either declining or non-existent: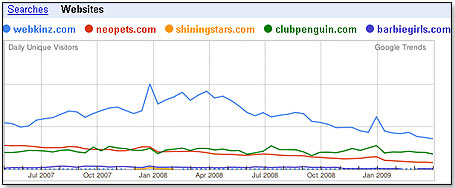 United Kingdom - Exactly the same picture as in Canada: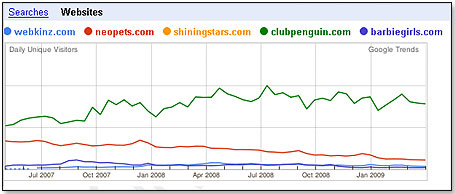 Germany - And nobody does well in Germany. All three participants are in sharp decline: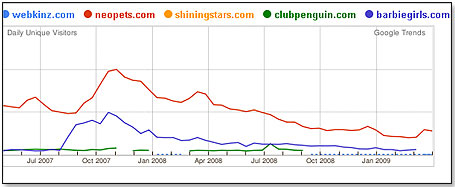 All indications are that the virtual playgrounds around the world have not lived up to the widely held expectation that they could somehow defy the dynamics governing brick-and-mortar toy sales. The picture is pretty much identical for both spaces: sales are declining, interest levels are waning, and electronics continue to take bites out of the traditional toy market, whether it is housed in brick and mortar or in cyberspace.

Having said all this, I also consulted with one of the top people in the toy field, Chris Heatherly, vice president and general manager of Disney Electronics, The Walt Disney Company, who had the following to say on the subject: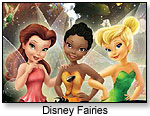 "Club Penguin continues to grow in membership as does our new Fairies online world. Those properties are hotter than ever. And certainly we see avatars and virtual environments becoming a ubiquitous part of video gaming and online experiences (Mii on Nintendo, Playstation Home, Sims 3, Spore, etc). Those things are not going away any time soon. What is happening is that consumers are becoming a lot more discerning about the worlds that they choose to participate in and they are selecting the best ones. There has been a digital gold rush for the last few years into virtual worlds for kids, both from toy companies and from VCs. Many of these worlds were very shallow and did not offer the quality or depth of experience to keep the audience engaged.

There is a lot of competition in social media right now, not just virtual worlds but Facebook and Twitter, and kids are not going to keep investing into worlds that don't have the depth and the audience. Just like we see in the adult space, there are going to be very few sites that can get an audience large enough to become self sustaining. What happened with most of the toy companies is that they rushed out, cobbled together me-too products with very little depth and play time, and they underinvested in ongoing development and service, and kids saw through all that and moved on. Many of our competitors in the toy space see online worlds as the next big toy gimmick — like LED lights or lenticular graphics — where we see them as virtual theme parks that require a high-quality guest experience and ongoing investment and innovation. It's just a different mentality and not one that the toy industry is accustomed to."

What this tells me is that you can do well with virtual playgrounds if you do a good job, select good licensees, promote the brand well, and take the entire concept seriously. Right now, this is a zero-sum game — you can only grow if you take sales away from a competitor — and in this, only the best prevail.

Writer's Bio:
Lutz Muller is a Swiss who has lived on five continents. In the United States, he was the CEO for four manufacturing companies, including two in the toy industry. Since 2002, he has provided competitive intelligence on the toy and video game market to manufacturers and financial institutions coast-to-coast. He gets his information from his retailer panel, from big-box buyers and his many friends in the industry. If anything happens, he is usually the first to know. Read more on his website at www.klosterstrading.com.
Read more articles by this author
THIS BANNER IS AN AD:
---
---