---
Cloud B Soothes Children to Sleep
Innovative Apparel and Plush Deliver a Good Night's Rest
"The best product is not necessarily the most successful. The best-marketed product is usually the most successful." — Emily Chae, Cloud B
This article is a paid advertorial.
Created with the desire to help children sleep and simplify parents' lives, Cloud B's award-winning plush and apparel products are delivering what everybody wants: a better night's sleep.

SOOTHING THE CHILD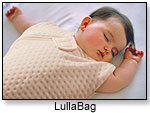 Founded in 2002, Cloud B identified a relatively untapped market niche — the children's sleep category.

"Two of the founders were new mothers at the time," Emily Chae, marketing associate for Cloud B, told TDmonthly Magazine. "One received a European sleeping bag as a gift, which allowed us to research and analyze the product and the entire sleep category."

Cloud B set out to create well-researched and purposeful products.

"Cloud B products are developed in conjunction with an advisory board of pediatricians, teachers and mothers," Chae explained. This panel of experts ensures that all products are functional, safe, top quality, and designed for longevity.

OPTIMIZING SLEEP


Getting a good night's sleep isn't as easy as one would expect, and many parents are not aware of the problems their children are having. According to the National Sleep Foundation's 2004 Sleep America Poll, only 10 percent of parents/caregivers think their child has a sleep problem. In contrast, 69 percent of children experience one or more sleep-related problems at least a few nights a week.

Cloud B's lines are designed to address these issues. The patented Lulla Sleep System, which swaddles the child in a special blanket, focuses on helping sleeping infants maintain a constant temperature, giving them a better chance of achieving a deeper sleep.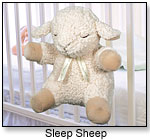 The delightful Sleep Sheep & Friends plush line utilizes light and relaxing sounds to create tranquil environments. Terry Myers, owner of Kaleidoscope Toys in Round Rock, Texas, explained, "The Twilight Turtle is a very unique product, a different type of lamp light. It's visually very soothing, and it's an animal, and animals are pretty popular."

"Customers come in and ask about these products," agreed Marilyn Walker, owner of PlayFair Toys in Boulder, Colo. "They're new and different — very pleasant."

For 2009, Cloud B released the Endangered Species Collection. "The successes of Sleep Sheep and Twilight Turtle allowed us to develop and launch our Twilight Sea Turtle, along with our entire line of endangered animals where we could focus a little more on education and, in our own Cloud B way, help bring some awareness to such a delicate subject," Chae said.

REACHING OUT

How popular are Cloud B products? Many of the items carry top sales status in independent toy and infant stores, and celebrities Gwyneth Paltrow, Katie Holmes and Angelina Jolie chose Cloud B to pamper their new babies.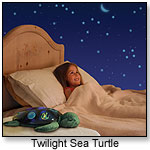 "The best product is not necessarily the most successful," Chae told TDmonthly. "The best-marketed product is usually the most successful."

She credits the company's comprehensive outreach marketing campaign with creating such strong brand recognition.

Retail support is also integral, and in response to retailers' input, the company is enhancing volume discount pricing, working on several shipping incentive programs, and offering a variety of retail POP materials designed to inform, educate and help the customer make a purchase decision. Cloud B will also release new product videos in the third quarter that Chae said will be instrumental in helping to convey the message and educate end customers on the products' benefits.

See products from Cloud B below:









Created to help babies get a full night's rest, the LullaBag works to help maintain a constant temperature for baby. It features a two-way zipper that helps facilitate diaper and clothing changes. The product is made with 100-percent outer cotton with a cotton-knit blend lining, and comes in two sizes (1-6 mos. and 6-18 mos.). Color options are Natural, Oceanmist Blue, Salmon Pink and Sage.

.

AD
---






.

AD
---






Gentle Giraffe offers a compilation of soothing sounds designed to entertain, educate and help children achieve a better sleep. Tucked inside Gentle Giraffe's back is a removable sound machine that plays four sounds specifically composed to transport young listeners to the beautiful and mysterious plains of the Serengeti. With Gentle Giraffe, kids will listen to the rhythmic drums of a native tribe, gaze over the cliffs of Victoria Falls and hear actual sounds from real giraffes. A portion of the proceeds from the sale of both products will benefit Conservation International Foundation, a wildlife conservation organization. This product received a 2009 iParenting Media Award and a 2009 NAPPA Honors award.

.

AD
---






This cuddly bear is made of eco-friendly materials, including hypoallergenic stuffing and sustainable toy bean fiber, and includes a heart-shaped vibration unit that offers gentle vibration at two modes: heartbeat, a soothing pulse; and continuous, a constant motion. It comes with the Polar Cuddle Cub Storybook that tells the bear's story while educating kids on endangered animals. This product received a 2009 iParenting Media Award.

.

AD
---






The plush is also a nightlight that projects an entire night sky onto the ceiling and side walls of any room. Additionally, it brings awareness to five endangered wildlife creatures, each highlighted on the turtle's shell. Simply press on each button to learn about a different creature, such as the California sea otter and the blue whale. A little storybook is included to provide facts about each endangered creature. Launch date: February 2008.

.

AD
---






.

AD
---






Featuring patchwork-style fabric and a hidden, heart-shaped vibration unit, this bear is designed to soothe and comfort young children, helping them sleep better. It functions with both a heartbeat vibration and continuous vibration, and can be hug-activated or set to go off after two minutes.

.

AD
---






Cloud b is proud to announce the arrival of Sleep Sheep travel size. Finally, parents will have an extra sleep companion to take on the go. The award-winning Sleep Sheep has four soothing sounds to help baby sleep better: Stream Sounds, Whale Songs, Spring Showers and Ocean Surf. At 8" tall, Sleep Sheep can go along on car rides, strolls and more. This item is designed for travel and to attach to car seats and stroller. Launch date: October 2006.

.

AD
---






.

AD
---






Lavender Lab uses the scientifically proven relaxation qualities of lavender to help soothe young children to sleep. It can be placed on baby's pillow during the day, then moved to bedside at sleeptime so, as children doze off, they are soothed by the tranquil scent. It's ideal for traveling with children and adapting them to new surroundings where environments may be unfamiliar. This product has received an iParenting Media Award and a 2006 Creative Child Magazine Top Toy Award. Launch date: 2006.

.

AD
---






Sleep Sheep is the perfect night-time companion to help soothe children to sleep in a safe, calming and effortless way. A sound box tucked safely inside Sleep Sheep lulls one to sleep with pleasant "white noise" — soft sounds from nature and the reassuring sound of a mother's heartbeat. Sleep Sheep's soothing sounds are an audio pacifier that can calm even the fussiest babies to sleep. When babies sleep better, parents sleep better.

.

AD
---
THIS BANNER IS AN AD:
---
---