---
Global Green Pal Inspires Eco-Education
Reviewers Appreciate Coral Laurel's Message and Materials
"[She] learned quite a lot about Australia, the reef ecosystem, and eco-friendly products." — Gail Richardson, mother

TDmonthly Magazine's Dolls Roundtable learned there is a world of wonder down under as they traveled with Restoration Gallery's Pink Coral Laurel, from the Global Green Pals line, in her pretty pink snorkel gear to Australia's coral reef. The combination of adorable, soft-bodied doll with a specific geographical base plus environmental-friendly message and design earned kudos from the reviewers.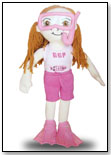 Global Green Pals™ Pink Coral Laurel by RESTORATION GALLERY LLC
Age: 3 and Up
Gender: Girls
Category: Dolls
MSRP: $29.99

TDmonthly rating:




What it is: The soft-bodied dolls in the Global Green Pals line are made with Oeko-Tex 100 certified organic cotton. The doll clothing and accessories are made from certified and tested organic and natural cotton, and the eco-felt accessories and stuffing are made of 100-percent post-consumer recycled plastic PET bottlesThe dolls have detailed embroidered faces and removable clothing. Each comes with a tag printed on recycled paper that tells the character's story and offers kid-friendly suggestions on how to save the planet. Restoration Gallery donates 1 percent of its profits to a network of environmental organizations worldwide.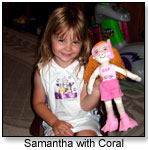 Packaging: All of the roundtable participants liked the fact that the doll came in a plain box, was easily accessible, and saved trees by using less paper for packaging. Editor's Note: The manufacturer informed TDmonthly that in order to protect the dolls and keep them clean during transit, they are shipped to retailers in a poly bag, which can then be removed for display. Direct consumer orders are also drop-shipped in a poly bag.

Playability: The first thing most of the children noticed were the bright colors on the clothing and the neat swim gear the doll had. They liked that it was soft and cuddly as well. "Great open-ended play," commented Pauley.

Simpkins was glad that the clothes and dyes used on this doll were safe and she didn't have to worry about Samantha (3) playing with the toy. Samantha wanted to take Coral Laurel to the beach. Richardson loved both the concept of a doll with an environmental lesson and the doll's eco-friendly design. "I also liked that she is one from a series, so one could add to the set and learn more about the environment while supporting a product that one doesn't need to feel 'guilty' about," she raved.

Cox didn't think the girls that came to her store liked the doll, since they passed by it in favor of Manhattan Toy's Groovy Girls. Davis noticed that the children she observed didn't interact with the doll for long, and thought that if they had more than one to play with, the pretend play with multiple dolls would have held their attention longer.

Educational Value: Lucy (5) "wanted to know where [Coral Laurel] was from," reported Pauley. "We went online and found pictures of coral and the Great Barrier Reef," she said, glad to see that Lucy (5) "really enjoyed learning about the oceans." Jessica (7) was intrigued by the stuffing made from recycled bottles. She "learned quite a lot about Australia, the reef ecosystem, and eco-friendly products — and what happens to toys once [kids] are finished playing with them," Richardson commented.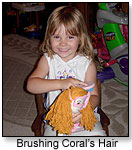 Davis agreed, "It is more fun to try and save the planet when you know something about it and how beautiful it is." Simpkins, however, thought Samantha (3) was too young to appreciate either the educational aspect or the environmental message. Richardson noticed that although a wonderful, educational discussion ensued with Jessica (7), Coral Laurel herself did not hold Jessica's interest for long. Jessica thought a younger relative might enjoy the doll more.

Cox appreciated that Global Green Pals is "a 'green' toy and it teaches kids geography, too."

Possible Improvements: Davis and Simpkins would like to see more accessories, native animals (Davis suggested a koala or kangaroo for this doll) and companion books. Richardson and Cox thought the doll would be better for younger children, because the elementary-age girls didn't seem interested. Cox pointed out that other "save the planet" and "green" toys and dolls have been introduced over the past three years, so the concept is not new.

"Do not eliminate the goggles; they are so cute," Pauley insisted.

Roundtable participants were retailer Alison Cox from Animal Quacker Toys in Raleigh, North Carolina; Penelope Pauley with Lucy (5); Gail Richardson with Jessica (7); Teresa Simpkins with Samantha (3); and doll collector and writer Virginia Davis.

Writer's Bio:
Virginia Davis is a freelance writer who is considered an expert in the area of dolls and collectibles. She has written hundreds of articles on dolls and toys, as well as other subjects, for numerous publications. She lives in Georgia.
Read more articles by this author
THIS BANNER IS AN AD:
---
---