Reed Elsevier Puts Playthings and Kids Today Up for Sale. July 31, 2009 — Amid a harsh economic climate, Reed Elsevier has put multiple Reed Business Information trade publications, including Playthings and Kids Today, up for sale, the Wrap reported. According to the Associated Press, Reed Elsevier Group's first-half profits dropped 48 percent, largely hurt by business-to-business advertising and promotion sales. The company is currently plagued by debt resulting from last year's acquisition of ChoicePoint Inc. and the retracted sale of RBI, which was expected to help fund that purchase. It has also been announced that CEO Tad Smith is leaving RBI.
Little Tikes Recalls Swing Sets. July 30, 2009 — The U.S. Consumer Product Safety Commission, in cooperation with Little Tikes, has announced a voluntary recall of about 1,950 Little Tikes Clubhouse Swing Sets because the swing seats can come off and cause children to fall if not assembled correctly. No assembly directions were provided for the swing seat harness. The set retailed at Walmart, Toys "R" Us and other stores from October 2008 through March 2009 for about $450.
Global Toy Sales Increased in '08. July 29, 2009 — Although worldwide toy sales for 2008 came in at a 0.8-percent drop from the previous year, exceeding $78 billion, the NPD Group's "Global Toy Trends and Forecasts 2009" points out that, had exchange rates remained steady, results would show that the toy market actually grew by more than 2 percent. According to a press release, the No. 1 toy market, the United States, saw $21.7 billion in toy sales. NPD anticipates global toy sales to surpass $80.3 billion in 2012.
Friday Vote to Determine if Children's Place Goes Big-Box. July 29, 2009 — Shareholders will vote Friday to determine whether Children's Place Retail Stores Inc. will continue as a children's clothing and accessories store with moderate growth, or go mass market and also incorporate kids' furniture and toys, according to a plan promoted by the company's former CEO and main shareholder, Ezra Dabah. The Wall Street Journal reported that since Dabah's resignation in September 2007, company stock has increased about 27 percent and, in 2008, net sales saw growth of 7.2 percent. Dabah's selection for leadership, should the mass growth route be approved, is Raphael Benaroya, chairman of Russ Berrie and former chairman of FAO Schwarz.
Sears to Open Toy Stores in Major Cities. July 29, 2009 — After decades without toys and the Christmas Wish Book, Sears, Roebuck and Co. will open toy shops at 20 Sears locations in August, including stores in New York, Chicago, San Francisco and Southern California, the Los Angeles Times reported.
Dr. Suess' Green "Lorax" Goes 3-D on Big Screen. July 28, 2009 — Dr. Suess' 1971 book "The Lorax" is slated to hit theaters in March 2012 as a 3-D animated film from Universal Pictures and Illumination Entertainment. Variety reported that the story, about how an entrepreneur's greed for a clothing business ruins a forest and the life that resides there, is particularly timely among today's eco-friendly themes.
Toy Fair 2010 to Host Earth-Friendly Product Zone. July 28, 2009 — Green initiatives have grown so in the toy industry over the past few years that the Toy Industry Association is designating an Earth-Friendly Product Zone at Toy Fair in February 2010 for those exhibitors who want to be easily recognized by retailers as "green" manufacturers. One-fourth of buyers at Toy Fair 2009 expressed focused interest in eco-friendly and sustainable products. The new earth-friendly space will be located on aisle 5400 on Level 1 of New York City's Javits Center.
Swine Flu Sparks Warning Against Plush Toys. July 28, 2009 — In the UK, the Department for Children, Schools and Families has issued an advisory to schools and nurseries that kids should not play with soft toys as they are difficult to clean and could spread the H1N1 virus, swine flu. The Guardian reported that the Department also advised against the sharing of crayons and musical instruments, and encouraged schools to consider canceling large assemblies.
Baby Bouncer Chairs Recalled. July 28, 2009 — The U.S. Consumer Product Safety Commission, in cooperation with BabySwede LLC, has announced a voluntary recall of about 6,500 BabyBjorn Babysitter Balance and BabyBjorn Babysitter Balance Air bouncer chairs because sharp components in the padded portion can protrude and endanger children. No injuries have been reported. The products retailed at juvenile product and mass retail stores as well as online and via catalog from September 2008 through July 2009 for $170 and $190.
Former President of Pressman Toy Passes. July 28, 2009 — Lynn Pressman Raymond, who passed away on July 22, 2009 at the age of 97, will be remembered by the employees of Pressman Toy Corporation, where she reigned as President for over 20 years, after succeeding her husband, Jack, the founder of the company. At a time when few women entered the ranks of executives, Lynn ran the toy company in her own flamboyant and one-of-a-kind style. Known for her lavish parties, Mr. John hats, as well as her business acumen, no one ever came close to her style and panache. Her legacy will live on in the hearts and minds of all who came into contact with her. Whether they were employees, toy inventors, advertising executives, accountants, bankers, lawyers, or buyers, once you met Lynn, you never forgot her. Announcement from a company statement.
Schleich Names New Senior Execs. July 24, 2009 — President Walter Haack of Schleich North America has announced the appointments of Peter Eggers as executive vice president of administration and Matt Dawes, former VP of sales at RC2 Corporation, as executive vice president of sales and marketing. "Peter and Matt will work with the more than 100 employees in North America to continue to deliver the highest level of customer service to our toy retail partners so that, together, we can continue to bring our high quality animal and historical figurines and play worlds to consumers," Haack said in a press release. CEO Sam Armstrong recently left the company for other pursuits.
Rhythm Band Instruments Acquires Whacky Music. July 24, 2009 — Rhythm Band Instruments LLC has announced its purchase of the assets of Whacky Music Inc., and is taking on production and global sales of the Boomwhackers line as well as distribution of Chroma-Notes Composer software in the United States and Canada. "Boomwhacker tubes have developed such a special place in music education, recreational music making, and even mainstream music performance and recording, that we feel this is a tremendous boost to RBI's already significant product offerings," Brad Kirkpatrick, president of RBI, said in a press release. Dealer and distribution agreements already formed are expected to remain unchanged. Craig Ramsell, inventor of the Boomwhackers, will continue promoting the Chroma-Notes color scheme through his business, Chroma-Notes LLC.
Amazon Sales Up, Profits Down in 2Q. July 24, 2009 — Second-quarter sales for Amazon.com grew almost 15 percent, hitting $4.65 billion, but a $51 million settlement with Toys "R" Us over a previous exclusivity agreement put profits at $142 million versus last year's $158 million. The Associated Press reported that book sales were up while video games sales declined. North American sales overall increased 13 percent.
KB Toys Auction Set for August 6. July 23, 2009 — The intellectual property assets of bankrupt KB Toys, including 15 registered trademarks and more than 65 Web addresses, will be sold at an auction beginning Thursday, Aug. 6, Streambank LLC announced. Bids will be accepted until 4:00 p.m. on Tuesday, Aug. 4, and an Asset Purchase Agreement can be obtained by contacting Streambank at 781-444-4940.
Mattel's Avatar Toy Line to Feature Augmented Reality Tech. July 23, 2009 — Mattel's upcoming line of toy vehicles, heroes and creatures based on James Cameron's "Avatar" film, and developed alongside Twentieth Century Fox Licensing & Merchandising, will be the premier toy line — in fact, the first mainstream consumer line — equipped with augmented reality technology, a press release announced. Each Avatar piece will come with a 3-D i-TAG that, when scanned with a webcam, will show special data on the computer screen, such as images or animations of the action figures, or in the case of the Battle Pack, will even reveal interaction among characters represented by two different i-TAGS being scanned at the same time. The Avatar products from Mattel are expected to hit shelves in October, following a preview at San Diego Comic-Con this week. The technology behind the i-TAG was created by a company called Total Immersion.
Joovy CEO Wins $8.4 Million in Lawsuit. July 22, 2009 — Robert Gardner, founder and CEO of Joovy Holding Co. and Joovy LLC, was awarded $8.4 million in a judgment against Baby Trend and its founder, Denny Tsai, in which the jury found that the parties were involved in wrongful discharge of Gardner in addition to breach of contract, fraud, wrongful deduction of compensation and failure to reimburse. According to a press release, Baby Trend is expected to file for bankruptcy before any post-judgment trial.
Toddler Trapped in Toy Box in Critical Condition. July 22, 2009 — An 18-month-old Cranberry, Pa., girl was discovered Monday morning in a closed toy box, unresponsive, and is now in critical condition at a children's hospital, the Pittsburgh Post-Gazette reported. Details about the toy box or this particular situation are unknown; however, the U.S. Consumer Product Safety Commission periodically issues recalls of toy chests or toy boxes with lids that can close unexpectedly and cause injury or death to young children. This CPSC document offers a warning to consumers about the potential dangers of toy chests.
LEGO Recalls Remote Controls for Overheating Batteries. July 21, 2009 — The U.S. Consumer Product Safety Commission, in cooperation with LEGO Systems Inc., has announced a voluntary recall of about 1,600 Power Functions IR Remote Controls after receiving four reports of batteries overheating. This problem could present a burn hazard to customers, though there have not been reports of injuries. The remotes retailed at LEGO.com and in LEGO catalogs from April through May 2009.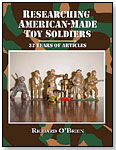 New Book on Toy Soldiers Marches Forth. July 21, 2009 — Richard O'Brien, author of "Collecting Toys" and "The Story of American Toys," has released "Researching American-Made Toy Soldiers: 32 Years of Articles," published by Ramble House. At age 11 or 12, O'Brien became intrigued with who made toy soldiers and how they were cast and painted. As an adult, he began researching papers of incorporation and old trade magazines and eventually tracked down information on the makers, even those whose soldiers were produced without identifying marks. What he learned appeared in his books and in publications such as Old Toy Soldier Newsletter, Antique Toy World, Toy Soldier Review and Old Toy Soldier magazine. His new book reproduces, in facsimile form, these articles, from 1977 on.
McFarlane and Mechner Team Up for "Prince of Persia" Graphic Novel. July 21, 2009 — The "Prince of Persia" graphic novel anthology will launch in April 2010. The Disney Book Group release will be penned by Jordan Mechner, creator of "Prince of Persia" videogames, and illustrated by Todd McFarlane, founder of McFarlane Toys and creator of Spawn comics. According to a press release, the graphic novel's debut will be followed by Walt Disney Pictures and Jerry Bruckheimer Films' feature "Prince of Persia: The Sands of Time," due out May 28, 2010.
1.4 Million Kids' Clogs Recalled for Choking Hazard. July 21, 2009 —The U.S. Consumer Product Safety Commission, in cooperation with Brown Shoe Co. and Pagoda International Footwear, has announced a voluntary recall of about 1.4 million Buster Brown & Co.'s Clog Children's Shoes because the decorative wheels can come off and present a choking hazard. The shoes were sold from August 2007 through June 2009 at stores including Famous Footwear, Sears, Target, Wal-Mart, Meijer, Bealls, Rack Room, JC Penney and Shoe Show.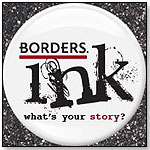 Borders Swaps Music for Teen Novel Sections. July 21, 2009 — Come the end of August, 80 to 90 percent of the more than 500 Borders stores nationwide will host Borders Ink shops dedicated to teen-targeted books, graphic novels, and tie-in merchandise related to series such as Stephenie Meyer's "Twilight." In many stores, the new sections are replacing portions that were devoted to DVDs and music because of declining sales in these areas. One book industry expert, Professor Albert N. Greco of Fordham University's Graduate School of Business Administration, predicts that revenue from science fiction, young-adult fiction and graphic novels will see a 13 percent increase this year, the Wall Street Journal reported.
Toys "R" Us Holds First "Christmas in July" Sale. July 21, 2009 — This week marks the first-ever "Christmas in July" sales promotion for Toys "R" Us, which will wrap up the week-long sale Saturday with in-store events including games and Christmas card-making, the Baltimore Sun reported. Such early Christmas promotions are a tactic being adopted by various retailers trying to get a head start on holiday sales in this rocky economy — and compensate for traditionally slower business before the back-to-school push.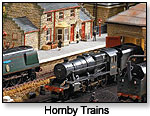 Hornby Snags Toy License for 2012 Olympics. July 21, 2009 — Hornby has been awarded a license to create a line of collectibles and toys for the 2012 Olympic Games in London, including London buses and taxis, an Olympic Stadium model, die-cast figures and more. The licensed products will be produced under the company's Hornby, Corgi, Scalextric and Airfix brands, and the debut items will be released later in 2009, Reuters reported.
London's Hamleys Announces Top-10 Holiday Toys. July 21, 2009 — British toy retailer Hamleys has announced its predictions for the top-10 toys this holiday season. The list includes, according to the Canadian Press, Battle Strikers from Mega Brands, Transformers Bumblebee Helmet by Hasbro, Transformers Movie Leaders by Hasbro, V Motion by VTech, Kidizoom Camera by VTech, Barbie and The Three Musketeers Doll by Mattel, Barbie and The Three Musketeers Miette Kitten by Mattel, Rubik's 360 from Drumond Park, Bop It by Hasbro, and Lego Minotaurus Game from Lego.

Hasbro Profit Up in 2Q. July 20, 2009 — Hasbro displayed a strong performance in the second quarter, seeing a net income rise of 4.8 percent, to $39.3 million, up from $37.5 million a year ago. The growth was due in part to toys related to summer films "Transformers: Revenge of the Fallen" and "G.I. Joe: Rise of the Cobra," Bloomberg reported.
Child Sells Toys to Help Unemployed Dad. July 20, 2009 — The 11-year-old son of an Ohio man who's been jobless since December is selling his own playthings in hopes of raising money for his family, CNN reported. The boy, Zach McGuire, has also launched fundraising initiatives in the past, selling Kool-Aid for those affected by Hurricane Katrina and cocoa for California wildfire victims. His father described him as having "a big, giving heart."
Luv N' Care Recalls Gel-Filled Teethers. July 17, 2009 — Luv N' Care Ltd. has announced a recall of Nuby, Cottontails and Playschool teethers that are filled with gel containing Bacillus subtilis and Bacillus circulans bacteria, which could cause pain, diarrhea, vomiting or more series illness in babies and children if ingested. No sicknesses have been reported. The teethers were sold nationwide, and the recall affects 18 SKUs.
CPSC Denies Jewelry Association's Exclusion Request. July 17, 2009 — New CPSC Chair Inez Tenenbaum voted down a request Friday from the Fashion Jewelry Trade Association asking that glass and crystal beads used in children's jewelry be exempt from lead content limits set forth in the CPSIA. In an official statement, Tenenbaum explained that because mouthing and swallowing beads is normal behavior for infants and toddlers, and since lead in crystal or glass beads may be absorbed by the body if ingested, she could not grant the FJTA's request. Commissioner Thomas H. Moore also rejected the request, while Nancy Nord made reccommendation for a stay of enforcement.
TreeHouse Toys Relocates as Brilliant Sky in Michigan. July 17, 2009 — Lansing, Michigan's TreeHouse Toys & Books specialty store has closed and will reopen under the franchise Brilliant Sky Toys & Books in September. The new location, at Central Park Place in Okemos and just down the road from a Toys "R" Us, boasts 5,700 square feet and a large basement for storage. Brent Taylor, co-owner of the seven-store franchise, told the Lansing State Journal, "We really think this is the key to really thrive and grow, and strengthen the Brilliant Sky brand."
Mattel Profit Makes Big Jump in 2Q. July 17, 2009 — Price hikes and cost cuts contributed to Mattel's 82 percent earnings increase in the second quarter; profits hit $21.5 million compared to $11.8 million a year ago, despite a 12 percent drop in sales in North America and a revenue plunge of 19 percent. Dow Jones reported that Mattel reduced marketing expenses by 23 percent, cut product offerings, and eliminated 3 percent of its labor force back in November.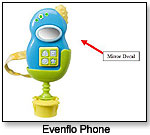 Evenflo Telephone Recalled for Decal. July 16, 2009 — The U.S. Consumer Product Safety Commission, in cooperation with Evenflo Co. Inc., has announced a voluntary recall of about 25,000 Switch-A-Roo Telephone Toys because the mirror decal can peel off and present a choking hazard. The product was sold at Toys "R" Us and other juvenile product stores, and manufactured between October 2008 and June 2009.
Harry Potter Makes Magic at the Box Office. July 16, 2009 — "Harry Potter and the Half-Blood Prince" pulled in more than $22.2 million at midnight showings Wednesday, debuting for fans on more than 3,000 screens and besting the previous Potter film release by $10 million, according to the Wall Street Journal. The latest movie's darker themes and romantic edge open it up to more mature audiences and fans of the popular "Twilight" film, and the initial numbers are no doubt an indication that it will continue to perform well, adding to the $4.5 billion success of the first five Harry Potter movies.
Wal-Mart to Introduce Green Labeling System. July 16, 2009 — All suppliers to Wal-Mart stores will soon be required to disclose the environmental impact of the products they make for a "green" labeling system for consumers to be rolled out as early as 2011 and in the years following. The Wall Street Journal reported that such requirements are likely to be costly for vendors, and the earliest reports will be mandated later this year, when some of the retailer's main suppliers must share information including carbon dioxide emissions and water use.
Toys "R" Us in Fixed-Price Lawsuit. July 16, 2009 — A consumer suit that alleges price fixing on baby products, filed against Toys "R" Us in Philadelphia in 2007, has been given class-action status by a federal judge, the Wall Street Journal reported. In 2007, the Supreme Court ruled that minimum-pricing deals between manufacturers and retailers are not necessarily against the law; however, U.S. District Court Judge Anita Brody maintained Wednesday that such agreements upheld by large retailers may be anticompetitive.
Miley Cyrus to Star in Fairy Film. July 16, 2009 — Author Aprilynne Pike's best-selling "Wings" novel for young adults will be adapted into a Disney screenplay starring "Hannah Montana"'s Miley Cyrus as the 15-year-old lead — a sheltered teen who discovers during a rough transition from homeschooling to a large high school that she's a fairy, Variety reported.
Duncan's Warball Changes Name After Lawsuit. July 15, 2009 — In response to a trademark infringement suit against Duncan Toys by Noasha LLC in December, Duncan is renaming its Warball card and marble game to Warstone, so as not to be in conflict with Noasha's Warbles product. ICV2 reported that existing inventory with stores and distributors will be sold, and Warball cards will be compatible with new Warstone launches.
Toddler Survives River Ride in Toy Truck. July 14, 2009 — Three-year-old Demetrius Jones weathered a two-hour, 12-kilometer ride down the Peace River in a toy truck after wandering away from his family's campsite close to Fort St. John, British Columbia, Reuters reported. A boater eventually discovered the boy floating in the truck; the child was unharmed.
NeuroSky Enters Exclusive Partnership With Uncle Milton. July 13, 2009 — Uncle Milton Industries and NeuroSky Inc. have announced an agreement to create games and toys built on NeuroSky's ThinkGear™ brainwave-recognition technology. The Star Wars Force Trainer, which hits shelves July 23, allows users to move an object with mind power via digital signals that are read by a headset and transferred to a base unit.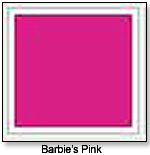 Barbie Scales Back to a Single Shade of Pink. July 10, 2009 — Since his appointment as general manager of the Barbie brand last fall, Richard Dickson of Mattel Inc. has been revamping marketing and design for the 50-year-old doll line: trading commercial spots for Diane von Furstenberg fashions and a lifesize Malibu dream house; cutting down on licensees; and trimming Barbie's color palette from 17 shades of pink to just one. Domestic sales of Barbie increased 18 percent in the second quarter, Fortune reported, marking the brand's most growth in three years.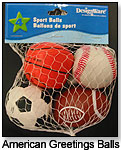 American Greetings Recalls Balls for Lead Paint. July 9, 2009 — The U.S. Consumer Product Safety Commission, in cooperation with American Greetings Corp., has announced a voluntary recall of about 90,000 packages of DesignWare Sport Balls in the United States and about 1,900 packages in Canada due to excessive lead levels on the surface of the basketball. The balls were sold at various stores from August 2004 through April 2009.
"Transformers" to Boost Hasbro Sales. July 9, 2009 — Already hitting No. 1 at the box office for 2009, "Transformers: Revenge of the Fallen" puts Hasbro is a strong position to outdo 2007 toy sales related to the premier Transformers film. While one analyst believes sales related to Transformers toys will be in line with those from two years ago, at $482 million, other analysts are anticipating sales of up to $600 million this year. The Wall Street Journal reported that the movie has exceeded $607 million at the global box office since June 24. Toys related to "G.I. Joe: Rise of the Cobra" are also expected to make a dent in the industry — though not as significant — given the movie's early August release. Analyst Lutz Muller believes G.I. Joe toy sales will hit anywhere from $150 million to $180 million in '09.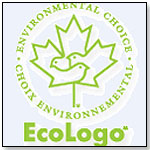 EcoLogo to Initiate Green Toy Standard. July 8, 2009 — EcoLogo is inviting interested manufacturers, retailers, consumers and government agencies to help develop a "green" standard that will be used to certify children's products as eco-friendly through a new program. Scot Case, executive director of the EcoLogo Program, said in a press release, "Growing numbers of toys and children's products have been making environmental claims like 'all natural' and 'earth friendly' without consistent meanings to the terms and without providing any proof of the accuracy or reverence of the claims." Sprig Toys commented with this Twitter post on Wednesday: "Green toy label comes at a cost is it worth it? With all costs of CPSIA compliance does this provide value 2 consumer?" linking to a cost of certification page that estimates $1,500 to $5,000 for initial audit and verification, plus additional fees for more products.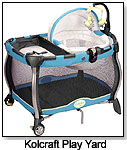 1 Million Kolcraft Play Yards Recalled. July 8, 2009 — The U.S. Consumer Product Safety Commission, in cooperation with Kolcraft Enterprises, has announced a voluntary recall of about 1 million Kolcraft, Carter's, Sesame Street, Jeep, Contours, Care Bear and Eric Carle Play Yards due to fall hazard posed by a faulty side rail. There have been 347 reports of these play yards collapsing, and 21 injuries, including bruises, scrapes and a concussion. The products were sold online and at Target, Walmart, Sears, Kmart and Babies "R" Us from January 2000 through January 2009. Customers can contact Kolcraft at 866-594-4208 for a free repair kit.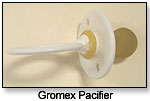 Gromex Recalls Pacifiers for Choking Hazard. July 7, 2009 — The U.S. Consumer Product Safety Commission, in cooperation with Gromex Inc., has announced a voluntary recall of about 700 Jaloma Pacifiers because the mouth guard and holes for ventilation are not large enough to comply with federal standards and could cause children to choke or have difficulty breathing. The pacifiers retailed at stores in New York and New Jersey from February 2008 through March 2009.
Nine Companies Face Federal Fines Under Lead Ban. July 7, 2009 — The U.S. Consumer Product Safety Commission has reported that manufacturers, importers and retailers of products involved in 2007 and 2008 recalls have collectively been charged more than $500,000 in civil penalties for known distribution of children's items containing more than 600 parts per million of lead. The individual violators and fines are as follows: Cardinal Distributing Co., $100,000; Dollar General Corp., $100,000; Family Dollar Stores, $75,000; Hobby Lobby Stores, $50,000; First Learning Company, $50,000; Michaels Stores, $45,000; A&A Global Industries, $40,000; Raymond Geddes & Co., $40,000; Downeast Concepts, $30,000. The recalled items included small toy vehicles, Halloween pails and baskets, a wooden blocks wagon, pens, bracelets, necklaces, water bottles and pencil pouches.
View-Master Focuses on the Big Screen. July 7, 2009 — The classic View-Master toy from Mattel's Fisher-Price division may hit movie theaters under a pending deal with DreamWorks that would involve writer-producers Roberto Orci and Alex Kurtzman, both of whom worked on the "Transformers" films with Hasbro, according to the Hollywood Reporter. Details about the storyline of the proposed family-friendly movie have not yet been revealed, although a since-removed weekend Twitter post from screenwriter Brad Caleb Kane compared it to the likes of "Goonies" and "Young Sherlock."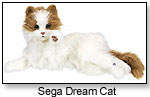 Sega to Launch Dream Cat. July 6, 2009 — The Japanese will be able to cuddle up with a new, furry robo-feline from Sega Toys Japan when Dream Cat Venus debuts at the end of the month. This robotic dream cat can move, lie down, and has sensors installed on its body and forehead in order to respond to touch. It can also purr in response to calming speech, CrunchGear reported.
Toy Recalls See 2Q Decline. July 2, 2009 — The Toy Industry Association reported that toy recalls in the second quarter of 2009 saw a year-over-year decrease of 75 percent, falling from 16 SKUs to four. Only one of those four recalled SKUs was related to lead content; none were due to magnets or fire/burn hazards. Two SKUs had to do with choking hazard, and the other posed a risk of pinching or laceration.
Drop-Side Cribs Recalled After Child's Death. July 2, 2009 — The U.S. Consumer Product Safety Commission, in cooperation with Simplicity Inc., has announced a voluntary recall of Simplicity Drop-Side Cribs following the death of an 8-month-old Houston child who suffocated between the crib side and mattress after a plastic connector broke. There have been 25 other reports of the drop side detaching from the cribs, due to deformed or broken tabs, connectors, tracks or other plastic components. The cribs were sold at mass, department and children's stores from January 2005 through June 2009.
Mattel Modifies Severance for Execs. July 2, 2009 — In order to update its severance plans, Mattel is doing away with long-term contracts for executives under the CEO, including CFO Kevin Farr, President of Mattel Brands Neil Friedman, and EVP of Worldwide Operations Thomas Debrowski, following expiration of their agreements over the next three years. These executives will likely continue working for the company after their contracts are up, Mattel said, at which time severance packages will become dependent upon existing compensation, Dow Jones reported.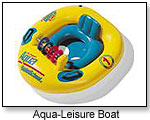 Baby Floats Recalled for Drowning Hazard. July 2, 2009 — The U.S. Consumer Product Safety Commission, in cooperation with Aqua-Leisure Industries, has announced a voluntary recall of Inflatable Baby Floats with faulty leg straps that can rip and cause children to fall into the water. Despite 31 reports of torn seats, there have been no injuries reported. The various floats retailed at several mass, hardware, drug and dollar stores from December 2002 through June 2009. Models affected by the recall include the following: Baby & Me Combo, Deluxe Baby Boat, Deluxe Toddler Racer, Cozy Crab Sunshade Float/Crabby Baby Boat, Ticklish Turtle Sunshade Float/Baby Boat, Toddler Race Boat, Aquarium Baby Float, Baby Adjustable Sunshade Boat, Sunshade Wave Rider Float, Sunshade Buggy (girl and boy), Kiddie Cabin Cruiser, Sing-Along Wave Rider, Quacker Float, and Squirtin' Tootin' Tugboat.
CPSC Stays Lead Limits for Bikes and Strollers. June 30, 2009 — The U.S. Consumer Product Safety Commission announced a stay of enforcement on Sec. 101 of the CPSIA until July 1, 2011, for components of jogger strollers, bicycles and bike trailers made with steel, aluminum or copper that may individually contain from 0.35 percent to 4 percent lead. The stay may be extended for a longer period of time. Without the stay of enforcement, these products would have to comply with the progressively reduced legal lead limit for children's products, which will be at 300 ppm effective August 14.
TIA Calls for Clarification on Illinois Lead Act. June 30, 2009 — The Toy Industry Association issued a legislative update this week making clear its request that the Attorney General of Illinois release clarifying information related to an amendment of the Illinois Lead Prevention Poisoning Act and its implications in relation to the CPSIA. The amendment to Sec. 6 of the LPPA says that, effective Jan. 10, 2010, parties that sell or transfer children's items with specified lead content (between 40 and 600 ppm) could face fines if the products do not carry a statement warning of lead. TIA believes the CPSIA may supersede this state-level requirement.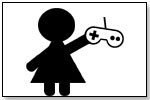 Female Video Gaming Sees Increase in '09. June 29, 2009 — An NPD Group report based on a survey of more than 20,000 consumers shows that females are grabbing a larger percentage of the gaming market, especially when it comes to console play. "Gamer Segmentation 2009" revealed a rise of 5 percentage points for females in Console Gaming and a 4 percentage point increase for both Heavy Portable and Extreme Gamers, two of the seven categories covered.