"[There's] a certain camaraderie … a mutual respect for where everyone came from and where everyone's going." — Mary Kay Russell, Kubit2
"This year's ASTRA show did not disappoint," Joe Mitchell, owner of YoYo Joe's Toys & Fun in Wilmington, Del., told TDmonthly Magazine. "Despite an economy that's still in trouble, it was clear that there were more attendees to the show and also more booths at the marketplace."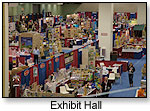 There were, in fact, 19 more exhibitors at this year's show than in 2008, for a total of 243 exhibitors, including 80 first-timers and 18 from Canada. The retailer count for the Marketplace & Academy in St. Paul, Minn., came in at 222, with 500 representatives from those stores on the show floor. TDmonthly's camera crew captured about 150 new and classic products on video at the exhibition.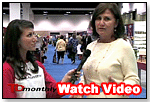 ASTRA has grown 20 percent in the last two years, pointed out President Kathleen McHugh, who also shared with TDmonthly how the organization continues to help independent stores and specialty manufacturers through proactive coverage of safety laws and recommendations for storeowners and consumers via the ASTRA Best for Kids Toy List. (click photo above to watch video)

ADAPTING TO THE DOWNTURN

While the trade show itself showed positive signs of an industry weathering the recession, maintaining buyer loyalty has required extra incentive this year, as manufacturers seek creative ways to reach their holiday sales goals for 2009.

"We did an unprecedented 10-percent-off sale," said Lea Culliton, CEO of HABA USA, also noting that the German toymaker is extending buyers' credit as much as possible on a case-by-case basis, since many retailers were still paying off December invoices in June.

Artist Point Giftwrap is offering some free freight as well as price rollbacks on orders placed by July 15 and shipped before the end of October, Vice President Stewart Rosenberg told TDmonthly.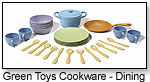 And Green Toys has divided up its large dish set into two component sets, at $24.99 and $16.99, to give consumers more affordable price points.

All New Materials is especially focused on meeting customer expectations, including adding Super Zeroes books to the wacky line of plush. Communicating a brand story to consumers isn't as important in Europe, where the product originated, CEO Ryan Hamilton explained, so the company is making necessary adjustments for U.S. sales.

CONTINUING TO GROW

While some vendors are working to pinpoint lines and specials that will keep customers aboard, a select few are basking in overwhelming growth.

M3 Girl Designs, maker of the interchangeable bottle cap necklaces called Snap Caps, hit its 2008 numbers back in April and "will more than double [its] sales this year," CEO Diane Bradshaw told TDmonthly.

Sales Manager David Fisher mentioned that "sales are up 400 percent over last year" for California Creations, which has also grown internally this year with three new hires from another Los Angeles company that recently went out of business.

Dandelion Earth-Friendly Goods, a popular line at the show (see TDmonthly's Top-10 Toys from ASTRA) has already received some reorders following initial shipment of its product line in April.

CHECKING SAFETY

While the implications of new safety laws are still a tremendous concern in the toy industry, fulfillment patterns seem to be working themselves out.


Terry Myers, owner of Kaleidoscope Toys in Round Rock, Texas, indicated that there's not too much frenzy over certificates of compliance now; rather, independent retailers are "trusting manufacturers to know what they need to do, and doing it."

She lamented the struggles of the handmade goods community, however, commenting to TDmonthly that the effect of H.R. 4040 on the cottage industry "is a crying shame. I don't think our Congressmen and women even read that bill."

Of course, many manufacturers have had to tighten or redo their lines, and testing requirements keep companies counting the cost.

All New Materials, for example, was considering an 80-year-old German toy line they spotted at the Nuremberg toy show, but the expense of CPSIA testing might prohibit distributing such a line, Hamilton said.

MORE THAN THE EXHIBIT HALL

There was a CPSIA seminar at the show, as well as sessions on display, social networking [see TDmonthly articles on blogging and Facebook ], roundtable gatherings, and pointed retail advice, including how to turn inventory for higher profits.

Edith Brafman, co-owner of Little Things Toy Store in Brooklyn, N.Y., told TDmonthly the retail store tour "turned out to be a fabulous experience," allowing fellow storeowners to see three distinctive examples within the same field: a stand-alone focused on all-natural wood and cloth items; a large warehouse filled with toy and hobby products, including R/C toys for adults; and an updated mall store dedicated to knowing its customers.

Andrea Jacobs, manager of Little Things, admitted that Bob Phibbs, aka "The Retail Doctor," is "really tough," referring to his assertion that some individuals just aren't trainable, and stores should not retain staff that can taint other employees with their bad habits. Mitchell was particularly impressed with Phibbs' keynote on internet marketing trends.

At the end of the day, ASTRA comes down to education and community as much as it does bottom-line sales on the trade show floor.

Mary Kay Russell, CEO of Kubit2Me, even noted "a certain camaraderie between manufacturers – a mutual respect for where everyone came from and where everyone's going."
Watch video of retailers and manufacturers at ASTRA sharing how ToyDirectory and TDmonthly have helped their businesses.