---
Binkley & Hurst Takes a Ride With Berg Toys
Durable Ride-on Vehicles Encourage Activity and Exploration
"All the retailers said these are the coolest things they have seen in years." — Frank Bewersdorff, Binkley & Hurst

This article is a paid advertorial.

Conceived more than 20 years ago by a Dutch boy who longed to own a go-cart, Berg Toys has grown into a worldwide market leader in the manufacture of outdoor toys, now available through U.S. distributor Binkley & Hurst.

IGNITING THE IMAGINATION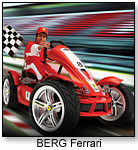 It started with a Ferrari. A Ferrai go-cart, to be precise. Frank Bewersdorff, vice president of Binkley & Hurst, spotted it during a customer visit for the company's Lititz, Pa., retail store, Outback Toys, in Germany.

"It piqued my interest," Bewersdorff told TDmonthly Magazine. "We have a toy division, and after looking at their catalog, I felt it would be a good fit."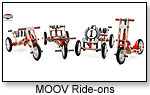 He was so impressed by the products' quality and how they promoted active play and learning that Binkley & Hurst decided to become the U.S. distributor for Berg's pedal go-karts and accessories, and their MOOV construction-toy ride-ons.

Berg Toys prides itself in using innovation to create fun. They like to say that instead of following today's industry trends, they are creating tomorrow's. Manufactured in Holland using environmentally friendly materials and processes, the CPSIA-compliant, award-winning toys are distrubuted worldwide. The ever-expanding line is predicated on the belief that it's important that children have adventures and learn to explore the world around them, and that their outdoor toys encourage those explorations.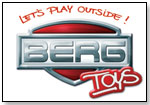 Bewersdorff explained that his company was also attracted to the fact that the toys promote healthy outdoor play. "Berg's motto is 'Let's play outside.'"

According to the American Academy of Pediatrics, "Play is essential to development because it contributes to the cognitive, physical, social and emotional well-being of children and youth. Play is important to healthy brain development. ... [and] builds active, healthy bodies."

KID-TESTED AND FUN-CERTIFIED

Berg Toys do not leave the company's test laboratory until they have been fully tested and approved by what they dub their toughest testing team — children.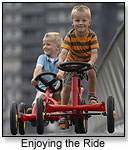 Binkley & Hurst introduced the products during Toy Fair in February 2009 and response was outstanding, Bewersdorff reported. "There was huge interest," he told TDmonthly. "Retailers see the tremendous value of product, particularly those that have a passion for healthy outdoor play as an important part of child development. All the retailers said these are the coolest things they have seen in years."

The award-winning MOOV Builder Construction sets are particularly clever, he noted. The rubber O-ring that holds everything together allows a child to build without tools, constructing something they can actually ride on.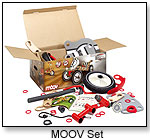 "MOOV has been very well received by retailers who have educational and teacher-oriented supplies," he said. "It's about creativity, dexterity, planning — it's very versatile, and the child can build so many different things with these toys."

They're also what could be called 'heritage toys' — of such fine quality that they can be handed down from child to child, generation to generation, along with the many tales of the adventures they helped create.


BUILDING STEADY GROWTH

Bewersdorff anticipates solid growth and success for Berg Toys in the United States.

"They're high quality, value-priced products. It requires commitment and passion to really believe in this type of toy, and the margins are very good," he said. "My anticipation is that once the line catches on, we will attract those consumers who are health- and environmentally conscious, and who want their kids to have something fun to play with that promotes developmental skills."

See several products from Binkley & Hurst below:







The two-wheel drive BERG Freestyler 2WD is the quad amongst the go-karts. With its high seat and compact frame you'll rapidly discover that you can do real stunts. On two wheels? On a bend? No problem. With the two-wheel drive and the disc brake you always have grip and stay in control, also on uneven ground. With its seat you can always take along a friend on the adventure! The BERG Freestyler is a combination of adventure, joint fun and stunts. Ready for the challenge? Available July 2009. This product is available by special order only.

.

AD
---






Your dream becomes reality with the Ferrari FXX. The Ferrari FXX is an impressive presence on any circuit. With 12" rims with a 'light-metallic' look and ultra-flat, super-slick X-treme tires, you'll accelerate into pole position in no time.

.

AD
---






.

AD
---






.

AD
---






The BERG LODY is extremely durable, something which is necessary for small children wanting to play outside and explore the world around them. For small children safety is paramount. This is exactly why the BERG LODY is safe, super sturdy and indestructible, which in turn provides years of playing pleasure for the smallest of children.

.

AD
---






The MOOV by BERG is both a construction toy and a rideable vehicle for children, ages 5 to 12. Children can construct MOOV by themselves without the use of any tools or help from parents. The wooden parts, rings, shafts and frames are multi-functional. Once the model is complete, the fun continues. MOOV construction toys are available in three kits: Starter, Advanced, and Street. The Starter kit ($210.00) can create three wooden models, the Advanced ($300.00) seven models, and the Street ($376.00) up to 10 models. For each new construction, the old model must be taken apart.

.

AD
---






Driving your own tractor is now possible! The BERG Traxx go-karts have impressive tractor tires measuring not less than 18.9 inches in diameter at the rear and 15.75 inches in diameter at the front. In addition, they come with an exhaust pipe and enable you to go to work using real tools. The Case IH BF comes built on a heavy duty frame equipped with the automatic freewheel, the pedals can remain static while the go kart still moves and used as a brake. It also automatically switches to reverse when needed.

.

AD
---






The BalanzBike is a unique tricycle for children (and parents) as it is close to the ground, super maneuverable and super fast. The BalanzBike uses the body for steering. The small movements made when cycling train the abdominal, leg and buttock muscles, exercising the body while having fun.

.

AD
---






Enjoy even more off road playing pleasure with this pedal go-kart designed for rugged action. The XT-3 has all the features of the XT plus a three speed hub and roll bar as standard features.

.

AD
---






You'll be the king of the road as you cruise down the street solo or with a friend in this sweet Chopper! Everyone will turn their head as you comfortably cruise by showing off your chrome accents and extended front fork. Even better than a real chopper, this one doesn't use gasoline and will drive in reverse!

.

AD
---






.

AD
---






Do you fancy a journey of discovery in unspoiled territory? The BERG Safari will take you anywhere you want. The huge impressive off-road tires enable you to work your way across rough terrain. Its camouflage colors allow you to blend into the scenery. Let the journey begin!

.

AD
---






This kart cruises through the streets and gives you race car-like control! Low profile racing tires grip the pavement, 3 speeds allow you to downshift for inclines or switch into high gear for long flat stretches. Stop with the coaster brake by pedaling back on the pedals, once stopped you can drive in reverse. The roll bar adds style and safety!

.

AD
---






The BERG City Compact series go-karts are more compact and lighter than the full size karts. The karts pedal easily and are very maneuverable, perfect for cruising around your neighborhood. The kart takes up very little space when it's, easily, stored on its back!

.

AD
---






Enjoy racing thrills with this pedal go-kart designed for fast action. With the automatic freewheel, the pedals can remain static while the go kart still moves. It automatically switches to reverse when needed.

.

AD
---






The BERG Binky is extremely durable, something which is necessary for small children wanting to play outside and explore the world around them. For small children safety is paramount. This is exactly why the BERG Binky is safe, super sturdy and indestructible, which in turn provides years of playing pleasure for the smallest of children.

.

AD
---






.

AD
---






Enjoy off road playing pleasure with this pedal go-kart designed for rugged action. With the automatic freewheel, the pedals can remain static while the go-kart still moves. It automatically switches to reverse when needed.

.

AD
---






Driving your own tractor is now possible! The BERG Traxx go-karts have impressive tractor tires measuring not less than 18.9 inches in diameter at the rear and 15.75 inches in diameter at the front. In addition, they come with an exhaust pipe and enable you to go to work using real tools. The John Deere AF comes equipped with the automatic freewheel, the pedals can remain static while the go kart still moves. It automatically switches to reverse when needed.

.

AD
---






This John Deere tractor go-kart in the BERG Traxx line feature tractor tires measuring 18.9 inches in diameter at the rear and 15.75 inches in diameter at the front. Capable enough to go to work using real tools as it comes equipped with a rear 3-point hitch, roll-bar, front/rear mud guard, and three gears.

.

AD
---






Buddy drives both forward and in reverse, and provides optimal safety and back pedal brake thanks to the unique BFR-hub. Also features a 3-way adjustable seat and height adjustable steering wheel. Stability on any terrain is possible with its swivel axel.

.

AD
---
THIS BANNER IS AN AD:
---
---