Ibrahim Victory first opened Ventura Toys in Sherman Oaks, Calif., more than 20 years ago. Losing business in the last six years to big-box shops such as Toys "R" Us, Ibrahim told TDmonthly Magazine he needed to drastically reconfigure his product mix. He stopped importing high-priced toys from Europe and shifted to mostly Asian goods, which he can sell at huge discounts because of his low overhead; he's a one-man manager, salesperson and buyer. When he moved to a new location, he added musical instruments into his mix.



Get the Flash Player to see this video.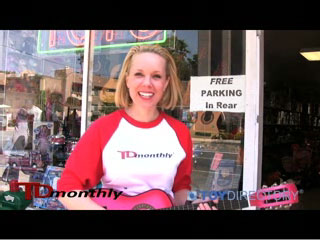 Despite the fact that he attends no trade shows and doesn't have a website, Ibrahim hangs in with eclectic offerings and an old-fashioned atmosphere, which attract musicians and kids. He now has the only independent toy shop in his Sherman Oaks neighborhood, he told TDmonthly.

You can get a glimpse of the Ventura Toys exterior and selection in the intro video above, and then scroll down to watch some of the toys and instruments in Ibrahim's store. Though Ibrahim decorates his store with Ty collectibles that are no longer in stock, that company has plenty of newer offerings for stores with more traditional mixes.



(Click on each image below to watch video)

Here are other offerings from Ventura Toys:

This 24-hole harmonica features a wooden mouthpiece.

.

AD

This small, 26-hole harominca features a wooden mouthpiece.

.

AD

Writer's Bio:
ALISON MAREK is an award-winning writer, director and cartoonist whose work has been published by Fairchild Publications and DC Comics (Piranha Press), broadcast on Showtime and other cable networks, and viewed worldwide in film festivals. See her short films and print work on www.alisonmarek.com. Watch her nefarious villains in the web series www.MuggsMovers.com. Get inspired by her cartoons "Daily ARFFirmations to Unleash Your Inner Fido" at www.ARFFirmations.com. Phew! And then ...
Read more articles by this author