---
Reviewers Rate Take Along Teddy a Near-Perfect Companion
Flat Bear Scores Big on Softness and Lifetime Guarantee
"… these two [bears] have been welcomed with open arms." — Katie McGervey, mother

TDmonthly Magazine's Preschool Roundtable agreed that the flat design of the Take Along Teddy from Vermont Teddy Bear and its unconditional lifetime guarantee make the bear stand out from typical stuffed animals. Praised by moms and children alike for their soft, silky fur, the bears in this portable collection garnered a high rating.



Take Along Teddy by VERMONT TEDDY BEAR
Age: All Ages
Gender: Boys and Girls
Category: Teddy Bears
MSRP: $19.95

TDmonthly rating: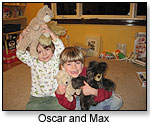 What It Is: Flat enough to use as a pillow and big enough to hug, the Take Along Teddy has a distinctive compressed design. The flat bears are handmade in Vermont and are unconditionally guaranteed for life. Injured flat bears can be sent to the Bear Hospital and the company will repair or replace them for free. Take Along Teddy is available in Cow Print, Espresso, Snow, Maple, Blue and Pink furs.

What the Moms Thought: "Soft, soft, soft!" McGervey summed up. "This is a silky soft and huggable bear." She also liked the rich color of the fur. Bendorf and Simpkins-Bannister loved the eyes. Ledford said, "The bear is of high-quality materials and seems very durable."

Bendorf appreciated the size of the bear: small enough to be portable but big enough for a child to hug. Pauley thought the Take Along Teddy "good for sleepovers."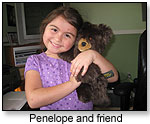 McGervey called the price reasonable: "It makes otherwise inaccessible Vermont Teddy Bears accessible to more people," she explained. Pauley called the lifetime guarantee of the bear "a great perk." Ledford and Simpkins-Bannister mentioned that they appreciate American-made products.

Several participants commented on the shipping carton. "Games and the story of the First Teddy Bear were printed on the inside, meaning the box could also be enjoyed before being reused," said Ledford. Simpkins-Bannister noted that the air hole on the box "makes the children think [the bear is] life-like."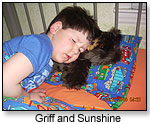 What the Kids Thought: "It's so nice and soft, Mommy!" Ashlyn (3) said as soon as she saw the bear. All of the children loved the soft fur. Lucy (5) enjoyed using her bear for a pillow and liked how cuddly it was. She "fell in love" with it, Pauley reported. Simpkins-Bannister noted, "Samantha (4) likes the 'flatsy' look." Samantha (4) told her mom the bear would keep her warm and enjoyed snuggling with it.

Griff (4) named his bear Sunshine after a song he sings at bedtime; Sunshine now sleeps with him every night. McGervey was concerned that Max (7) and Oscar (3), who are not typically attracted to stuffed animals, would not be interested in the bears. "However, these two [bears] have been welcomed with open arms," she said.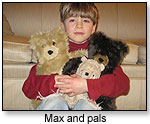 What the Kids Learned from this Toy: McGervey observed that the silky fur ("comforting to touch") stimulated the sense of touch.

How to Improve It: "This teddy bear doesn't have a mouth! We need to get him a mouth!" Ashlyn (3) told her mom, who agreed. McGervey thought if the nose were a bit less flat, it would be more attractive. Ledford suggested noting on the tag whether the bear is machine washable or surface-only washable.

"No improvements are necessary when something is perfect," stated Simpkins-Bannister, continuing, "The other bears offered in the catalog are absolutely adorable with a nice selection to choose from."

Would You Want Another Toy Like This? Considering the lifetime guarantee, the rich texture of the fur and the attractive design, Ledford called the Take Along Teddy "a great gift for a toddler who can then grow up with a favorite friend."

Roundtable participants were Katie McGervey with Max (7) and Oscar (3); Penelope Pauley with Lucy (5); Anna Bendorf with Ashlyn (3); Teresa Simpkins-Bannister with Samantha (4); and Susan Ledford with Griff (4).

Writer's Bio:
Susan Ledford is the writer, editor and publisher of the "Homeschool Resources Directory for S.C." She has been evaluating toys and games for
TDmonthly
's Roundtable reviews since 2005. She also is a homeschool veteran of seven years.
Read more articles by this author
THIS BANNER IS AN AD:
---
---