---
Toy Fair 2010: Toys With the Most Buzz
Zhu Zhu Pets Go from Cute to Competitive
"Hasbro is one of several companies attempting to cash in on the hamster mania ..."
Zhu Zhu Pets, TIA's Toy of the Year Award winner for 2010, stands poised to cause quite a squeak this year with its expanded product line. The Zhu Zhu Wild Bunch from Cepia adds a skunk and bunny to the line of hamsters, and the new Hamster Babies promise even more cuteness than the full-sized originals. But the line is also projected to become just as fierce as it is fun.

ZHU ZHU PETS GO TO WAR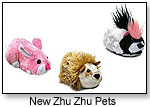 One of the most talked about Zhu Zhu Pet offerings for the year is the Rockstar lineup featuring hamsters with attitude, mohawks, and celebrity kids' names, such as Kingston and Pax. Cepia hopes to hold the attention of young boys with its Kung Zhu line, also covered at Cepia's press conference during Toy Fair in February. Ninja Warriors and Special Forces themes feature hamsters in boy-friendly colors that battle each other. Add-on armor sets are designed to give the hamsters a competitive edge in battle.

Priced at under $10, the Zhu Zhu Pets range is an easy sell to parents as well, and an easy sell-out, as the 2009 holiday season demonstrated.

Hasbro is one of several companies attempting to cash in on the hamster mania with its own Furry Frenzies line, which includes a $7.99 bunny, chipmunk, hedgehog and other animals that "skitter, skatter, bump and go where they want to," according to a press release.
Although CEPIA is vigorously defending its intellectual property and corner of the market against competitors and knockoffs, it likely cannot escape unscathed from copycats (or copyhamsters, as the case may be).

Last month, TIA's trend specialist Reyne Rice predicted decreased demand in the latter part of 2010 if supply of Zhu Zhu Pets increases. Continued sales of Zhu Zhu Pets and the performance of the new Zhu Zhu products will determine whether the frenetic hamsters are a lasting brand or a fading fad.

Also on the animal front, Mattel's Puppy Tweets spurred plenty of online conversation before and at the show.
Combining the hot fad of Twitter with man's best friend (see description below) has garnered the company significant reactions from the media and potential buyers. The question is, will all the talk translate into sales? With a $30 price tag, Puppy Tweets may be a bit too expensive as a gag gift but could prove popular with teens and tweens obsessed with instant communication and social contact — or adults whose pets are treated as the equivalent of children.

BRING ON THE IRON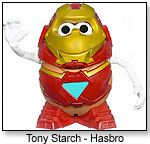 Analysts agree that save for "Toy Story 3", "Iron Man 2" is likely the biggest film of 2010 in terms of licensed products.

Hasbro's line of Iron Man 2 toys ranges from a role-playing helmet to action figures based on the armored avenger's appearances in both movies and comics.

One of the most anticipated products is also the silliest: Mr. Potato Head as Iron Man. The toy is called Tony Starch after Iron Man's secret identity Tony Stark, and the punning name alone has been enough to set Twitter afire with posts about the Mr. Potato Head. Even Iron Man 2 director Jon Favreau has been using the product as his Twitter profile pic. Like all movie-based licensed toys, the performance of Hasbro's Iron Man line in toy stores will be influenced by the performance of Iron Man 2 in theaters.

Other products garnering massive attention at Toy Fair included:

— Hasbro's Scrabble Flash, lauded for creative application of an innovative technology.

— Mattel's iXL, which tech site Engadget likened to an iPhone for kids (There's also the Kindle-like FLiP Animated E-reader by Vtech.)

— Fisher-Price's Dance Star Mickey, whose debut was marked by a memorable special appearance by Dancing with the Stars champ Donny Osmond and the genuine Mickey Mouse

— Buildable board games from Hasbro, as well as newcomer to the game market, LEGO. The trend toward construction in board games offers children customization while offering value via replay to parents. Building components may help non-electronic board games remain relevant in the digital era.

— Hasbro's Star Wars AT-AT, which brings to life 30 years worth of children's dreams for an AT-AT toy so real it could have stomped off the screen.

— JAKKS Pacific's Spy Net Secret Mission Video Watch, which gives aspiring secret agents the ability to capture a half hour of video footage










Zhu Zhu Pets are designed as the world's first realistic, interactive, plush and artificially intelligent hamsters that actually talk and move around in their own playsets. This case of six individually packaged figures includes (subject to change): Baby Cakes, Peanut, Butter Cheeks, Pumkin, Muffin and Snickle Fritz. Launch date: February 2010.

.

AD
---






HASBRO follows up its Star Wars Darth Tater and Transformers Optimash Prime with Tony Starch, the Iron Man 2 version of Mr. Potato Head. The armored spud includes Iron Man boot, helmet, and chestplate pieces based on their appearance in the second movie. The toy also includes classic Mr. Potato Head nose, arms, and eyes to create more looks.

.

AD
---






Furry Frenzies are HASBRO's response to the success of Zhu Zhu Pets. Part of the Furreal Friends line, Furry Frenzies unabashedly follow the basic Zhu Zhu formula of small furry creatures that make noises and explore on their own. Furry Frenzies are available in raccoon, bunny, puppy, kitten, hedgehog, and chipmunk varieties. Playsets and carrying cases are planned as well. Launch date: Fall 2010.

.

AD
---






Now the family dog can join in on all the fun of Twitter. This high-tech attachment for a dog's collar detects the canine's barks and movements and translates those actions into pre-programmed tweets broadcast via Twitter. There are hundreds of possibilities of what Fido could "say," from commenting on catching his tail to begging his owner to come home soon. Puppy Tweets comes with a USB connector for the computer; the owner simply downloads software off the Internet and establishes a Twitter account for the dog. Launch date: Fall 2010.

.

AD
---






This single-player game puts the classic Scrabble game on the move, as the player shuffles and slides electronic letter tiles to form words within a minute. Equipped with Smart Tile Technology, Scrabble Flash Cubes reads words once the tiles are in place and keeps score accordingly. Launch date: Fall 2010.

.

AD
---






The device, which opens like a book, has a stylus and offers kids the chance to read along with an animated story, play an arcade-style game, play music, trace letters and upload and draw on photos, among other activities. Launch date: July 2010

.

AD
---






.

AD
---






Customization is an emerging trend for board games in 2010, with LEGO's launch of its game line and HASBRO's U-Build Games. U-Build Mouse Trap puts a space age spin on Mouse Trap by sending the mice into orbit in search of the fabled moon made of cheese. Kids can move U-Build cheese bricks around the board to, as the saying goes, build a better mouse trap. Launch date: Fall 2010.

.

AD
---






As part of LEGO's entry into the board game category, Monster 4 combines the strategy and play of a game with the building and rebuilding of LEGO. In this game, players take control of and attempt to line up monsters, including werewolves and skeletons. Once children have mastered the basic game, they can use the included LEGO elements or bricks from their own collection to change the dice, board, and rules for endless gameplay possibilities. Launch date: March 2010

.

AD
---






In 2010 HASBRO celebrates the 30th anniversary of "Star Wars: Episode V The Empire Strikes Back" with toys recreating the vehicles, aliens, and action of the classic film. One of the most iconic vehicles from the movie is the elephantine All Terrain Armored Transport (AT-AT), the lumbering Imperial walker used in the battle on the ice planet of Hoth. Although HABSRO has produced the AT-AT before, this version is bigger and better than ever. At 28 inches long and nearly as tall, the AT-AT can hold the included AT-AT driver and speeder bike plus 19 more figures. LED lights, sounds, and other play features make this massive playset high-tech and high-fun. Launch date: August 1, 2010.

.

AD
---






The Kung Zhu Armor sets add on to the Kung Zhu Special Forces and Ninja Warriors. Each set includes special armor and oversize weapons to prepare the hamsters for battle. Armor varieties include Night Raid and Shadow Jonin. Launch date: 2010.

.

AD
---






Zhu Zhu Pets get attitude with the Rockstar line. With longer hair and mohawks, these hamsters are ready to rock. Kids can collect Ryder, Pax, Kingston and Roxie, all named after children of celebrities, including Angelina Jolie and Gwen Stefani. Launch date: 2010.

.

AD
---






.

AD
---






The Spy Net Video Watch puts young secret agents in control. It holds up to 30 minutes of video footage, can also capture still photos or plain audio, and features a mini USB port to upload and review files on the Web. Launch date: 2010.

.

AD
---
THIS BANNER IS AN AD:
---
---