Actress Daryl Hannah and best friend Hilary Shepard were inspired to design Liebrary when they found themselves on vacation without the books they needed to play their favorite parlor game, in which players vie to bluff each other by creating the most convincing first line of a work of literature. In the years that followed, they went all out with the invention of the game, creating a box, pieces and content for the challenge based on a centuries-old parlor pastime, Hannah told TDmonthly Magazine.

Watch a video of Hannah, known for her movie roles in "Kill Bill," "Splash" and "Steel Magnolias," explaining the game's origins at Toy Fair 2010:



Get the Flash Player to see this video.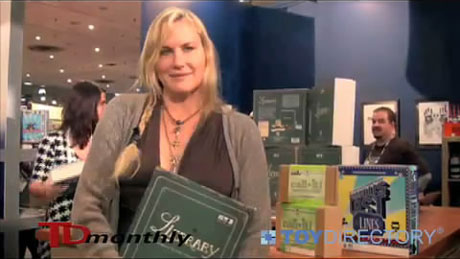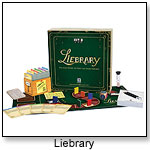 To play the game, one needs "thousands of books," she continued, but "there were no books except for the ones that we brought to read on the beach. And we were really frustrated because it's our favorite game to play — we're big game players. And we just decided that we had to invent it 'cause it didn't exist," she told TDmonthly.

Hence came the development of "the game where the first line speaks volumes."

A "dormant phase" of 15 years passed before the game launched onto the market via SimplyFun in fall 2005. Now available through Discovery Bay Games and having been a Barnes & Noble exclusive, Liebrary attracted plenty of attention alongside its celebrity inventor at Toy Fair 2010.

Hannah and Shepard have created two new games as well: Famous Last Lines, a spin-off of Liebrary that involves bluffing about the final lines of movies, and Call It.

For 3 to 6 players, this unique game of literature challenges players to create a convincing first line of a novel to fool other players into thinking it's the real first line of the famous book in question. It was developed by actresses Daryl Hannah and Hilary Shepard. The unique box design has the board built into the box. The game was formerly distributed by SimplyFun.

Past Videos:

ChiTag 2009

.

AD