---
Dolls Show Their Dark Side at IDEX 2010
Gothic Girls, Poseable Friends and Tiny Treasures Hit the Runway
"America is in a dark mood right now." — Robert Tonner, Tonner Doll Co.

At the IDEX doll show in Orlando, Fla., Jan. 28-31, Alice in Wonderland made an appearance at nearly every one-of-a-kind artist booth, it seemed. Likely fueled by the movie release in March, Roxanna Marie Sullivan also explained Alice's general appeal to doll collectors.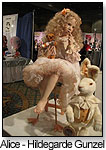 "Alice is loved the world over and collectors are always asking for Alice, so it is a challenge for the OOAK artists to present Alice in a new and different way each year to capture the attention of collectors," she told TDmonthly Magazine.

As usual, fantasy was a prominent trend among the OOAK artists, who almost always sell out at IDEX because there are no promoters for private OOAK shows in conjunction with large toy and doll conventions, and avid fans now know where to look for them.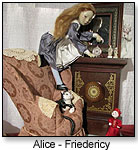 GOTHIC DOLLS DARKEN AISLES

The show found new collectors leaning toward the dark side. Ghastly dolls that send a chill up the spine and pale, vampire-type dolls are now haunting doll shows and shops.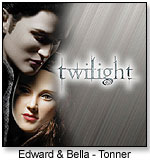 "This is a fad started by Anne Rice, and promoted by movies like 'Twilight' and, of course, the Japanese comics," Jack Johnson of the Professional Dollmakers Guild told TDmonthly.

"America is in a dark mood right now," elaborated Robert Tonner of Tonner Doll Co. "Movies and books that are gothic are best sellers. Dolls have always been sweet and beautiful, but the dark dolls are interesting and young people are drawn to something that is different."

Ashton-Drake's 16" Delilah Noir has smoky, gothic look to her, and is available in a "Once Bitten, Twice Shy" version with removable fangs.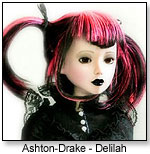 HOPE FOR VINTAGE

As much as the "new" caught buyers' attention, IDEX also showcased antique dolls with appraisals by longtime dealer and appraiser Sherry Minton.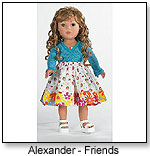 "Antique and vintage dolls are still popular," Minton said. "Most of the collectors are older women, but since they are passing their collections on to the next generation, I hope we will see a new interest develop in antiques."

GIRLS FLOCK TO 18" FRIENDS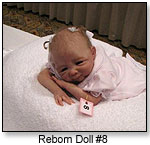 To interest girls, a young collectors and Girl Scout event was held on Saturday with games, goody bags and a chance to earn a doll collecting badge. Undeniably, many tween girls are into Mattel's American Girl doll and book collection.

The Alexander Doll Co., however, released a Favorite Friends line of 18" dolls last fall that are about half the price. This is an important factor since travel and other entertainment can be very expensive during a recession and playing with dolls offers an alternative.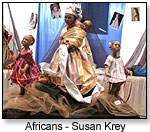 DOLLS COME TO LIFE

The Tiny Treasures convention was held in conjunction with IDEX, giving collectors a chance to awe at the unbelievable realism of reborn dolls. It's no surprise that reborn kits were in high demand. According to dollmaker Dawn Donofrio, collectors enjoy creating baby dolls, as it allows them to become the artist and bring something to life.


Berdine Creedy and Kimberly Lasher are among favorite artists of ball-jointed dolls, another category that gives the characters life because they can be used for playtime.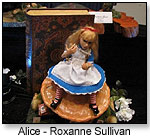 "Posing was something I always wanted to add to my OOAK dolls. I think posing and dressing dolls is a favorite for women who were playing with Barbie dolls in the 1960s. They want a doll they can actually play with," Lasher told TDmonthly.

The next IDEX show will be held Jan. 27-30, 2011, at the Rosen Shingle Creek Resort in Orlando.

See below some of the newest dolls on the market:
Delilah Noir: Once Bitten, Twice Shy
by
ASHTON-DRAKE COLLECTIBLES
Other products from ASHTON-DRAKE COLLECTIBLES
Shop for It!







This collectible, 16" ball-jointed doll is ready for Halloween with two complete outfits — Back to School and Vampire. She even comes with a wig and removable fangs.

ToyDirectory Product ID#: 27368

(added 2/24/2010)

.

AD
---
Jacob Black
by
TONNER DOLL COMPANY
Other products from TONNER DOLL COMPANY
Shop for It!







This collectible character figure from the Twilight Series features a 17" athletic body with brown eyes. Jacob Black, in the likeness of Taylor Lautner, is dressed in jeans, a knit muscle shirt and casual sneakers.

ToyDirectory Product ID#: 27369

(added 2/24/2010)

.

AD
---

Writer's Bio:
Virginia Davis is a freelance writer who is considered an expert in the area of dolls and collectibles. She has written hundreds of articles on dolls and toys, as well as other subjects, for numerous publications. She lives in Georgia.
Read more articles by this author
THIS BANNER IS AN AD:
---
---