---
TDmonthly's Book Expert
One Educated Bookworm's Opinion
This month, TDmonthly Magazine's Book Expert uncovered an artful guidebook for vampire fans, followed a feisty little pajama-wearing mouse to school, and saw the beauty in a folk tale about seeing through more than our eyes.



Title: The Seeing Stick
Author/Illustrator: Jane Yolen/Daniela Jaglenka Terrazzini
Publisher: Running Press Books
Gender: Boys and Girls
Age: 5 to 10
MSRP: $16.95

TDmonthly rating:




What It Is: This book is an exquisitely illustrated new edition of beloved author Jane Yolen's 1977 story about a blind Chinese princess, the only daughter of the emperor of China. Her father offers a reward to anyone who can find a cure for the little girl. Just when it seems there is no hope, a mysterious old man teaches the princess a new way to see the world, not through her eyes, but through her fingers.

Why You Should Carry It: This is a princess story unlike any other. The story itself is very moving, told in simple but poetic prose by one of our master storytellers, but it's the Chinese-inspired illustrations that are really remarkable. Illustrated at first only in shades of gray, color is magically introduced in the story through the old man and his seeing stick, until the illustrations explode with color. The illustrations also have a unique texture to them that fits perfectly with the theme of seeing with all our senses, particularly through our fingers.

What Kids Think: Isabella, age 6, liked this story because "it was about a beautiful princess." While children may not appreciate the many layers of meaning in this folk tale, they can appreciate the basic message of how we can see in many different ways, not just with our eyes. Isabella also liked the way you could feel the pictures, "just like the princess in the story."

---

Title: A Practical Guide to Vampires
Author/Illustrator: Lisa Trutkoff Trumbauer
Publisher: Mirrorstone
Gender: Boys and Girls
Age: 9 to 12
MSRP: $12.95

TDmonthly rating:




What It Is: This lavishly illustrated guide to vampires is part of a best-selling series that includes "A Practical Guide to Fairies" and "A Practical Guide to Monsters," among others. Written in a pseudo-non-fiction style, the book includes information on all aspects of vampire "life," including vampire anatomy, intelligence, clothing, society, language and their dangerous powers. Readers can also learn how to protect themselves from vampires and garner information about famous vampires of legend.

Why You Should Carry It: Anyone who hasn't been living under a rock for the past year or so knows vampires are SO HOT right now. With the huge success of the "Twilight" series and all the other vampire books, TV shows and movies, kids are clamoring for anything to do with these creatures of the night. Unlike some of what's out there, however, you can be assured that this book is suitable for vampire fans of all ages, and even adults will get a kick out of the tongue-in-cheek text written by a "vampire enthusiast and occasional hunter" and the elaborate illustrations.

What Kids Think: Emily, age 11, who is a huge "Twilight" fan, thought the book was "cool" and really admired the "gorgeous" artwork, which she said she would like to use for sketching. This is a book that could appeal equally to boys and even to teenagers and adults.

---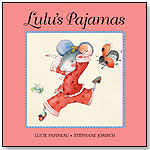 Title: Lulu's Pajamas
Author/Illustrator: Lucie Papineau/Stephane Jorisch
Publisher: Kids Can Press
Gender: Boys and Girls
Age: 2 to 6
MSRP: $16.95

TDmonthly rating:






What It Is: "Lulu's Pajamas" is a charming tale for preschoolers about a very independent young mouse who loves her favorite pajamas so much she decides to never take them off, even when it's time to go to school. However, after a full day at school they no longer "smell as good as a pink dream" and they don't feel as "soft as a butterfly kiss." Lulu's parents handle the situation with good humor and patience, with the expected happy conclusion. Originally published in French, this sweet story is likely to be just as popular with American readers.

Why You Should Carry It: Parents and children alike will identify with this feisty mouse and her struggles for independence. It makes a good bedtime story for preschoolers, and the simple story is enhanced by delightful watercolor illustrations of Lulu and her family.

What Kids Think: A preschool class of 4- and 5-year-olds enjoyed this book. One child commented that Lulu was "silly" to wear her pajamas to school! They were able to identify with the many activities of Lulu's day that are described in the story, from breakfast to school to bedtime rituals.

---

Title: Hook
Author/Illustrator: Ed Young
Publisher: Roaring Brook Press
Gender: Boys and Girls
Age: 2 to 6
MSRP: $17.95

TDmonthly rating:






What It Is: Possibly inspired by "The Ugly Duckling," this is the story of an abandoned egg that a young boy brings to a mother hen to raise. When a strange-looking chick hatches, she names him Hook. Realizing that this unusual chick is "not meant for earth," she seeks the help of the young boy to teach the young bird to fly. After a number of failed attempts, a magnificent bald eagle finally soars in the vast skies.

Why You Should Carry It: Written and illustrated by Caldecott-winning illustrator/author Ed Young, "Hook" has a universal theme —our desire to find where we belong in the world — that can be appreciated by children as well as adults. The book has a minimal amount of text, but very striking chalk illustrations on a terra cotta colored background, sketched with a palette of browns, brick red and blues that suggest the landscape of the American Southwest. The artwork is somehow stark, dramatic and emotional all at once and will appeal to fans of beautiful picture books, particularly to adults who are animal lovers.

What Kids Think: A group of preschoolers was not too excited by this story. Andrew, age 5, said the story was "kind of boring," although others remarked that the illustrations were "pretty."

Writer's Bio:
A member of the American Library Association, Margo Tanenbaum was formerly employed by an independent children's bookstore and has published book reviews on Amazon Vine and Goodreads. She is pursuing a master's degree in library science and writes about historical fiction and non-fiction for children and teens on her blog,
The Fourth Musketeer
.
Read more articles by this author
THIS BANNER IS AN AD:
---
---