---
Retailer Spotlight: Shenanigans
Solid Staff and Promotions Retain Customers Over 35 Years
"I had to push hard to establish credit and creditability." — Kai Rady, owner, Shenanigans

In 1973, Kai Rady was a new mom in a new town. She and her husband had just moved to Charlottesville, Va., and discovered there was a shortage of good toys available in the area to stimulate and entertain their young son.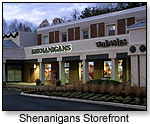 "After reading a very good article on toys featured in 'Ms. Magazine' when Joshua was about 5 or 6 months old, I realized that there were many playthings available in larger markets that were not available locally," she told TDmonthly Magazine. "I thought that Charlottesville, a university town, ought to have access to all these great items, so I did some research, found a location, and opened soon after Joshua's first birthday."

BECOMING BELIEVABLE

Rady ran into obstacles right away. For starters, she was 25 years old, female and had no business background. She had worked as a copywriter in an advertising firm, but found it difficult in her new venture to find anyone in the business that would take her seriously.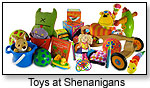 "I had to push hard to establish credit and credibility," she explained. "The country was also in a recession at that time, and there was gas rationing, among other problems. I was juggling my new role as a mom, finding my way in a new town, and figuring out, along with my husband, how to pay the bills after leaving lucrative jobs in a larger market. My inexperience in all matters of business was an obstacle, but my stubborn determination seems to have made up for that."

GROWING FOR DECADES

Rady has struggled with taking on too much and delegating too little.

"I had to learn to let go (a bit) of the management of the floor of the store," she said. "I have someone now who is responsible for giving out hour-to-hour assignments. We have established a routine with two-hour shifts on register, greeting customers and selling, and shelving and other stock/display work."

The team at Shenanigans meets regularly to reiterate goals and policies, something that has surely contributed to helping the business survive and even thrive in various economic situations.

"The business grew in more than 30 of the past 35 years," Rady told TDmonthly. "We opened a branch and then successfully sold it, I have maintained a competent, loyal staff — some of whom have been with me more than 20 years — and I have enjoyed a happy family throughout it all."

Moreover, she's grown herself, having become increasingly patient with Shenanigans' customers and less tolerant of bad customer service from vendors.

"I usually make a couple of contacts with a company and if I get no response, I just move right up the ladder," Rady said. "I hope to eradicate poor customer service by the time I retire!"



SEEKING NEW CUSTOMERS

Today, the store represents more than 300 lines of merchandise. (see Shenanigans' best-selling toys) Rady is pleased with the solid service she offers, and the store features a customer-friendly floor plan with designated age-specific areas. She is always on the lookout for new customers.

"I consider almost everyone to be a potential customer," she said. "I do not target just one economic strata or just one gender. As a result, we use many kinds of media and repeat promotions year after year with an eye to keeping our loyal customers, and we never stop looking for new customers through various advertising opportunities. Everything is on the table."

Direct mail has been the store's best advertising option as of late.

"We join forces with a select group of specialty stores in our 88-store shopping center and mail a promotional postcard or larger flyer four times a year," Rady explained. "We also participate in the shopping center's mailers twice a year and shoot out a postcard to our own customer list a couple times a year."

Rady's expecting another big year for coupons, as 2009 was, and is presently gathering customer email addresses to test outreach that way.

Her advice to others just getting started in the industry is short and to the point.

"Get up early and stay up late," she told TDmonthly. "Keep your credit and your store clean. Advertise."

Writer's Bio:
Brenda Ruggiero is a freelance writer from western Maryland.
Read more articles by this author
THIS BANNER IS AN AD:
---
---