---
Top-5 Most-Wanted Action Figures
Playmobil, Papo Satisfy Niche for Play Figures Outside the Mass Market
With additional reporting by Brenda Ruggiero, Ashley Heaton, and Pete Fernbaugh

A June 2010 survey conducted by TDmonthly Magazine found that 34 percent of specialty toy retailers don't stock action figures based on popular characters, owing to their strong presence in the mass market.

"It's too hard to compete price-wise with the bigger stores and the Internet," Karen Park, owner of Zak's Gifts in Manchester-by-the-Sea, Mass., said.

Play figures that allow children to populate their imaginative stories, not to mention their bedrooms, with characters leaves a lot of space for interpretations well suited to a specialty store, however.

Amy Barrett, owner of Lasso the Moon Wonderful Toys in Helena, Mont., replied, "I don't know if Playmobil counts as action figures, but I do sell a lot of Playmobil."

"We try to get action figures that you wouldn't seen in a big box store," remarked Mike Snyder, manager of The Game Place in Charlottesville, Va., when talking to TDmonthly in July 2010. Here are the top-5 most wanted action figures.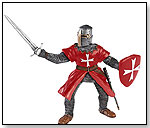 The Malta Knight figuring from Papo is detailed play figure ready for action. With his sword raised and helmet turned to face his assailant, he can stand alone or ride one of the man armored horses available in the line. The Malta Knight wears chain mail and a bright red tabard emblazoned with a white cross, finished with period inspired details like his shoes, helmet, and scabbard.

—"[Our best seller is] Papo action figures by Hotaling Imports. We can't keep them on the shelves," said Kathy Burns, manager of

My Favorite Toy Store

in Downer's Grove, Ill., during a July 2010 survey of top-selling action figures.

— Nine out of 38 retailers said Papo is a best-selling item in their stores.

— Linda Laramy, owner of

Crackerjacks Toys and Childrens Books

in Easton, Md., told

TDmonthly

in a Summer 2011 survey that she sells "a couple dozen" Papo knights each month, making them her best-selling action figure.

ToyDirectory Product ID#: 30320

(added 8/30/2010)

.

AD
---






As though stepping straight out of an ocean-themed animal park, Playmobil's smiling Dolphin Trainer comes ready for a sunny day's work with these cute, intelligent marine mammals. Featuring a sun visor and sandals, the trainer comes with a bucket of fish and two friendly dolphins. This set can be fully integrated with many other sets in the Playmobil line.

— "I sell a lot of Playmobil," said Jude Larene, owner of

Izilla Toys

in Seattle, Wash., of his best-selling action figures in July 2010.

— During a survey of 38 retailers, five listed Playmobil as their top-selling action figure.

ToyDirectory Product ID#: 30321

(added 8/30/2010)

.

AD
---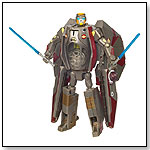 MSRP: $16.99

Age Range: 5 and upGender: Boys





In a morphing combination of the two popular franchises, Transformers and Star Wars, this action figure from Hasbro offers kids a whole new way to look at some of their favorite stories. Star Wars character Obi-Wan Kenobi is here as a powerful fighting robot that can transform into Starfighter. His dual lightsabers in mech mode become firing projectiles in Jedi Starfighter mode.
— In July 2010, three out of 38 retailers named Star Wars Transformers Crossovers as their best-selling action figure. Sales reported average 20 per month.

ToyDirectory Product ID#: 30322

(added 8/30/2010)

.

AD
---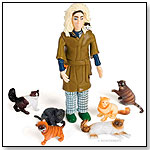 Often whimsical and sarcastic, Accoutrements's line of action figures contains many unlikely characters. While perhaps not a comic or movie feature, the Crazy Cat Lady is a familiar concept that Accoutrements brings to life in a wild-eyed, wild-haired woman who comes packaged with six felines. Articulated arms and legs can be posed to hold the cats, as well.

— "Accoutrements action figures are an ongoing best seller," said Samuel Cox, owner of

My Favorite Toys

in Carbondale, Ill., during a July 2010 survey of best-selling action figures.

— Crazy Cat Lady was named by

TDmonthly

as "

one to watch

" way back in November 2004.

— Three out of 38 retailers said Accoutrements is their top-selling line of action figures in July 2010.

ToyDirectory Product ID#: 30323

(added 8/30/2010)

.

AD
---






Featuring multiple points of articulation and carefully sculpted details down to the creases in his costume, this Batman action figure depicts the character as drawn by comic artist Jim Lee. The figure stands 6.75" tall and comes with a base.
— Out of 38 retailers who participated in a July 2010 survey of best-selling action figures, two listed DC Comics as their top supplier.

ToyDirectory Product ID#: 30324

(added 8/30/2010)

.

AD
---

Writer's Bio:
Marie Raven has a long history with the specialty toy industry as a family business. In addition to freelancing for TDmonthly Magazine, she writes creative and technical material for various other businesses.
Read more articles by this author
THIS BANNER IS AN AD:
---
---