---
Retailer Spotlight: Figpickels Toy Emporium
Two Years of Research Pays Off With Fun
"We would sit for hours and watch what stores people went in and what they purchased."—Brett Sommer

For Figpickels Toy Emporium, the name came first.

"The name Figpickels came from Granny's cookbook!" Proprietors Brett and Susan Sommer told TDmonthly Magazine. "The recipe didn't sound so appetizing, but the name made us giggle and we thought it would be a great name for a toy store."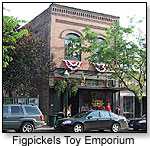 In 2005, the couple purchased a building in the heart of beautiful downtown Coeur d'Alene, Idaho. They had come to the town to retire after years of running a business where they had developed and manufactured a technology that is still used in live performances in Broadway musicals and other shows around the world.

Their plan was to lease out the street level retail space of the building. However, "we did not feel that any of the [business-oriented] establishments that approached us would enhance the downtown," the couple noted. "Coeur d'Alene had become a major national tourist destination, and we thought it needed something really special for the visitors and the local people to visit …something really fun. We had always loved great toy stores, and decided to create one."

Research Pays Off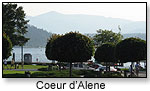 The Sommers spent two years researching their town and its demographic before coming up with a sound business plan and mission statement.

"We would sit for hours and watch what stores people went in and what they purchased.," said Brett. "We looked at data from the Chamber of Commerce and Downtown Association for Event Data. We followed trends on the coasts and learned that it takes at least a year for a trend to make its way to our area."

Know Thyself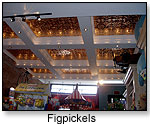 They realized that their customer base would be grandparents, upper-income families and tourists. And — unlike most toy-store owners, whose profit comes in the 4th quarter — their biggest selling months would be July and August.

Simultaneously, they learned about the toy industry through internet research and by attending every toy and gift show in the US and Europe for a year and a half.

The store finally opened Dec. 11, 2005, after a lagging construction schedule.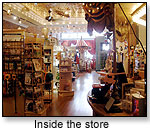 "The renovation of our 100-year-old building had gone $250,000 over budget, and even worse, was months behind," Brett said. "We were scheduled to be open in July and barely made it open for the holiday season."

The Sommers quickly realized that long-range dating programs that allow retailers to buy lots of product at a reduced rate did not work for their store.

"We didn't save any money because all the product had to be warehoused, and we received things that we were told were 'great sellers' but didn't fit our store or our demographic," Sommer said. Now they use an employee game night to try out potential stock for the store.

Get People Talking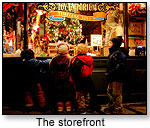 When it comes to marketing, the couple has found that nothing beats word of mouth … or an amazing front-window display.

"Virtually no one can go by our front window without stopping, and usually they come in. Right now the theme is Think Big in 2010. Everything in the window is GIGANTIC!" Sommer said. "For Christmas, the entire window is animated."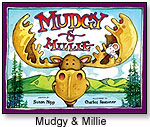 Sommer stressed the importance of toy stores becoming an integral part of the community. His employees participate in highly successful game and juggling clinics at local elementary schools. In March 2010 they started the Great Northwest Paper Airplane Contest. At their first contest, between 500 and 800 parents and kids spent the afternoon flying planes, learning about aerodynamics, and winning prizes. Figpickels also publishes the "Mudgy and Millie" book, which has sold almost 20,000 copies. It introduces families to Coeur d'Alene and the inland northwest. Funds from the book and related products help fund the Coeur d'Alene Library Foundation.

Demos Pay Off

Brett described Figpickels as a "very hands-on toy store" where everyone is invited to play. "We will play games with our customers, teach juggling and Lunastix, have diabolo clinics, or shoot each other with the latest pop/rubber band/ping pong ball gun. We demonstrate RC toys in the park right outside our door"

While he notes that this is their biggest mistake, it is also their biggest success.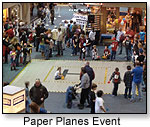 "The mistake part is the enormous amount of work it takes to keep the store clean, constantly pick up all the demonstrated items, and make sure everyone is safe and not stabbing each other with a sword," he said. "Over time, it's very costly to replace items that eventually wear out. On the other hand, this is what has made our store so successful. Any item we demonstrate will increase sales by 50 to 100 percent. "

The policy also generates good will. "Mick Lamner of San Diego wrote, 'Move over Walt Disney, there's a new happiest place on earth …Figpickels!,' When you get a comment like that, it makes it worth it," Brett summed up.

See some of Brett's best selling toys in "My Best Sellers: Figpickles."

Writer's Bio:
Brenda Ruggiero is a freelance writer from western Maryland.
Read more articles by this author
THIS BANNER IS AN AD:
---
---