---
FINAL GIVEAWAY CONTEST FOR 2012!
Make the Holidays Spectacular for Your Local Kids in Need!
TDmonthly Magazine is excited to announce the FINAL leg in its "2012: A Year of Charity" giveaway promotion! This time, retailers will compete for the chance to give away toys just in time for the holidays! Schoenhut Piano Company has already pledged 100 instruments — it's the third time they've done a TDmonthly charity giveaway promotion! And Douglas Cuddle Toys will donate 60 cuddly plush products! More manufacturers are sure to sign up. We are hoping this will be the biggest giveaway yet.

"Our contribution of 100 toy pianos in TDmonthly's Charitable Kid Contest targeting children in need was such a heart-warming experience that we are overjoyed to participate again," Trinca shared with TDmonthly. This current giveaway promotion is the second her company has participated in this year. For the Holiday giveaway, Schoenhut will donate a variety of musical instruments in addition to pianos.

Past donors to TDmonthly's "2012: A Year of Charity" included Safari, Ltd.; Hape International; Schoenhut Piano Company; and Magic Forest Ltd. in the Spring and Crossen Creations, FindIt Games, b. dazzle inc., PlayMais Canada Inc., Amazing Science!, Moving Picture Books, Education Outdoors, We R Fun Games, Uncle Skunkle and The Spelling Bee Game in the fall. (Read article here)

Each of those 14 manufacturers donated at least 100 toys! That's 1,325 specialty toys worth $35,000 up that went to or are still being distributed to children's charities and schools across the nation!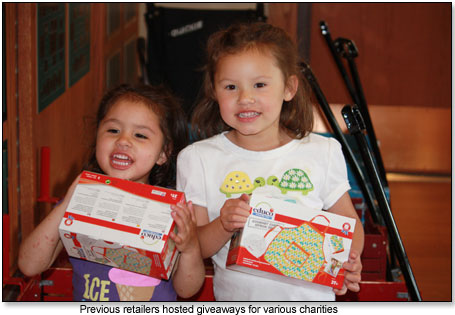 Winning retailers — Kazoo Toys, Jake's Toy Box, Doll House & Toy Store, KidStop, Fairhaven Toy Garden, and Toy House and Baby Too — were able to translate their giveaway sessions into events that publicized their stores to their customers and their local communities.

One winning retailer, Sari Powazek of Doll House & Toy Store in Scottsdale, Ariz., said that the charities she chose were overwhelmed with specialty manufacturers' generosity, "It really hit them," Sari told TDmonthly. "I don't think they expected it. They were absolutely thrilled."

For this last giveaway, winning retailers will be announced in the November issue of TDmonthly.com. Toys will start arriving in the beginning of December — just in time to help you promote your holiday events and sales!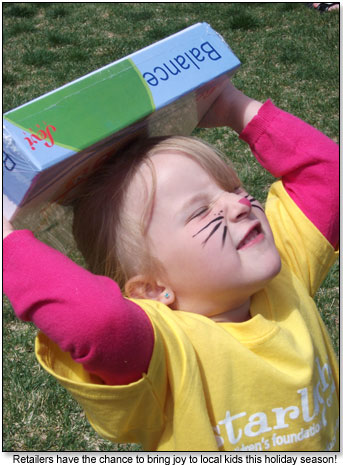 This contest is open to all specialty toy retailers — including those who have won before.

To enter, please send to alison@toydirectory.com the following info:

YOUR NAME:
STORE NAME:
YEAR FOUNDED:
HOW MANY EVENTS YOU HOLD PER YEAR:
HOW MANY EVENTS ARE COVERED BY YOUR LOCAL MEDIA:
WHAT CHARITIES AND SCHOOLS DO YOU CURRENTLY WORK WITH?
WHY DO YOU WANT TO GIVE TOYS FROM SPECIALTY MANUFACTURERS TO YOUR LOCAL SCHOOLS AND CHARITIES?
IF YOU SHOULD WIN, WHAT PLANS DO YOU HAVE FOR PROMOTING THIS EVENT TO YOUR CUSTOMERS AND LOCAL PRESS?


If you win, you will be responsible for:
1. Promoting the contest to your local media
2. Finding suitable charities to accept the donations
3. Taking photos of kids accepting the toys
4. Getting signed release forms from kids' parents
5. Holding at least one in-store giveaway for your customers so they can have a chance to win the toy package, too
6. Making sure your charities provide donating manufacturers with a Thank You letter and 501C3 paperwork.

GOOD LUCK!

Writer's Bio:
ALISON MAREK is an award-winning writer, director and cartoonist whose work has been published by Fairchild Publications and DC Comics (Piranha Press), broadcast on Showtime and other cable networks, and viewed worldwide in film festivals. See her short films and print work on www.alisonmarek.com. Watch her nefarious villains in the web series www.MuggsMovers.com. Get inspired by her cartoons "Daily ARFFirmations to Unleash Your Inner Fido" at www.ARFFirmations.com. Phew! And then ...
Read more articles by this author
THIS BANNER IS AN AD:
---
---