Children's Books

New Books For Fall That Girls Will Love
By Karen Mendez Smith
August 2003




A is for Abigail Adams

This fall brings a rich harvest of titles for all kinds of girls.

Smart Girls

Lynne Cheney and picture book illustrator Robin Preiss Glasser educate us all with A IS FOR ABIGAIL ADAMS: A BOOK OF AMAZING AMERICAN WOMEN (Simon & Schuster). Author Bonnie Cristensen brings us the picture book biography THE DARING NELLIE BLY: AMERICA'S STAR REPORTER (Random/Crown).
From Scholastic/Levine comes MILLICENT KWAN, GIRL GENIUS by Lisa Yee for middle grade readers. And from Nancy Carlson, MY FAMILY IS FOREVER (Viking) is the compelling story of an Asian-American girl's adoption.

THREE FUNNY FRIENDS
Funny Girls
Girls wouldn't be girls without the giggles. For the picture book set, THREE FUNNY FRIENDS, by Charlotte Zolotow (Running Press) with art by Linda Bronser, is a hardback reissue about a girl who moves to a new town. Laughs abound in the bayou in ALIGATOR SUE, by Sharon Arms Doucet and illustrated by Anne Wilsdorf (Random/Crown).

ALIGATOR SUE
DOODLER DOODLING, by Rita Golden Gelman and illustrated by Paul O. Zelinsky, outlines the comic adventures of a girl who likes to draw in class (Harper/Greenwillow). Girls will find much to smile about in SUPER CILANTRO GIRL (LA SUPERNINA DEL CILANTRO) from Juan Felipe Herrera and illustrated by Honorio Roblepo (Children's Book Press).
Serious Girls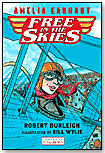 Amelia Earhart: Free in the Skies
For young adults, WALK SOFTLY, RACHEL by Kate Banks tells the story of what a girl learns when she reads her dead brother's journal (FSG/Foster). In AMELIA EARHART: FREE IN THE SKIES (Harcourt/Silver Whistle), author Robert Burleigh and illustrator Bill Wylie create an original graphic novel about this well-known heroine. Middle graders will find MY BABY by Joyce Sweeney (Marshall Cavendish) a gripping novel about teenage pregnancy.
Interviews with childhood friends contribute to the poignancy of SEARCH FOR ANNE FRANK (Abrams) written by Susan Rubin in association with the Simon Wiesenthal Museum of Tolerance. From Triangle Press comes LUBA! THE ANGEL OF BERGEN-BELSEN by Michele McCann with art by Ann Marshall, a fascinating account of the woman who saved 54 children.
Writer's Bio: Karen Mendez Smith has been involved in children's media for over twenty years as a literary agent, writer, and creator of animated television and film. Co-founder of Satori Organics and M/Path Press, she is a parent to eight children and five incredible grandchildren (and counting).

---
---