These aren't your grandfather's wooden toys. Gone are the days of crude designs carved by hand. Today's wooden toys are sleek, innovative, colorful and most of all, made to last.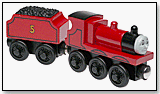 Thomas and Friends
The Little Engine That Could
Thomas and Friends by Learning Curve (ToyDirectory) allows children to act out the adventures of the little engine, Thomas, and his friends. Sets, accessories, bridges, tunnels, and buildings let children create new worlds as their imaginations grow. James the Red Engine ($17.99), Gordon the Big Express Engine ($17.99), Rusty with Construction 3-Car Set ($19.99).
Kapla World



TC Timber's Mayan Temple Wooden Block Set
Blending Science and Art
Gone are the days when building blocks were all square. Building sets by Kapla World blend building and sculpting using flat rectangular wood pieces. Children can create an unlimited number of structures such as bridges, walls, domes, houses and animals -- without using glue or nails. Choose from various sets including Kapla 200 Building Set ($59.95) or Kapla 1,000 ($249.95).

Here's a kind of wooden block set you don't see often… TC Timber takes kids 1500 years back in time with their Mayan Temple Wooden Block Set ($39.50) to when Mayan civilization flourished in Mexico and Guatemala. Young archaeologists can rebuild the pyramid temple El Castillo or the Temple of the Warriors at Chichen-Itza in Mexico. The Mayan Temple set contains 80 pieces in 14 shapes and can be used with other Master Builder block sets.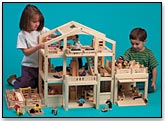 Ryan's Room from Small World Toys
Home Is Where the Imagination Is
Teaching children about the social world they live in is easy with Ryan's Room from Small World Toys. Their Home Is Where The Heart Is Wooden Dollhouse ($99.99) features an open design that allows play from all sides. Indoor and outdoor accessories abound, from a Complete Living Room Set ($14.99) to Hot Off The Grill patio sets ($14.99), The Pet Sets ($12.99) and more. Caucasian, Hispanic-American, African-American and Asian-American family sets are fully poseable and include a mother, father, grandmother, grandfather and two children ($19.99).




Bob Deluxe Scoop & Lofty Set

Bob Saves the Day

Bob the Builder and his friends Dizzy, Muck and Lofty (Brio) (ToyDirectory) can dig, scoop and build themselves out of any situation. Multiple sets and poseable figures with vehicles are available. Bob Deluxe Scoop & Lofty Set ($70.00), Snow Scoop and Bob ($15.00), Muck and Bob ($15.00), and more.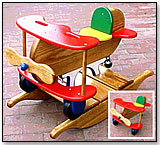 Rocking Biplane
Rock On
No ordinary rocking horses here. With Wood Worker's Toy Rock'n'Ride Toys, children can hop on their motorcycle ($98.99), tame a bucking Brontosaurus ($469) or pretend to take to the skies on their Rocking Biplane ($329).

Lucky 7 Blocks Brain Teaser Toy
Puzzle Me This
Colorful wooden brain teasers by Lights, Camera, Interaction test young minds with several solutions. Lucky 7 Blocks Brain Teaser Toy, Super Star Brain Teaser Toy, Six Piece Cube Brain Teaser Toy and more ($3.95 each).
---
---