Anticipation Rides High at Video Game Expo
By Selvin Wright
August 2003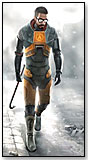 Half-Life 2
For those unfamiliar with the E3 (Electronic Entertainment Expo), it is an industry-wide showcase meant to introduce the newest video games that the public will be playing over the next two years. Every year thousands of journalists, developers and designers gather to be entranced by the newest technology while losing their voices shouting over blaring video game music and dining on gamer cuisine such as bacon-wrapped hotdogs. This May's E3 elicited frenzied anticipation over several titles scheduled to dazzle audiences later this year.
Heroes of Science
As the sequel to the critically acclaimed 1998 first person shooter, Half-Life 2 is one of the most anticipated PC titles to be released this year. In the original Half-Life, a player assumes the role of Gordon Freeman, a scientist conducting secret experiments at the Black Mesa Research Facility. When these experiments go awry, the research facility becomes overrun with alien creatures and government forces trying to cover up the situation. It is your job to stop this invasion and escape the research facility alive.
In Sierra Entertainment's Half-Life 2, players again assume the role of scientist/hero Gordon Freeman. Although little information about the story has been released, we do know that it will take place in a fictitious European city known as City 17, and there are more aliens to battle against. With five years of development going into this sequel, a lot of work has been put into following the successful footsteps of the original. From early previews of the game, it looks like they are on the right track. Look for Half-Life 2 to hit store shelves in late September.
Bionicle – the Game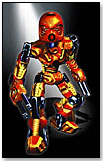 Bionicle
Riding on the success of their popular LEGO Bionicle product line, LEGO and EA Games are set to introduce brand new content in the form of a video game, animated movie and a multitude of product tie-ins. Bionicle - the Game lets fans of the Bionicle series take control of six different Toa characters from the Bionicle universe. Players will use the unique elemental powers of each character to solve puzzles, rescue villagers and defeat enemies. Special extras will include art galleries, "Making of Bionicle – the Game" and a sneak peak at 2004 products. Bionicle - the Game will be available for the PC and all major game consoles this fall.
The first movie based on the Bionicle franchise, Bionicle: Mask of Light, is a 70 minute CGI animated movie based on the adventures of the Bionicle characters. Mask of Light will be released directly to VHS and DVD formats this September.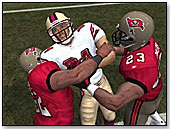 Madden 2004
Are You Ready for Some Football?
When most people think of football video games, they think of EA Sport's Madden series. Last year's Madden game outsold all other competitors' titles by a hefty margin. This year, EA Sports is looking to continue their domination with new features, better graphics and improved online play. Players in this year's Madden will look more lifelike with new animations, hairstyles and tattoos.
For 2004, Madden is introducing a new "owner mode," which lets the gamer control not only his team, but also other business responsibilities including hiring staff members, pricing merchandise and even building a custom stadium in the city of your choice. The new owner mode is also detailed enough to allow you to pick the menu at the stadium and price each individual food item. Madden 2004 will be heading to store shelves this August for the PC and all game consoles.
The Soul Still Burns
The Fourth installment in the "Soul" series by Namco, Soul Calibur II is yet another refinement to this unique fighting-game series. In 1996, Namco released Soul Edge to arcades. Unlike the average arcade fighting game where bulging muscles and fists are key to victory, Soul Edge focused on an intricate weapon-based fighting system. Set in the 16th century, Soul Edge follows a handful of warriors both good and evil in their quest for the "Soul Edge," a demon sword believed to hold great power.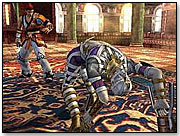 Soul Caliber II
In Soul Calibur II, the battle continues for the Soul Edge. New warriors have emerged to complement tried and true favorites. Exclusive for home release is the inclusion of special characters for each game console. Playstation 2 owners will have Heihachi from the Tekken series, Xbox owners get Todd McFarlane's Spawn and Gamecube players can use Link from The Legend of Zelda. In addition, the home version of Soul Calibur II will contain a plethora of extras and unlockables to keep fans busy for hours. Soul Calibur II will be available in the US for PS2, Xbox and Gamecube this August.
Live the Fantasy...Online!
For the first time in its long history, the Final Fantasy series is moving into the online realm with Final Fantasy XI. As with similar online RPGs like Anarchy Online or Everquest, players start the game by creating their own character. Character customization options include height, weight, sex, hair color, facial features and race, as well as a variety of different creatures: Elvaan, Humes, Galka, Mithra and the cute, magical Tarutaru.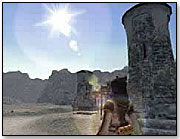 Final Fantacy XI
After your character is created, it's off to do battle in the medieval land of Vana'diel, an online world that allows hundreds of players to interact at a given time. When you start out, your character will be weak and only able to take on small creatures. However, Final Fantasy XI focuses on teamwork between online players. Up to six players can join together to take on larger monsters impossible to defeat alone. In addition, three parties can join in an alliance of up to 18 characters. Final Fantasy XI has been available in Japan since May of 2002 and recently received an expansion pack. The US version of the game will include the expansion pack as an added bonus. Final Fantasy XI is expected to ship for the PC and PS2 in early 2004.

---
---