| | |
| --- | --- |
| | Collectible Wooden Toys for the Connoisseur |
Custom wooden cars, trucks, cranes and trains are often proudly displayed on the shelves and desks of collectors ranging from lawyers to heavy equipment operators. Why? Most manufacturers agree that it's because hand-made wooden items never lose their value. Others say it's because the purchaser wants a replica of their own vehicle or a classic that they fell in love with long ago.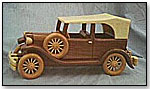 Model A



1930 Packard Touring Car
Custom wood toy manufacturers, usually small and family-owned, tend to build items one at a time in a workshop or garage. While all offer a range of items for sale, custom orders are also available. But be prepared to pay a hefty price tag for these works of art.
Bill Chase's company, Wood Classics of Sweet Home, Oregon, uses exotic hardwoods to create his unique pieces. His Model A, A-400, is crafted out of black walnut with aspen for the top and bumpers, while his 1930 Packard Touring Car is crafted out of maple burl.
"My wood dealer supplies me with Zebrawood and Padauk from Africa, as well as Coco Bolo from South America," said Chase "If you want a truly exotic and elegant collectible piece, it just doesn't get any better than that."
Prices range from $95 to $300 for the cars and $200 to $500 for dump trucks, excavators, road graders, etc.

WWII Automated Planes
Customwoodtoys.com in Madison, Wisconsin, produces wood collectibles with and without motors. The company's detailed, hand painted replica of a county fair haunted house ($135) has a 1.5 volt electric motor; a push of a switch sets it in motion. Spinning propellers highlight the WWII Automated Planes that turn on and off with the touch of a button ($55-$95), while the Viking ships have fully automated rowing oars. Items can be ordered with custom paint or personalized with your name.

1933 Seagrave Firetruck
Big Boy Toys in Fond du Lac, Wisconsin, handcrafts vehicles that imitate the real thing with working parts and wheels that turn – from a 1933 Seagrave Firetruck to a heavy duty crane that swivels with an extending boom. Big Boy Toys offers wooden creations with prices ranging from $100 to $350.
---
---