You will find something more in woods than in books. Trees and stones will teach you that which you can never learn from masters.
Saint Bernard (1090 - 1153)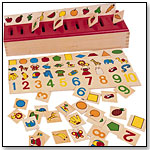 Sort wooden game
Our love affair with wooden toys stretches throughout history. Archeologists have discovered jointed wooden dolls, carved horses, chariots and even a crocodile with moveable jaws that date back to the year 1100 BC. Ancient Romans, Greeks and Egyptians all used wood to create miniature versions of everyday objects for their own children to enjoy.
The production of wooden toys for sale began as early as the 1500s in Germany. German craftsman began hiring "salesmen" to travel all over Europe selling their toys to the general public. The Germans took special orders for toys from many of Europe's royal families. These toys were often made to commemorate an occasion such as a royal birthday or anniversary.
By the 1800s, wooden toys had become even more elaborate; large, ornate dollhouses and theaters, decoratively painted soldiers and jack-in-the-boxes were all the rage. Also popular were sets of boxy wooden trains that rode along a grooved track. Today, Brio (ToyDirectory), one of the world's largest producers of wooden toys, manufactures over 3.5 million trains, cars and trucks every year. That's more than the total number of U.S. cars and trucks produced annually by the Ford Motor Company.
But now, more than 100 years after the BRothers Ivarsson of Osby, Sweden (Brio) began making their wooden wonders, plastic has taken over the toy world. A cheap, versatile material, plastic revolutionized the toy industry by allowing manufacturers to mass-produce toys, thereby giving Barbie and LEGO a leg-up over marionettes and wooden trains.
Though there are only a few large corporations making it big in the wooden toy world, there are hundreds of small mom and pop companies devoted to the dying art of woodcraft. From Family Tree Toys' lovely heirloom finish rocking horses ($400 and up) to the old world charm of Pelham's Puppets, there is a wooden toy out there to suit every interest and every budget.
Donna Nash, marketing manager at Brio, says there will always be a market for wooden toys. "It conveys a back-to-basics, traditional play value that people are looking for to balance the computer and video-game driven lives many kids lead in this day and age," she says. "Our quality and craftsmanship always prevail."
Early childhood educators, particularly those who follow the mandates of
Montessori and Waldorf, have always sung the praises of wood over plastic. Dr. Lawrence M. Mestyanek, founder of TAG Toys (ToyShow), has a Ph.D. in educational psychology and a masters in psychotherapy. He states that "although it defies clear cut explanation, wood is a material that invites a person to touch and feel. This is true of adults and children alike. You never see people reaching out to touch, rub or feel a plastic toy, but with predictable regularity people look and then touch wooden products."
It is that indeterminate need to touch and even smell wooden toys that allows companies like Brio, Tag, Learning Curve (ToyDirectory) and Kapla to keep turning out toys that sell for twice the price of their plastic counterparts.
Sohad Khafagy and her husband are owners of Edu4fun, a company that specializes in wooden puzzles and games for children. "People often shy away from wood toys because they can be very expensive, so we've made every effort to keep our prices reasonable," she says. A 10-inch x 9-inch wooden abacus is the company's bestseller, coming in at a very inexpensive $16.95. Sohad suggests the education market is one of the most important for retailers of wooden toys.
"Preschools and kindergarten classes are a great market for wood toys," Khafagy says. Teachers know that wood is durable, and children, particularly special needs children, really benefit from these kinds of toys."

---
---