When Pots and Pans Won't Do: Real Musical Instruments
By Janie Franz
August 2003



Making the transition from pretending to be a musician to learning a real instrument is an important one in a child's life. Providing good quality instruments, usually scaled-down versions of those professionals use, is the key to making the musical experience a fun and rewarding one.
Hohner Marine Band harmonica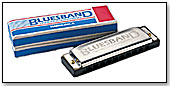 Bluesband
Harmonicas
Already kid-sized, harmonicas are a great first instrument. The classic Hohner Marine Band harmonica (ToyDirectory) ($24.95) has been around for over a hundred years. Rich-toned and durable, it is available in 41 different keys (major and minor), making it a very versatile instrument. The Hohner Old Standby ($9.50), a modest version of the Marine Band, comes in seven major-scale keys. Bluesband, also by Horner, comes in "C" and "A" keys only, but runs only $4.95. For a bit more, the Hohner Blues Harp ($26.95) offers twelve different blues keys.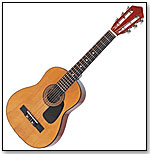 HAG250
Guitars
Child-sized versions of guitars should be scaled down enough so the child can reach around the soundbox and pick the strings. The guitar neck should also be slimmer than grown-up versions so that small fingers can make chords easily.
Hohner's 1/2-size HAG250 ($50) is a nylon string folk guitar, and the student-size HW03 ($109) is a steel string acoustic guitar with a spruce body and a mahogany neck. Hohner also has an electric guitar package, HEG 250P ($239), which includes the guitar, battery-powered amp, carrying case and accessories.

Backpacker
Other guitar makers also produce student-sized guitars. The Yamaha JR1 Package ($199) has a 3/4-size steel string acoustic guitar and padded carrying bag. Johnsonís JG-610 Series offers two sizes: the JG-610-3/4 ($89), a 3/4-size acoustic guitar and the JG-610-1/2 ($89), a 1/2-size model. The Lucinda Student Model ($69) is a nylon string classical guitar which comes in 3/4 and 1/2 sizes. Martin also makes a small travel guitar, the Backpacker ($274), that comes in either a steel-string or a nylon-string version to fit smaller hands.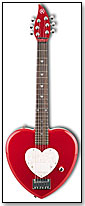 Heartbreaker
Girls now have their own heart-shaped electric or acoustic guitar. Daisy Rock guitars are 1/2-size with a very slim neck and run about $200. They come in powder blue, yellow and pink. The Heartbreaker electric guitar comes in red, purple and black.
Drums
| | |
| --- | --- |
| Remo Kids Djembe | Remo Kids Konga |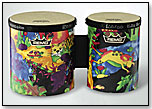 Remo Kids Bongo
World instruments produce a variety of tones across a drumhead, making them more interesting than many percussion instruments. Remo Kids Djembe ($81) is a small version of this standard African drum. It stands only 14 inches tall with an 8-inch diameter drumhead. The Remo Kids Konga ($59) is 15 inches high with a 6.5-inch head. Both drums come with adjustable shoulder straps. And, of course, Remo Kids Bongos ($50) are just the right size for small hands (6.5 inches high, with 5-inch and 6-inch heads).
For the child who dreams of being the next John Bonham, several small, inexpensive drum sets are available. The Sunlight 3-piece Junior Drum Set ($224) comes with a 10-inch cymbal. CODA Drums offers the Generation Alpha 5-piece Drumkit ($399) for the student drummer.

RT Series Rhythm Traveler
To save Mom and Dad's ears during practice sessions, Pearl has introduced the new RT Series Rhythm Traveler ($659). This 5-piece drumkit comes with two complete sets of drumheads: one for performance and one for silent practice. Pearl's new Muffle Heads respond like a regular drumhead but produce hardly any sound. Pearl's Silent Cymbal Pads complete the kit, making it the perfect drumset for home practice, even in an apartment.

Writer's Bio: The mother of two grown children (an artist and a musician), writer Janie Franz once was a radio announcer and did booking for a rock band.
---
---