New, Hot & Unusual
Kids and Teens See the Light: Glowing Fashion Accessories From Atomic
By Vanessa Wright
November 2003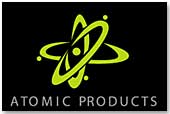 Atomic Products

Atomic Products' line of Atomic Wave illuminated fashion accessories will have both kids and teens glowing—literally. The newest products include Atomic Wave jewelry, glow bands, dog tags, watches, sunglasses, and even Atomic Pet accessories for man's best friend. Atomic Wave jewelry includes four different necklace styles and one belly chain. Glow bands and dog tags are available in six designs, watches come in twelve different styles and sunglasses are offered in a variety of cool neon colors. Atomic Pet accessories include leashes, collars and "quick wraps" that can be spotted up to a half mile away, helping to keep pets safe at night.




Glasses

"The key differences between us and other competitors are value, functionality and style," said Laura Grabe, public relations director for Atomic Products. "We spent a lot of time driving down the cost on these items while increasing the quality, which resulted in a line of high quality goods that are priced right for a broader market."

"We also kept an eye on ease of use, so all of our products have an intuitive on/off feature and are easy to wear," Grabe said. "In addition, our designers are always looking for new designs and unique products. Currently, there are no other dog tags on the market that glow, so that's an Atomic exclusive item."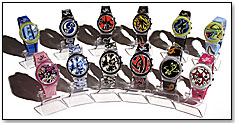 Atomic Watches
All of the Atomic Wave accessories are powered by Glowtronix fibers inside beads that pulse with a bright light. Product prices range from $10 (dog tags) to $22 (sunglasses) and are available from the company's web site at goatomic.net.
---

Advertisement: