Design Inspiration
Dental Dedication: Toy Puts Hygiene Within Kids' Reach
By Amelia Brown
November 2003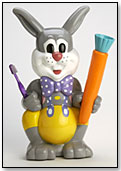 Brushtime Bunny

After countless failed attempts to encourage good dental habits in the Baltimore neighborhood where she practiced, Dr. Winifred Booker knew something had to be done. The expensive toothbrushes and toothpaste she was investing in just weren't enough to motivate children to brush their teeth, especially since most of them received little or no help from their parents.

When asked why they weren't brushing, her young patients gave Booker reasons like "I could not reach the toothpaste" and "I could not see the mirror." She realized that children needed something they could identify with and easily access if good dental habits were going to be achieved.

During a snowstorm in the late winter of 1988, inspiration struck. Stuck at home reading the newspaper, Dr. Booker noticed numerous advertisements for Easter candy. As she recalls, "I thought that since kids love the Easter Bunny so much, I should create my hygiene product in the likeness of a bunny."

Booker wrote down all of her thoughts on what the bunny should look like and what functions it should perform, then hired an artist to put her vision into design form. Booker began attending toy fairs in New York with the hopes of identifying a manufacturer for Brushtime Bunny. She came across an advertisement for a consignment manufacturer. "I contacted him," Booker says, "and the rest is history."

Once the bunny was manufactured, Dr. Booker found retailers by making personal visits to various stores and through mailing out press releases. Currently, the Brushtime Products line is sold through a toll-free number and a website, and retailers include Sweet Potato Kids Daycare Gift Shop and The Samuel D. Harris National Museum of Dentistry Gift Shop.

Brushtime Bunny is a 12-inch tall plastic rabbit wearing a colorful outfit, equipped with all the tools necessary for a child to practice good dental habits. Holding a plastic carrot in his right hand and a toothbrush in his left, this bunny is full of surprises. The belly opens to reveal a mirror and four "Brushtime Tips". The carrot doubles as a travel case and holds a toothbrush, toothpaste and dental floss, while the top is a rinse cup. For extra motivation, this bunny plays a special song, "Brush, Brush, Brush," for a two-minute time interval (the recommended time a child should brush).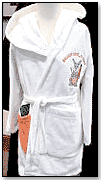 Brushtime Bunny Terrycloth Bathrobe
In addition to Brushtime Bunny, the Brushtime line has expanded to include a Terrycloth Bathrobe with a carrot-shaped pocket for the carrot travel case, and two Brushtime Bunny Backpacks are in the final stages of creation. Brushtime Bunny has also inspired the first "Project Healthy Easter Basket," a joint effort between Brushtime Products and Maryland Children's OralHealth Institute to replace the usual Easter candy promotions with healthy alternatives and ideas.
Dr. Booker continues to be inspired by her patients and their need for oral hygiene aides and is happy to report that the major manufacturers of dental hygiene products for children are focusing more on child-friendly products. The responses from parents regarding her products have been extremely positive. "Parents are pleased to have the Brushtime Bunny to help them create enthusiasm for a good tooth brushing routine," Booker says.
---