Wizard for a Day: Kids Visit New Frontiers of Imagination
By Anthony Maddela
November 2003



Pretend-play costumes and toys have been outlets for expressing the joy, angst and dreams of every generation of kids. Todayís offerings bring home the drama from the cinema, history, classic children's tales and nursery rhymes.
Give the Puppeteer a Hand with Dexterous Fingers
Alex Toys (ToyShow) solves the mystery behind finger-less gloves. Humpty Dumpty Finger Puppets ($7) are just one of many fairytale finger puppet sets aimed to please kids ages 3 and above. Made of soft felt, the puppets fit children's fingers and are true virtuosos willing to take on new roles beyond the Humpty Dumpty rhyme.

Breyer Stick Horse
Hail the Sport of Kings
A pet pony is out of the question, but grade-school jockeys can relive the match race of the century piloting the Seabiscuit Stick Horse ($25.99) from Breyer, whose realistic model horses spawned an industry of collectors. This Seabiscuit takes kids to the racetrack with the sounds of the "Call to the Post" and a thunderous gallop.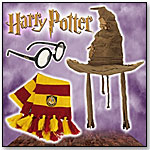 Harry Potter Products
Anyone for Swashbuckling, Rhyming or Quidditch?
With Harry Potter and the Prisoner of Azkaban almost ready for the screen, Elope (ToyDirectory) has hats and accessories ready for kids to take home. The Sorting Hat ($24.99), Hogwarts School Scarf ($24.99, with Knit Hat) and Glasses ($6.95) are de rigueur for hardcore fans of the series. Say the magic words and Elope will transform boys and girls into other Harry Potter characters, even Professor McGonagall.
Alice's Wonderful Tea Party Set
Tea with Alice & Friends
The venerable Tootsietoy Company serves up a new Alice's Wonderful Tea Party Set ($14.99) with service for four. Girls will appreciate the little surprises, including flower petal saucers, the Doormouse waiting inside the Mad Hatter's creamer and the Cheshire Cat's tail doubling as the sugar spoon.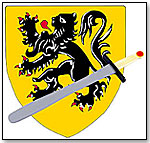 Flanders Shield and Sword Set
Medieval History Repeats Itself
Belgium and Northern France were once havens for treacherous, powerful men called the Counts of Flanders. Kids can re-live the Dark Ages with the painted wooden Lion of Flanders Shield and Sword Set from European Expressions ($10). Stand behind the Lion of Flanders crest and attack with the wooden sword, whose soft edges encourage safe play.
Construction Worker/ Road Crew Worker
Clothes Make the Delivery Man
Fanny's Playhouse (ToyDirectory), known for uniform costumes portraying every walk of life, gives kids ages 3 and up opportunities to look like working professionals. Three major debuts in the companyís line are the Construction Worker/Road Crew Worker (vest, $6.50; imitation hard hat, $5.00), Delivery Carrier (jacket and cap, $29.00) and Airline Pilot (jacket and cap, $32.50).

Billy-Bob Teeth's Austin Powers Kit
It's Shagadelic, Baby!
Teens can greet the International Man of Mystery in the mirror with Billy-Bob Teeth's Austin Powers Kit ($11.99). The kit offers those pearly whites and non-prescription glasses that make spy Austin Powers the character we canít forget.
A Stunning Debut
A Wish Come True makes fantasy outfits for girls who would rather make a red-carpet splash than a backdoor ripple at their next costume party. Available in pink or lavender, the Fairy Tale Maiden (dress, $65; hat, $18) features a velour bodice and peplum, satin sleeves and V-inset, multi-layer tulle skirt with lettuce edging, attached flower and tulle trim. These are sizes available for girls ages 2 to 14.
---