Princesses, Wizards and Incredible Hulks: Magical Clothing for Make Believe
By Tamara Halbritter
November 2003



Costumes give children the chance to embody a favorite character they enjoy, to be someone else for a while. On a special occasion such as a birthday or Halloween, donning a disguise gives children a creative outlet.

Deborah Dalva, senior marketing manager at Disguise, explains how manufacturers are allowing room for this creativity by giving kids more costume choices: "We're moving away from the macabre. It exists; it is still part of Halloween, but as the years progress, we have adjusted our costumes to be more fun. Children like to be fairy princesses for example, characters who are magical, light and upbeat."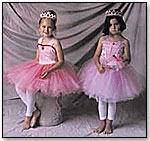 Sugar Plum Fairy

Who Would You Rather Be: Fairy, Boar or Film Star?

If a girl wants to be a fairy, Fairy Finery's newest creation, the Fairy Flower Tulle Dress with a flower tulle skirt and velvet bodice ($47) has her covered. Would she rather be a princess? The never-ever droop Princess Hat with Boa ($21), also from Fairy Finery, is made of special fairy fabric and tops off any regal outfit.

Visions of the Sugar Plum Fairy come to life with Fairtytale Fashion's new design that features three layers of glimmer tulle and an elastic back with adjustable straps for easy fit ($59).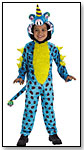 Uniboar Blue
Disguise's new Kozmic Kreaturez™ line of costumes ($24.99 each) let kids fashion their own interpretation of who they want to be. Uniboar Blue's boar-like teeth on its character hood contrast with a whimsical yellow furry belly and polka-dotted body suit. If kids are too young to laugh at Merv the Griffin's name, they're sure to smile when wearing a soft green, velour-feel costume with detachable wings. A space-age choice is the atomic action hero, Mr. Atom, with a cool space helmet.



Rubie's Stealth Pilot





Harry Potter Robe


Rubie's Yu-Gi-Oh! Child Costume


Hermione Kids' Costume Set
Rubie's Costume Company adds over 300 new items to their costume inventory each year. New Rubie's characters include: Yu-Gi-Oh! Child Costume ($24.99), Cleopatra Child Costume ($15), Pirate King Child Costume ($13.99), Angel Costume ($22.95), Astronaut ($26.95), Statue of Liberty Costume ($13.99), Cheerleader Costume ($16.95), Stealth Pilot – Young Heroes Costume ($25.95) and many more.

Rubie's also designs costumes for kids who want to reenact favorite film moments. The new Harry Potter Fiber Optic Robe ($45.99) features The Hogwarts insignia that lights up with a magical glow. The Hermione Kids' Costume Set ($42.95) comes from Warner Bros, and Elope (ToyDirectrory) produces the Harry Potter Student Hat ($19.95).


Dress Up Like Important People



Elope's Firefighter




Learning Curve's Fire Fighter




Learning Curve's My Dress-Up Travel Trunk
A line of form-fitting backpacks by Elope transform children into a Firefighter, Robot, Dragon, Gnome or even a Tiki ($28.95 each).
Learning Curve's Small Miracles: My Dress-Up Travel Trunk ($39.99) takes a more feminine approach with a purple velvety top, white fluffy boa, flowered tulle skirt and white hat tucked inside a trunk. Other accessories include a magic wand, hair clips and bracelet. In contrast, the Small Miracles Fire Fighter Career Outfit ($29.99) has a shiny red jacket, hat, "pretend" fire extinguisher and hose.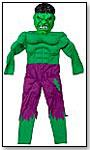 The Hulk Deluxe Muscle Costume
Just in case your child insists on dressing up like The Incredible Hulk, Disguise provides a hero-worthy costume: The Hulk Deluxe Muscle Costume ($29.99).
Writers Bio: Tamara Halbritter has been teaching creative movement and dance to children for over 15 years. As a professional dancer and freelance writer, she puts plenty of playtime into her schedule. Currently, she is writing a book about a gifted pair who see other people's dreams.
---

Advertisement: