Retailer Spotlight
Far From Wal-Mart: Once Upon a Time Toys Thrives on the Past
By Marc Lemay
November 2003



Store Name: Once Upon A Time Toys (ToyShow)
Store Location: 1799 Mountain Road, Stowe, Vermont 05672
Store Owners: Jane Christopherson
Store Web Address: www.onceatoy.com

"Specializing in good, old-fashioned fun" isn't just an ad slogan at Once Upon A Time Toys in Stowe, Vermont. Owner Jane Christopherson and her staff of three have been catering to local residents and tourists with a selection of classic toys for 27 years.

Dinosaur Card Game
"Most of our customers are tourists, but our local following is very strong, too," Christopherson says. "We have tourists who come back year after year." Christopherson started the store because there were no other toy stores in the Northern New England town. With experience in retail clothing under her belt, she made the jump into her own toy store.
Since opening her doors, the premise has been simple: offer customers high quality, hard-to-find toys from around the world.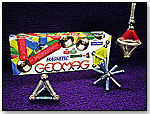 Geomag
Christopherson's product line eschews pixels and battery-powered blinking lights for the pleasures of simple play. "We sell unique toys from around the world that help children learn through play," she says. "We are a hands-on toy store, and many of our products are out on display. Kids and parents are encouraged to play with them in the store." The store includes favorites like Geomag, as well as classics like Barrel of Monkeys.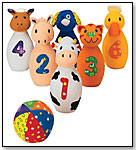 Farm Bowling Friends
"I buy from importers that depend on specialty retailers like myself, companies like International Playthings, Small World Toys, Schylling, Ravensburger Puzzles, Do-a-Dot, Binary Arts, Creativity For Kids and other similar companies," she says.
Christopherson says there are many factors that influence the "play value" of the products she carries, both in her store and online. "I determine play value by the uniqueness of the toy to hold the child's interest by way of color, texture, expanding curiosity, problem solving, dexterity, safety and durability," she says. While you can find simple toys like wooden blocks in a bag at the store, Christopherson also likes to stock newer toys with educational themes.
All of the products available in the brick and mortar operation can also be had online (onceatoy.com), with Christopherson working from the in-store stock rather than maintaining a separate inventory for the online store. "Most of my web customers are grandparents and aunts and uncles. They are looking for everything from infant toys to adult games. I wish I had many more web customers that are parents."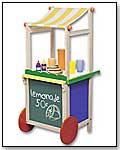 Lemonade Stand
While her Internet operation is still growing, Christopherson takes pride in the individual service offered at her brick and mortar store. "My early background was in art, and I still love to do displays throughout the store and in the windows," she says. "We get many compliments on how nice our store looks."
One of the things in her favor, according to Christopherson, is the fact that there haven't been any "break out" toys in the past few years, causing people to head back to finding tried-and-true toys. "Over the last few years, there hasn't been any gotta-have toy," she says. "I like that a lot, because it gives people the ability to buy across the board and not just focus on one particular toy."
Unlike most small retailers, major discount chains haven't affected Christopherson's operation. She says that being almost an hour away from any large retail operation has its advantages. And despite her rural location, she keeps in touch with her customers through e-mail and local advertising.
After 27 years, Christopherson has stayed true to her original vision ­ a locally owned and operated toy store with a focus on simple toys that kids enjoy. "Even today, kids and parents still enjoy the same simple toys without noise," she says.
---