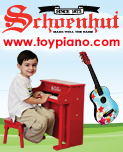 Article Tools:








Top-10 Most-Wanted Travel Toys
Word Games and Activity Sets Entertain Kids on the Road
With additional reporting by Terri Hughes-Lazzell, Chris Lundy, J. D. Meisner, Claudia Newcorn, Marie Raven and Brenda Ruggiero

Melissa & Doug rules in specialty sales of travel games, a recent TDmonthly Magazine poll of 64 retailers showed, taking the cake with Flip to Win games, such as Hangman. Activity books by Klutz and Lee Publications are also popular, as are various types of magnetic sets and play boards. Following are the top-10 most-wanted travel toys and games.
.
.
.
.
.
.
.
.
.
.
Catalog Request Form


Advertisement: