Watch toy demo videos from Toy Fair 2010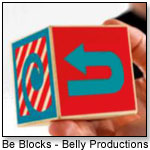 Toy Fair unfailingly has an overwhelming selection of new toys and games every year, which is one reason TDmonthly Magazine brought you daily show reports on our favorite toys and specialty retailers' recommended items. Now, we've narrowed it down to 10 new toys and games from Toy Fair that exhibit superior innovation, creativity and/or high promise for the specialty market.
It's no surprise that in being creatively designed themselves, many of these toys demand creativity from their owners. (How creativity will play into the toy industry in 2010)
MAKE IT YOUR OWN!

Makedo, distributed by Reeves International, offers a system of tools and connectors that invite kids to make anything out of boxes, old magazines, cups ... you get the idea. It's a simple enough concept, but one that fits into the "aspirational" toy trend relayed by TIA, which covers playthings that stimulate children intellectually and emotionally.


Geemo, from Brooklyn Junior, is another toy that promises free-form play. The flexible, magnetic, interconnectable pieces might leave one asking, "What is it?" But that abstract element alone makes it all the more fun. Waba Fun's Bubber is, like Geemo, a sort of therapeutic product without limits. The modeling compound is so lightweight and tactilely distinct that it fascinates before play even begins.

Be Blocks by Belly Productions are more straightforward but afford children creative license to design their own keepsake bamboo blocks. TDmonthly appreciated the clean presentation of this product, as well as the artistic factor brought to such a childhood staple.

GAMES FOR THOUGHT

The brand new Morphology game caught the eye of several specialty retailers for its open-ended elements and creative factor. It's sure to invoke laughter and surprise as players use random objects to construct their own representation of any given word.

Mindtwister USA's no newcomer to the market, but its multi-player version of the best-selling, twist-and-play Pentago is destined to pick up a lot of steam when it launches this month. In short, the game pairs an inventive strategy challenge with flawless design.
ACTIVITIES WITH BALANCE

Fun and games go outdoors, too, following the ever-important "active" trend — also covered by TIA — that's crucial for both our bodies and brains.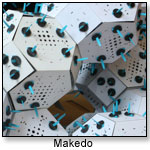 OgoSport invites kids to construct their own sturdy, bouncy structures out of bright, interchangeable pieces. This build-and-play model is something that's appearing in several product categories — think Bandai's Harumika fashion line, numerous decorate-your-own cardboard houses, and even board games that require a player to determine the rules or setup.

One of the hottest attractions at Toy Fair was the Gibbon Slacklines booth, where athletes demonstrated the art of slacklining — walking, hopping and flipping on a tightrope-like, tension-slung woven line. It offers a fun, sport-like activity for kids and even families, but beware: the ability to balance is a must!

And speaking of balance, there's no denying the increasing number of balance bikes crowding the market, but what about a single wheel that eliminates the need for training wheels? That's where Gyrobike comes in with its battery-operated Gyrowheel that replaces the front tire on a child's bicycle and instinctively recenters the bike when it starts to wobble.

VAMPIRES GET YOUNGER

Kamhi World's Vamplets don't easily fit into a prominent Toy Fair trend, but they do play on a growing, Twilight-inspired goth theme in the overall tween market. Just take a look at IDEX's dark side for some examples. The surprise with this line is that, likely, no one expected baby vampires ... and even if they did, who knew they'd turn out so cute?

See photos and descriptions of TDmonthly's top-10 Toy Fair toys below:
.
.
.
.
.
.
.
.
Morphology is a fun, creative and challenging party board game combining simple shapes, imagination and creativity. Using wooden sticks, glass beads and colored cubes how would players create a butterfly¯? or airplane¯? The game challenges players to do just that, even with their eyes closed or using only the string. Morphology takes unique twists and turns throughout the game. Awards ? 2011 About.com Readers' Choice award: Best Party Game of 2010; 2010 TIME Magazine's #2 Toy of the Year; 2010 Chicago Tribune Top Ten Game to Get a Party Started; 2010 Games' Magazine top 100 list; Top Party Board Game Nominee; 2010 TDmonthly Top Toys at Toy Fair; 2010 ASTRA Top Toys at Toy Fair
.
.