Search Company/Product Name
Your Criteria:
Age:
All Ages
Price:
All Prices
Gender:
Boys and Girls
Category:
Designer Toys
---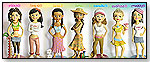 Age Range: 6 and up
Launch Date: January 2008
This one-of-a-kind set includes 12, 8" figurines made of exquisitely polished resin. It features intricate detailing and whimsical style. "They are aimed at collectors, whether tweens, teens or adults," CEO & Creative Director Lynette Opoku of Littlelyn Entertainment told TDmonthly.
ToyDirectory Product ID#: 20167
(added 8/21/2008)
.
Wholesale Price: (Log in to view)
Age Range: All Ages
SKU or Item #: 10-05-109
Launch Date: January 2008
Gender: Boys And Girls
Boogaloos are adorable, rounded creatures that are soft, cuddly and funny. Handknit by a Peruvian artist, they are 100-percent cotton stuffed with polyfill and are designed to provide a simple and vibrant play experience. Launch date: 2008.

ToyDirectory Product ID#: 20008
(added 8/5/2008)
.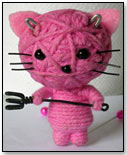 You ever get the feeling that everyone else is stealing your awesome sense of style? Hell Kitty will be here to keep your style yours and banish all posers to last month's fashion magazine. Hell Kitty is 100% handmade from highly durable cotton strings, 2.5" height and 1.5" wide.
ToyDirectory Product ID#: 14435
(added 8/1/2007)
.
The Gremlins
From: DARK HORSE COMICS, INC.
Other products from DARK HORSE COMICS, INC.
TDmonthly rating: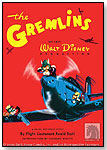 Published in 1943 and long unavailable, this landmark book from the author of such beloved tales as "Charlie and the Chocolate Factory," "James and the Giant Peach," and "Matilda" is proudly presented by Dark Horse Books. Digitally restored, this is a remarkable presentation of Dahl's classic story, lavishly illustrated by the artists of the Walt Disney Studios.
ToyDirectory Product ID#: 9916
(added 11/2/2006)
.
This 14" plush Peaco is very shy. … Well, shy on the outside. On the inside, Peaco is a wild man! You can see it in his eyes. All three. Peaco really shines when he's doing what he does best, DANCING. Peaco loves to dance in the water...much to the dread of his cousin Cinko. Why dance in the water? Well, think about it: When you dance in the water, no one can see you! SHY! Remember? It's kind of a pain explaining, water dancing to lifeguards though. Please dance with Peaco; he's seen your moves! (But don't step on his ears.) Peaco is also available in a $10 Little Ugly size (7") and $6 key chain size (4").
— "Uglydolls. I think that half the people that buy them are buying them to give to adults. That's been a phenomenon," was the consumer behavior noticed by Rick Henry, owner of Stellabella Toys in Cambridge, Mass.
— "We might be behind the rest of the country, but suddenly Uglydolls are real big," said Debbie Scholl, owner of Fundamentally Toys in Houston, Texas.
—"I attribute Uglydoll's success to the quality and originality of the brand," Victoria George, PR director for Pretty Ugly LLC, told
TD
monthly
. "It's the only plush product on the market that carries such versatility and broad-spectrum appeal. They're soft, cuddly and the narratives are funny, silly and sweet. They really have a wide demographic of fans and enthusiasts, which is so unique for a toy brand."
ToyDirectory Product ID#: 9177
(added 8/29/2006)
.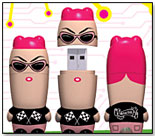 Mimobots are little friendly data fiends that hold essential data, such as tunes, pictures, or presentations. The 2" monsters transport files via flash memory drives that also come preloaded with bonus removable content such as animation, games and music. Mimobots are produced in limited editions and are available in capacities ranging from 256MB to 4GB. They are hi-speed USB 2.0 and compatible with both Mac and Windows. The 2006 mimobot Artist Series delivers crisp characters created by influential artists representing a cross-section of pop art genres. Pictured here is Betty-Lou, designed by Lili Chin, co-creator of the Warner Brothers hit show Mucha Lucha! Only 500 were produced and she runs from $49.95 to $144.95, depending on flash memory size. Launch date: Late 2005.
ToyDirectory Product ID#: 8440
(added 6/29/2006)
.
Albino Squid is a jerk. He is a useful friend in that he reminds you how not to act. If you are a jerk, rejoice! You've met your new teammate! He wants to kick the ass of all your competitors and help you rule the world. Solutions to all your problems!
ToyDirectory Product ID#: 5826
(added 12/9/2005)
.