Search Company/Product Name
Your Criteria:
Age:
All Ages
Price:
All Prices
Gender:
Boys and Girls
Category:
Remote Controlled
---

The latest craze to come from Japan, drifting is now part of the Nascar circuit. Artin North America introduces its new 1/10 Scale Radio Controlled Pontiac GTO with high speed "drifting" action. This innovative model can speed up to 110 scale MPH and go into a four wheel power slide drift action. Remote control vehicle enthusiasts can take the competition to the next level. Also available is a Nissan 350Z, sold separately. - Aire Norell
ToyDirectory Product ID#: 2004
(added 12/22/2004)
.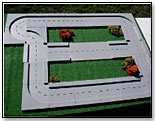 ModuTrack is a customizable, modular, multi-lane, raceway circuit system of different road sections, wall, ramp, guide, support accessories and off-road terrain surfaces. The sections and accessories can be assembled and joined to one another via interlocking catches or mounting posts. They are ideal for 1:28 or smaller scale radio-controlled cars or play vehicles. ModuTrack can also be connected to a PC for interactive race management, lap counting and timing.
ToyDirectory Product ID#: 1732
(added 12/9/2004)
.

Get ready to unleash the power with the North American invasion of Power Flix. There are twenty Power Flix characters to collect, each belonging to their very own team. Power Flix jump to life by pressing down on their backs with a finger. When released they fly through the air reaching incredible distances of up to six feet. Friends can challenge each other to reveal whose Power Flix jumps the furthest or highest. A battle arena is available adding even more game play. The arena can also be used as a Flix storage container to unleash the power anywhere.
ToyDirectory Product ID#: 2416
(added 9/3/2004)
.
Wubber Wrestlers are the wildest and wackiest wrestling toy ever. There are 12 twisting, slamming, fighting Wubber Wrestler characters to collect, each with their own rival opponent. The battle between Humans vs. Mutants has arrived and they are ready to wumble. Twist the Wubber Wrestlers together and throw them into the ring to watch these rowdy wrestling matches. There is never a dull moment, as this crazy collectible toy never has two matches that are the same. Battles can be taken further with the deluxe ring pack that can also be used as a carrying case to store the wrestlers.
ToyDirectory Product ID#: 2417
(added 9/3/2004)
.

Blaster Jets take flight at high speeds and go far distances based on your control. Powered by a rubber band, the jet can be launched up to 100ft. Blaster Jets come with a built in launch power band and is made out of impact durable foam.
ToyDirectory Product ID#: 2418
(added 9/3/2004)
.

Finger Blasters are the farthest flying finger launch rockets ever. The rocket takes flight by placing your index finger through the attached rubber band and pulling it back as far as you can. When released, the Finger Blaster takes off and can be launched up to 100ft.
ToyDirectory Product ID#: 2419
(added 9/3/2004)
.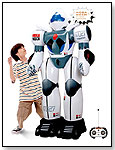 What kid doesn't want a giant inflatable robot that acts on their commands? This 4"-plus–tall, radio-controlled man of air can even record and play back phrases in killer-robot tones. "I want one," said a resident 8-year-old bent on world domination. "Me, too," sang out a 10-year-old girl across the way. "I want to scare the dog and then dress it up. If we got two, we could have a war." Manley representatives have said it's selling well, but expect a big boost come Christmastime. "It's at a price point that it makes an easy gift decision," one representative told TDmonthly.
ToyDirectory Product ID#: 15611
(added 10/4/2007)
.