---
The Battle of the Babes
Hannah Montana Chases Barbie and Bratz
Last year marked, for the first time in years, a real change in the fashion doll category — the ascent of Hannah Montana. In 2006, Mattel's Barbie and MGA Entertainment's Bratz reigned supreme and shared the market. Then, Hannah Montana came and changed it all.

This is how the market shares changed since spring 2007, according to my retailer panel: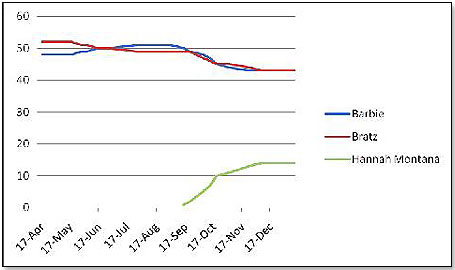 The same picture emerges when you look at both web traffic and blog intensity metrics: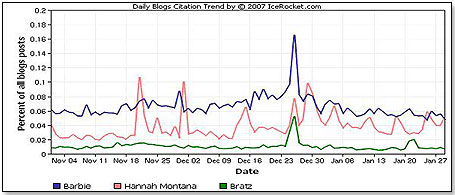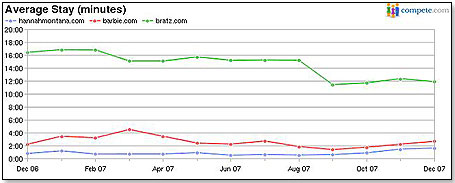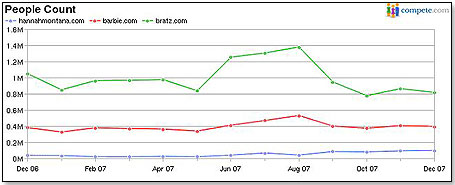 In terms of key merchandising locations [endcaps and aisle caps] in Wal-Mart, Target and Toys "R" Us, the Hannah Montana doll made only a short appearance during October and then disappeared again: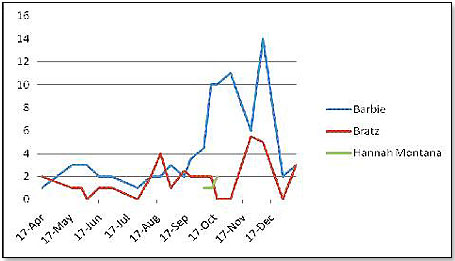 This suggests to me that Jakks Pacific did not exploit the product to its fullest and the brand could have done even better than it did had Jakks supported it more energetically.

Google Measures Brand Popularity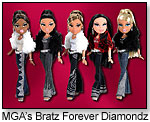 I also looked at Google searches — comparing how many people looked for Hannah Montana versus Barbie versus Bratz. In the United States, Hannah Montana emerged in late 2006, passed Bratz in January 2007 and passed Barbie in June 2007. Hannah Montana is now about 50 percent above Barbie and about 200 percent above Bratz.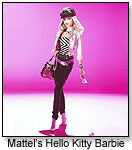 A look at Google searches for the UK and Germany tells a different story. In the UK, Hannah Montana is flat and at a level two-thirds below Barbie and Bratz. In Germany, Barbie reigns supreme and both Bratz and Hannah Montana are way down.

These metrics parallel what is happening on the ground as far as product market shares are concerned. The fact that Hannah Montana is doing so badly outside the United States could be due to a combination of factors.

One is that Hannah Montana is, at this point, predominantly a U.S. phenomenon. Secondly, the Hannah Montana doll-range outside the United States is distributed by Mattel, who is likely to give more emphasis to Barbie than to a third-party brand.

Movie May Give Montana International Boost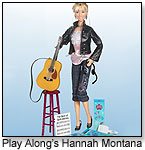 The Hannah Montana movie, "Best of Both Worlds Concert," with a release date of Feb. 1, is predicted to be the No. 1 box office hit for the month. Tickets went on sale Dec. 1 and were in short supply even before the film's opening.

The film's popularity will not only significantly accelerate Hannah Montana in the United States, but could also kick-start the brand elsewhere in the world.

Writer's Bio:
Lutz Muller is a Swiss who has lived on five continents. In the United States, he was the CEO for four manufacturing companies, including two in the toy industry. Since 2002, he has provided competitive intelligence on the toy and video game market to manufacturers and financial institutions coast-to-coast. He gets his information from his retailer panel, from big-box buyers and his many friends in the industry. If anything happens, he is usually the first to know. Read more on his website at www.klosterstrading.com.
Read more articles by this author
THIS BANNER IS AN AD:
---
---