---
Homeschoolers: Kookeys for Keeps?
Families Love Animals, But Kooland Site Needs Work
"Katie was very excited about the website and wanted to immediately visit [it]." — Alison Shanahan, mother of three

TD

monthly Magazine's Homeschool Roundtable fell in love with the soft plush Kookeys by 10VOX Entertainment, although they had mixed reviews of the virtual world "Kooland," which is still being worked on by its creators.

Roundtable participants are former corporate accountant Robbin Dawson with Ethan (8) and Sara (6); Alison Shanahan with Elizabeth (14), Emily (13) and Katie (7); Teresa Wilson, editor of "HOMES Newsletter," with Timothy (14), Andrew (11), Elise (8) and Steven (6); Jill Zuidema, former retail manager, with Alyssa (8); and Susan Ledford, editor of the "Homeschool Resources Directory for SC," with Victoria (12), Joe (8) and Griffin (2).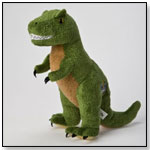 Kookeys by 10VOX ENTERTAINMENT INC.
Gender: Boys and Girls
Category: Plush
MSRP: $11.99

What It Is: This soft plush animal comes with access to an online virtual world featuring entertaining and educational games, contests and rewards in a positive atmosphere.

What the Moms Thought: "Cute" and "soft," they said. All of the moms liked Kookeys' appearance and texture, though Shanahan pointed out that the market for attractive plush animals is quite full already. Dawson and Ledford appreciated the eco-friendly minimal packaging, but Zuidema noted that the product tags "do not explain what you can do with Kookeys." Dawson would like to see the educational aspect of Kooland increased.

What the Kids Thought: "The younger children were delighted with the animals!" raved Wilson. Ledford commented, "Griff (2) loved to take his Kookey along, and to treat it like a 'real' puppy. … Toys like these help develop imagination."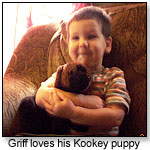 Sara (6) loved that her Kookey could "stand up on his own." She and the Shanahan girls appreciated Kookeys' soft feel.

"Katie (7) was very excited about the website and wanted to immediately visit [it]," reported her mom.

Although Ethan (8) thought the online games would be too "young," he wound up enjoying them immensely. He and Joe (8) spent most of their website time playing arcade games.

Sara (6), who enjoyed the parades and surprises from the welcome wagon on the website, was overly concerned about losing her Kookey's tag, since she read that her account could be terminated if someone else uses her code.

"She insisted on keeping her tag not only in a safe location, but also hidden," explained her mom.

Ethan (8) and Alyssa (8) enjoyed stocking their virtual pets' homes, although Alyssa preferred to play with her Kookey off-line. Ethan thought his virtual Kookey cuter than the off-line version.

What the Kids Learned from this Toy: "Nothing really," lamented Shanahan. Dawson's children practiced previously acquired skills ("minimally") but did not obtain new ones. Dawson added that KooKollege was under construction at the time, and the only other skill-related web page, the job center, was geared toward preschoolers. Due to website difficulty, the Wilson children were unable to access anything other than the Kookeys story.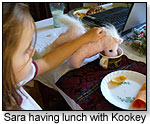 "KooKollege provided some entertainment and knowledge testing," said Zuidema, who also found factual errors. "Asheville, N.C., was spelled without the 'e' and on one math quiz a correct answer was listed twice, and when Alyssa selected one of the correct answers, 'incorrect' appeared on the screen."

"The great part about our product is that it is always improving, so the product the families tested is not the product today," explained 10Vox's founder, Alex Reece. "The site gets better daily."

"Playing the online games helped Joe (8) strengthen his money-management skills," reported Ledford. Zuidema said Alyssa (8) learned "basic mouse movement while using the software, basic money principals and some gaming skills."

How to Improve It: Zuidema called the registration font "very small and hard to read." Both the Ledford and Wilson children had difficulty signing onto the website initially. Ledford used the online form to request assistance.

"As of yet, we have not heard back from the webmaster and are quite disappointed," she sighed. (see update below)

All participants reported difficulty navigating the website, and Dawson suggested adding "back" buttons to help. Alyssa (8) was frustrated when some items in one game would not click and drag, and again when the backpack locked up when she tried to place "purchased items in her pet's room."

Zuidema called the website "slow" and said, "It wasn't clear how to shop." The locked areas need clearer explanations on how to unlock them, added Dawson, who would also like to see the game "Shrooms" renamed, since the term has a drug-related connotation.

Sara's horse shed his mane and tail quite a bit, leaving Dawson to recommend using more adhesive during the manufacturing process.

Update: A few weeks after the publication of this article, Ledford reported that the 10VOX web administrator had granted Joe (8) access to the site, which they found to be fun, educational and much improved — complete with "back" buttons to aid with navigation. The experience prompted her to change her rating of Kookeys from 0 to 4 out of 5 TDs.

The educational quizzes at Koo Kollege garnered many more Koo Coins than the arcade games, which "certainly is one way to encourage the kids to spend more time on the quizzes," Ledford said. "There is so much to do, so many games to play, and the 'storyline' is ongoing."

Would You Want Another Toy Like This? "I love him!" Sara exclaimed. However, Zuidema said, "[I] can't see how this game is different or better than the already popular Webkinz (by Ganz)."





Writer's Bio:
Susan Ledford is the writer, editor and publisher of the "Homeschool Resources Directory for S.C." She has been evaluating toys and games for
TDmonthly
's Roundtable reviews since 2005. She also is a homeschool veteran of seven years.
Read more articles by this author
THIS BANNER IS AN AD:
---
---