---
Exhibitor Tips: How to Connect at Trade Shows
Good "Boothmanship" and Sincerity Win Buyers
"By leaving the center area of the booth open, qualified booth traffic can be increased by over 25 percent." — Charles W. Allen, The C.W. Allen Group

Marketing before and after a trade show is just as crucial as the exhibition itself when it comes to attracting the right booth traffic and increasing sales, Charles W. Allen, chairman and CEO of The C.W. Allen Group and co-founder of the Trade Show News Network, told

TD

monthly Magazine. But there are several things manufacturers should keep in mind at the show, too:

CONNECT WITH POTENTIAL BUYERS

Connect with Everyone. Smile a lot, make friendly eye contact and approach all booth visitors before they leave. Research indicates they're highly unlikely to return.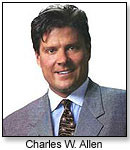 Don't Be General. Lure in all prospects passing by with a question that causes them to immediately engage and begin talking about themselves and their business objectives. "How are you doing?" will evoke the same response every time (the fading sound of "fine" as they're already 100 feet down the aisle).

Craft a Distinctive, Open-Ended Invitation. If you provide a board game designed to teach children manners, you might engage passersby by saying, "Hello, John. I noticed that you're an attendee and that means you're obviously looking for new solutions. What sort of board games do you carry that help children learn manners?"

Follow Up. If he doesn't engage immediately, follow up with, "It would help me to know, John …" And perhaps, in turn, "I could likely help you. Is that fair?" Abbreviate this invitation for attendees who appear more hurried.

Listen. Never talk for more than two minutes consecutively. Be a champion listener, and never start selling before you truly connect. Nobody buys anything from you until they buy you!



CREATE BOOTH APPEAL THAT DRAWS TRAFFIC

Make Your Booth a Showstopper. If the booth doesn't stop the prospect in his or her tracks — and cause him or her to think "I want to learn more" — it has failed. And if the booth does not accomplish this while all booth staffers are engaged, dozens of otherwise prospective buyers will simply walk by.

Downplay Your Name. Your exhibit has only a few seconds to capture attention. Other than the largest bellwether exhibitors, effective exhibits rarely use the company name as the "headline" for the booth. Nobody cares what the name of your company is until they know what your company can do for them.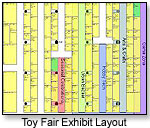 Create "Aisle Appeal." Avoid the temptation to use tables as barricades that block entry into the booth. The booth should always be as open, inviting and welcoming as possible, with tables placed off to the side. Statistics prove that by leaving the center area of the booth open, qualified booth traffic can be increased by over 25 percent.

Practice Effective Boothmanship.


Never stand with your back to the audience from inside your booth. Never cross your arms.
Never talk on cell phones while in the booth.
Never sit down unless you're in a conference with a customer or prospective buyer.
Don't eat while in the booth.
When not in use, put your drink out of sight so that your booth maintains a neat appearance.
Don't chew gum — always use breath mints instead.
Always maintain a relaxed posture. Generally, one foot slightly behind the other is best, and open palms always communicate trustworthiness.
Hygiene and etiquette are always important.
Always conduct conversations — never inquisitions.

Remember Your Sense of Humor! Masters of boothmanship focus on making genuine connections with other human beings. These pros always make friendly eye contact, introduce themselves and shake hands first ... before looking at the prospect's badge.

Writer's Bio:
Julie L. Jones has written articles for both newspapers and magazines. Before joining the staff of TDmonthly Magazine, she worked as a communications writer and provided editorial support for a market research company.
Read more articles by this author
THIS BANNER IS AN AD:
---
---