Tools:








ZEN™ Challenges Players' Concentration
Game Tests Patience, Skill and Focus
"When I started stacking the pieces together, they took on a life of their own. I knew then I had a cool game." — Jerrett 'William' Metzger, Silly Willy Toys

Jerrett Metzger, founder of Silly Willy Toys, hopes ZEN™, his fortuitous creation, becomes one of those celebrated stories about accidental inventions that made millions.

In the summer of 2007, while working on a toy rocket design, Jerrett decided to stack extra cone tops together to organize his workbench. ZEN was born when he added the 15th cone and the pile became animated, moving in a vertebrae-like fashion, seemingly redesigning itself with each new piece.

CHALLENGE INFECTS FRIENDS AND FAMILY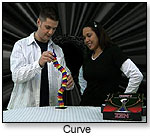 ZEN can be played alone, against the clock or versus opponents. As part of his development process, Jerrett showed the prototype to his friends and family. Not only were they impressed, but ZEN really challenged and frustrated many of them.

"To this day," Jerrett told

TD

monthly Magazine, "I am the only person to have ever successfully stacked-up all 24 pieces."

ZEN-LIKE PRESENTATION ADDS MYSTERY

Realizing that his game was a winner, it took Jerrett only six weeks, and about $35,000, to move ZEN from prototype to production. He developed a three-dimensional design and stereo-lithography prototypes before gathering price quotes from domestic manufacturers.

Jerrett, who wanted to keep the game's price under $20, turned to Cypress Industries, a Texas-based firm with manufacturing plants in China. "They were not the cheapest," Jerrett said, "but they were the all-around best professional and cost combo."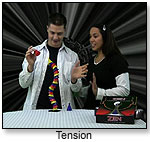 Deciding on the game's packaging was much more daunting. "Originally, ZEN was going to be packaged in a tube, using the base as a cap for the tube," he said. "When we mocked it up and compared it to the other games on the shelf, we realized we needed wider advertising space."

Jerrett and his partner, Amanda Bustamante, decided to take a risk by developing a dark, Asian-like package with blood-red text and an ebony background.

"We didn't want to camouflage ZEN and have it get lost in the store shelves by mimicking current design trends," Jerrett told

TD

monthly.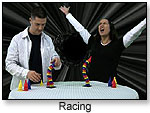 ZEN LAUNCH SET FOR FEBRUARY 2008

Silly Willy Toys will launch ZEN at the 2008 American International Toy Fair in New York. Jerrett will be demonstrating his ZEN skills and taking on challengers.

Even if players manage to stack all 24 pieces together, they must then carefully remove each piece, one at a time. "ZEN is like no other game," Jerrett explained. "It requires more patience and focus. It is a game of skill. Every time you touch or move the pieces, there's the potential for making the tower tumble."

Even given his faith in ZEN, Jerrett is not leaving anything to chance. He's uploaded a video of the game onto YouTube® to promote his invention and further enhance ZEN's market visibility.

Years of experience designing toys, developing graphics and even television commercials has taught Jerrett that creativity alone is not enough. "You've got to make sure that the game has playability. You've got to get other people's opinions. They'll notice things that you may not," he said. Jerrett is counting on this experience and Bustamante's self-taught web-site development and office management skills to make his unexpected invention a winner.
Catalog Request Form
THIS BANNER IS AN AD:
---
---