---
Wal-Mart Cuts Toys and Crafts in Clean-Up Campaign
Inventory Rollbacks Stand to Benefit Other Mass Chains, Harm Toymakers
"[A Wal-Mart manager] said the reduction in toy space was accompanied by a sharp reduction in vendors and SKU counts."

EDITOR'S NOTE: TDmonthly Magazine received the following statement from Wal-Mart Stores Inc. on May 26, in response to the article below:


"Walmart has no new plans to reduce allocated shelf space for toys companywide, and any story or rumor to the contrary is false. Store assortments and quantity levels at Walmart stores will differ based on consumer demand and product trends, as well as seasonal and geographical differences. We will continue to be a leading destination for affordable, high quality toys in the markets we serve.

"Also, in keeping with our emphasis on being a store of the community, Walmart announced last year we were converting the fabrics and crafts department in some stores to a newly expanded assortment of merchandise that focuses on life's celebrations. Walmart has made no such new announcement on new plans to reduce assortment in crafts companywide."

TDmonthly acknowledges Wal-Mart's position in regard to the retailer having no new plans to cut toy or craft space companywide, but does wish to share some of the author's follow-up comments that may shed further light on the topic of Wal-Mart's "fast, friendly, clean" motto for its customer experience and what some inventory adjustments could mean for the toy industry.

"The story has been around for a while," author Lutz Muller told TDmonthly in response to Wal-Mart's corporate statement, citing three sources that reference inventory cuts and/or the "fast, friendly, clean" strategy. "There is no question that a major resizing and refocusing of merchandising strategy is under way and this is being confirmed to me by the Wal-Mart people I talk to at Bentonville and elsewhere." Read more.

Thursday, May 21, 2009 – Wal-Mart is in the throes of a major change in its store layout. Earlier this year, management promulgated a policy called "fast, friendly, clean." In essence, they thought that by widening the aisles and getting rid of aisle caps and endcaps, they would make their stores more consumer friendly and, in the long run, gain more of the shoppers that currently shun Wal-Mart. Underlying this strategy is probably also a recognition that certain product categories will, over the next few years, represent higher growth opportunities than others, and that crafts and toys are not among these.

STORES SLASH FABRICS AND TOYS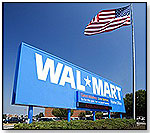 The "fast, friendly, clean" concept began on April 20, and the plan is to roll it out over less than a quarter of Wal-Mart's U.S. stores by this summer. My understanding is that at that point, management will stop to assess consumer reactions and, if necessary, do some tweaking. Then, they intend to move forcefully forward in implementing this change coast to coast in all remaining stores. [Editor's Note: Author Lutz Muller told TDmonthly on May 27 his research leads him to believe the change will be gradually implemented nationwide in Wal-Mart Supercenters.]

This new layout has major implications for the toy and craft space:

1. They are reducing the toy space by more than half.

2. They are going to phase out fabrics from all the stores that still carry this department.

3. They are going to relocate crafts to a less traffic-intensive area in the store — adjacent to Lawn + Garden — and sharply reduce vendors and overall space dedicated to this category.

A friend of mine who regularly covers Wal-Mart sent me the following email:

"Wal-Mart are resetting the modular right now and are cutting space at the Craft Department big time. Also, they are going to give most of the business that remains to one or two suppliers only."

I am tracking what happened to the toy space in one particular Wal-Mart store before and after the resizing and comparing it to a Target store in the same town: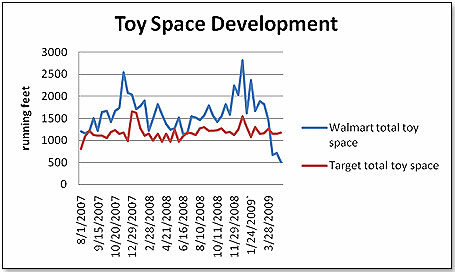 I interviewed the store manager, whom I have known for years. He said the reduction in toy space was accompanied by a sharp reduction in vendors and SKU counts. While the Wal-Mart store would continue to carry all the major toy brands, it would reduce the SKU count of a particular toy category or company. The overall effect will be an estimated seasonally adjusted inventory reduction of about 25 percent.

I also looked at the stores' endcap changes over the past two years: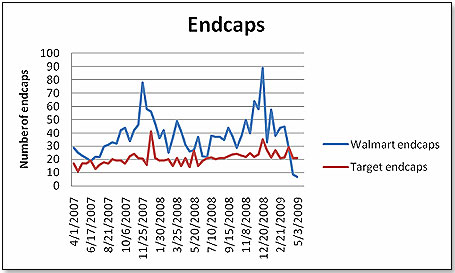 The character of Wal-Mart's endcap allocation has also changed significantly, as the picture over the past five months demonstrates: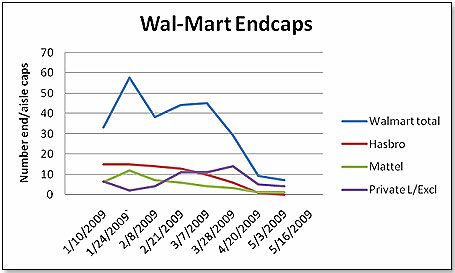 The private label brands and the Wal-Mart exclusives pretty much held their own, whereas Mattel and Hasbro nosedived. In fact, in terms of endcaps, private label and exclusives now account for nearly 60 percent, compared to less than 20 percent at the beginning of this year.

TOY TRAFFIC EXPECTED TO MIGRATE

I also looked at the sell-through in this particular store versus the total of my retailer panel. Whereas the toy sales of the overall retailer panel without the specific Wal-Mart store grew by about 2 percent in the 30 days since the reset, the Wal-Mart store in isolation dropped by nearly 25 percent.

There are two questions that beg to be answered:

1. Will these changes benefit or hurt Wal-Mart over the longer term?

2. Will these changes benefit or hurt the Hasbros and Mattels of this world?

My take on this is that Wal-Mart, in the short term, will lose a fair amount of its toy business and will probably drop its toy loss-leader strategy in the fourth quarter. Its overall strategy might work out in that a more consumer-friendly store layout could result in a shift in consumer numbers and demographics.

Hasbro and Mattel, over the short term, will definitely take a hit, but not half as much a hit as the smaller guys who are being dropped altogether. For smaller manufacturers, the changes at Wal-Mart are likely to be the straw that breaks the camel's back. In this sense, the big toy manufacturers will emerge stronger rather than weaker. Will the smaller retailers benefit from this? It's unlikely. But Target and Toys "R" Us are very likely to pick up the toy traffic Wal-Mart is sacrificing.

Writer's Bio:
Lutz Muller is a Swiss who has lived on five continents. In the United States, he was the CEO for four manufacturing companies, including two in the toy industry. Since 2002, he has provided competitive intelligence on the toy and video game market to manufacturers and financial institutions coast-to-coast. He gets his information from his retailer panel, from big-box buyers and his many friends in the industry. If anything happens, he is usually the first to know. Read more on his website at www.klosterstrading.com.
Read more articles by this author
THIS BANNER IS AN AD:
---
---