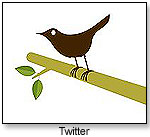 This issue offers some insight into the experiences of avid — and brand new! — bloggers and Facebookers who are using online platforms to promote their toy stores and products for no fee at all. In an upcoming issue of TDmonthly Magazine, find out more about what is perhaps the biggest phenomenon in social and business networking (think Ashton Kutcher and Oprah) — Twitter.
See "Why Twitter May Be Worth the Time" in TDmonthly's August issue.

Writer's Bio:
Claudia Newcorn has been a freelance writer and editor for over 10 years, after having spent more than a decade in marketing and product management. She writes for both businesses and individual clients, crafting copy, content and advertising. Her articles appear in newspapers, magazines and specialty publications nationwide (www.acornmarketing.com). She is also the author of an award-winning fantasy fiction book, "Crossover," and several published short stories (www.claudianewcorn.com).
Read more articles by this author