---
Old Games See New Competition
Used Video Game Market Doesn't Stop at GameStop
Update 7-2-09: Barry Judge, chief marketing officer of Best Buy, wrote in his blog June 23 that Best Buy is entering the used-games market with self-serve kiosks that scan customers' games and issue gift card vouchers. Some Best Buy stores in Austin and Dallas were testing the concept during the last week of June.

"The margins on used games are double [that of new games], and used games represent about half of GameStop's gross profit …"

It is rare that a large retail chain totally controls a lucrative product segment, but this is definitely the case with GameStop and its used game business. They have, with a market share of about 90 percent, a near-monopoly.

GameStop is the largest video game retailer in the world and used games make up nearly one quarter of their total sales: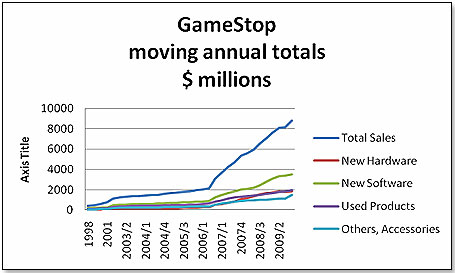 This is how GameStop's quarterly sales for used products have developed over the past seven years: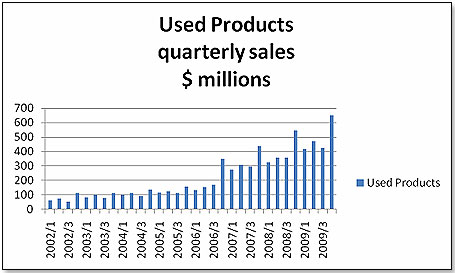 When looking at these graphs, remember that GameStop's fiscal year ends in January. Hence, the first quarter of 2008 is in fact the three months of February to April.

Interestingly, the largest video game retailer in Europe, Game Group, reports that 18 percent of its business is in used games, mainly in the UK.

HOW DOES THIS USED-GAME BUSINESS WORK?



Assume you have a game that you played until you could do it in your sleep. Time to turn it in before boredom kills you. You take it to the nearest GameStop or Electronic Boutique (which is part of the GameStop group) and you tell the kid behind the counter, typically a male, that you would like to sell it. He will look at it and see whether it needs a lot of refurbishing. If necessary, the clerk will pop it into a console and check whether it works. If it does, he goes to the computer and checks with the corporate database to see the current price for this game if in mint condition. You can expect to get about half of the retail price of the used game. If the game or the box is not in immediately resalable condition, he deducts about a quarter from the price because he has to send it to a warehouse from where it is shipped to China for reconditioning. Whatever price you get, you get in the form of store credit.

If you have a game playable on a console older than the Sony PS2, however, you are out of luck because GameStop will not take it any more. They just stopped taking Microsoft Xbox games, for example.

What prices can you expect to get from GameStop for a popular game in good condition for a current console? See a price comparison at the bottom of this article.

The price also depends on when you want to sell your game. Last year, resale prices for used games started off from a New Year's high and began to decline throughout the year until the Christmas season (and, of course, if the resale prices decline, so do the prices GameStop pays for the games):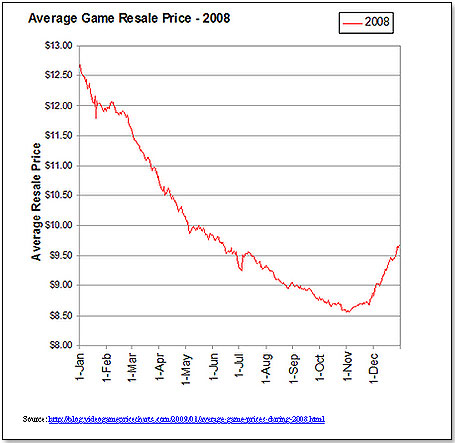 Incidentally, the pattern was pretty much identical in 2007.

STRONG MARGINS AND COMPETITIVE GROWTH

Used consoles also are bought and sold by GameStop, although this represents a much smaller part of the business. As an example, a used but in good condition Xbox 360 — new retail at $199 — would be bought by GameStop for about $80 and resold for $160.

As you can see, the margins are good, particularly considering that GameStop only makes about $12 on a new game, which they buy for about $48 and resell for $59.99. They also make only about $40 on a new Xbox 360 console. The margins on used games are double, and used games represent about half of GameStop's gross profit even though sales are only about a quarter of the total. In addition, I mentioned that the consumer selling a used game gets a store credit, which forces him to buy something at the store — another used game, or whatever — which again yields profit for GameStop.

It is not only a very lucrative business but also a growing one, as the graph further above demonstrates. Looking into the future, the used segment is expected to grow faster than the new products this year: 15-percent growth for used products as opposed to 8 percent for new software, 5 percent for new consoles, and 5 percent for new accessories. GameStop has it both coming and going — if times are good, new products sell well; if times are tough, the cheaper, used versions win out.

Obviously, other retailers can make these calculations, too, and a number have tried to get into this business. Anybody with a 90-percent market share must be vulnerable by definition since monopolies generally are supposed to breed contempt and unhappy consumers, even though there is no evidence of this with GameStop.

WHY COMPETITORS FAIL WITH USED GAMES

Best Buy tried to get into used games in 2005 on a test basis but threw in the towel a year later. They tried again last year, this time in Canada, and the results are very mixed. Circuit City also made the experiment in 2007 and got out last year. Blockbuster ventured into used games a couple of times but beat a somewhat hasty retreat every time. Wal-Mart, years ago, very carefully studied the proposition and decided to stay away from it even though they are as big of a new video game retailer as GameStop is.

There are four reasons why these retailers, who are no slouches and very effective in selling new games, have failed with used games:

1. The kids behind the GameStop counters eat, drink and breathe video games. They know all there is to know about them. Dealing with trade-ins and suggesting what to buy with the store credit requires a great deal of game expertise, which, so far, no other retailer has been able to muster.
2.Used-game sales is time consuming, and no other retailer has been willing to devote the necessary manpower to it.
3. It is a chicken-egg situation in that you need a lot of used games in inventory to be able to offer sufficient depth of merchandise to the gamer who comes in wanting to sell a game in order to be able to find and buy the used game he covets.
4. With its more than 4,300 stores in the United States, GameStop is firmly embedded in the video game community in all small towns throughout the country, with its store managers recruited locally, and hence is as much a retailer as a social hub.

TOYS "R" US TESTS THE WATERS

Despite all these reasons, it could be that the game is changing. Toys "R" Us has begun to test used video games in a few stores in the New York area.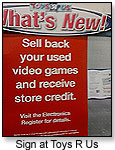 One of these is located in Nanuet, N.Y., and I repeatedly spoke to the people there. They confirm that interest is very high and that the traffic to their video game section within the store has skyrocketed in spite of the fact that there are a number of restrictions to the games they will buy. Firstly, they will not buy any "adult" games, rated "A." Secondly, any game returned must be in its original box, have the original manual, and be without scratches and cracks.

Toys "R" Us is a much more potent competitor than any of the other retailers who had tried used-game sales and failed in the past. Here are three reasons why:

1. Unlike the other retailers, they have a large and dedicated video game space that is fully staffed, and their shop floor people in that space, while not quite as savvy as those of GameStop, are competent and can sensibly talk about the attributes of a given game.
2. Toys "R" Us has a much better supply chain infrastructure than any of the other video game retailers, except Wal-Mart, which will be instrumental in ensuring that the right game is in the right place when needed.
3. They can afford to use this service as a loss leader, at least during the start-up period.

Definitely, the people at GameStop share this view, and the top brass is very worried in spite of their brave front. It is my understanding that Toys "R" Us considers a 10-percent market share as the bar they will need to achieve in the relatively near future. If they don't, they are likely to drop this venture. At this point in time, the TRU people I spoke to indicated that the initial trial period in the five stores would be four months, after which a national rollout would be considered.

Amazon also just threw its hat into the ring with the launch of Amazon Video Games Trade-in Service. They are listing the trade-in values they offer, typically about 20 percent above those offered by GameStop, at www.amazon.com/tradeingames. If the game you want to sell is listed there — the choices are still very limited — you will be emailed a postage label which you affix to the box and then drop it in the mail. Amazon will verify that the game is usable, in its original box and with the original manual, and then give you an Amazon gift card for the value.

Here is the pricing comparison between Amazon and GameStop:



| | | | | | |
| --- | --- | --- | --- | --- | --- |
| Title | Console | Gamestop buys $ | Gamestop sells $ | Amazon buys $ | Amazon sells $ |
| Grand Theft Auto IV | Microsoft Xbox 360 | 8.50 | 34.99 | 10.00 | 19.00 |
| Star Wars Force Unleashed | Nintendo Wii | 17.00 | 44.99 | 20.00 | 31.0 |
| Little Big Planet | Sony PS3 | 19.00 | 54.00 | 29.00 | 32.49 |
| Dead Space | Sony PS3 | 20.00 | 41.99 | 16.00 | 30.99 |


RadioShack decided to enter the fray as well. It is now accepting used consoles as trade-ins in all its 4,400 stores in the United States. RadioShack will offer $76.50 for a Pro 360, $113.79 for a Nintendo Wii and $175.44 for a 80GB PS3, and you can spend this on anything that is sold in the store.

Finally, there is also Wal-Mart — again! I mentioned above that they had seriously considered entering the used-game market a few years ago but walked away from it. I now hear that they are reconsidering but that they are seeking to outsource the effort to a third-party provider. I understand that, if these negotiations succeed, we can expect used games to make their appearance in 4,000 Wal-Mart stores this fall.

In summary, there will be potent competition to GameStop's used-game business in the near future, in a likely scenario where three behemoths — GameStop, Wal-Mart and Toys "R" Us — bestride the scene instead of only one. While it's very unlikely that GameStop will lose its used-game business, it is likely that GameStop will lose significant market share and that its used-game margins will decline as the company defends its market position.

Writer's Bio:
Lutz Muller is a Swiss who has lived on five continents. In the United States, he was the CEO for four manufacturing companies, including two in the toy industry. Since 2002, he has provided competitive intelligence on the toy and video game market to manufacturers and financial institutions coast-to-coast. He gets his information from his retailer panel, from big-box buyers and his many friends in the industry. If anything happens, he is usually the first to know. Read more on his website at www.klosterstrading.com.
Read more articles by this author
THIS BANNER IS AN AD:
---
---