---
Corolle Dolls Enchant Every Age
2009 Line-up Boasts Classics, Interactivity and Trendy Dollies
"Children grow with Corolle — we have dolls for every stage and every age." — Beau James, North American Director, Corolle Dolls

This article is a paid advertorial.

Since 1978, Corolle's finely crafted, award-winning dolls have brightened countless children's lives with their smiles and cuddly bodies. Creatively blending the classic and contemporary, they have continued to succeed and grow, despite today's digitally laden toy bin. What's their secret?

EVERY STAGE, EVERY AGE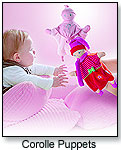 "The whole gist of Corolle is that we make an exquisite line of finely crafted dolls designed for both playablility and durability," Beau James, Corolle's North American director, told TDmonthly Magazine. "Children grow with Corolle — we have dolls for every stage and every age, starting with newborns. As a child grows, the doll's size and weight changes. We're extremely conscious of what children need, what's comfortable for them. Accessories and clothing help extend the dolls' play value."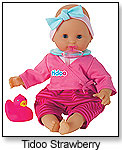 Corolle dolls have several signature elements that set them apart. In addition to being specially scaled and weight-proportioned for different ages, they're machine-washable; have full, natural-looking hair that can be washed and styled; and wear clothes that capture current children's fashions.

And there's the trademark delicate vanilla scent. "This started at the beginning," Beau said. "It's a trade secret. It can't wash out and it's perfectly safe. The scent was chosen because it gave the same impression as the smell of baby powder."

KEEPING UP WITH TRENDS

The result has been a marvelous march of dolls, with new releases each year introduced at Toy Fair. With more than 20 new items, the company's 2009 Collection highlights include the Babicorolle's Cosmidoudou Puppet Pink and Doudou Puppet Grenadine; its latest interactive doll, Les Classiques' Bébé Trésor, which coos, babbles and giggles; and Miss Corolle's Ambre and Annabelle.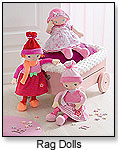 Corolle keeps current with trends. Les Cheries and Les Dollies, for example, capture today's look and styles. "There are purple streaks in the hair," Beau told TDmonthly. "The clothing is mismatched. The dolls fit with the fashions of the times; they're kicky, and kids want them."

Another important development has been the addition of different ethnic dolls, such as Tidoo Graceful. "We have Asian, Afro-American and Latino dolls," he added. "We feel it's extremely important to represent all ethnic diversities. The designers travel the world sketching children, and the faces are based on those sketches."

BEYOND CUDDLING

While Corolle dolls help children build creative imaginations, some go further. Teri Crane, author of best-selling "Potty Train Your Child in Just One Day: Proven Secrets of the Potty Pro," recommends both the Emma and Paul Drink & Wet babies to assist with the potty training process.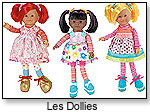 Crane, who developed the "One Day Potty Training Party," noted, "Summer is crunch time for millions of parents whose toddlers must be potty-trained before they can be admitted to preschool programs in the fall. ... Have a two-person party that entails playing games, reading books, and "potty training" the doll. At the end of the day, your child is potty trained for preschool and has a new best friend in their Paul or Emma doll."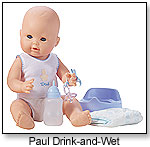 SUPPORTING LOCAL RETAIL

A different kind of retailer support is another important element to Corolle's success. "Our focus is not on the back door; we don't focus on selling the product in to stores, but on how to sell the brand to get it out the [retailer's] front door," Beau explained. "We do free-standing inserts, store signage, in-store video, and more."

They also use the newly redesigned Corolle website to drive business to local retailers. "A consumer can buy on our site, but it's then shipped to a local store. We don't want our website to compete with our independent retailers; we do everything we can to support their retail efforts."

See dolls by Corolle below:





Wholesale Price: (Log in to view)





Corolle is proud to introduce its latest interactive doll, Bébé Trésor. At 14", this sweet, charming and totally irresistible doll coos, babbles or giggles when little Moms rock her gently in their arms! Complete with soft white onesie and pacifier, Bébé Trésor is sure to be little Mom's newest wonder! Requires 3 AG12/LR44 batteries (included). Launch date: September 2009.

ToyDirectory Product ID#: 22565

(added 2/24/2009)

.

AD
---




MSRP: $9.00

Age Range: 1 and upLaunch Date: January 2009Gender: Boys And Girls





Suitable for ages 18 months and up, Les Beedibies are an amusing collection of cuties, with expressive faces, articulated limbs, and "outie" belly buttons. They even suck their thumbs. Launch date: 2009.

ToyDirectory Product ID#: 23135

(added 4/1/2009)

.

AD
---




Wholesale Price: (Log in to view)





This 16" fashionable doll is very stylish and full of mischevious charm. With a soft cloth body, vinyl face and hands, fixed eyes and colorful rooted hair. With their bright bold outifts and captivating personalities, they are sure to inspire fashionistas everywhere!

ToyDirectory Product ID#: 23066

(added 3/30/2009)

.

AD
---






These 14", all-vinyl baby dolls drink and wet and love to take a bath; they are excellent potty training aids too. Paul is even anatomically correct. Each doll comes complete with color-coordinated potty, pacifier, feeding bottle and diaper. Paul and Emma are recommended by several child experts, including Dr. Phil, whose potty-training method consists of an approach that includes an anatomically-correct doll and a "potty party."

ToyDirectory Product ID#: 4493

(added 9/8/2005)

.

AD
---




MSRP: $24.95

Age Range: 0 and upSKU or Item #: N8193Gender: Girls





Featuring a bright color palette, this 11" puppet is soft and snuggly.

ToyDirectory Product ID#: 23349

(added 4/23/2009)

.

AD
---






Clara is 13" and has red ponytails that match her little red outfit. A sweater with a ribbon tie, a flounced flowered skirt, ballerina sandals and a pink shoulder bag complete her outfit.

ToyDirectory Product ID#: 8137

(added 6/5/2006)

.

AD
---




MSRP: $24.95

Age Range: 0 and upGender: Girls





This 11" machine-washable puppet doll is designed to be soft and snuggly for baby.

ToyDirectory Product ID#: 23350

(added 4/23/2009)

.

AD
---

Writer's Bio:
Claudia Newcorn has been a freelance writer and editor for over 10 years, after having spent more than a decade in marketing and product management. She writes for both businesses and individual clients, crafting copy, content and advertising. Her articles appear in newspapers, magazines and specialty publications nationwide (www.acornmarketing.com). She is also the author of an award-winning fantasy fiction book, "Crossover," and several published short stories (www.claudianewcorn.com).
Read more articles by this author
THIS BANNER IS AN AD:
---
---