---
Kid Reviewers Applaud Eco-friendly Craft Barn
Imagination Box Co. Opens Doors for Creativity and Play
"[Alexander (9) and Jessica (7)] were intrigued by the focus on the eco-friendly nature of the product." — Gail Richardson

TDmonthly Magazine's Roundtable of 12 children from five families enjoyed coloring, decorating and assembling the Paintable Barn from Imagination Box Co. Although some of the participants had suggestions for making the completed structure more playable, they agreed that it's a fun craft project and has much potential for open-ended use.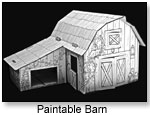 Paintable Barn by IMAGINATION BOX CO.
Age: 4 to 12
Gender: Boys and Girls
Category: Arts & Crafts
MSRP: $30.00

TDmonthly rating: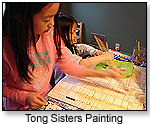 What It Is: The Barn from Imagination Box Co. contains flat, corrugated pieces of cardboard and assembly instructions. Pre-printed graphics are ready to decorate inside and out with markers, crayons, or the included set of watercolor paints. Instructions for assembly are included, and the completed size is 24" x 21" x 15". This kit is 100-percent recyclable and made in the USA.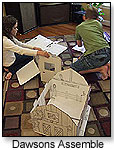 What the Parents Thought: "The creative possibilities with decorating the barn were endless!" raved Tong. She and Richardson also liked the open-ended play potential of the completed structure and that it was entertaining to decorate and play with for a variety of ages and for multiple children. Summers appreciated the quick set up.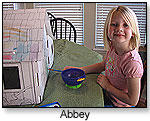 Dawson, an eco-friendly consumer, appreciated the minimal packaging, saying, "I was pleased to read that it was made with 45-percent post-consumer materials." Richardson agreed, noting that the toy "is recyclable and encourages innovation."

Dawson noticed that the instructions were easy enough for Ethan (10) and Sara (7) to follow on their own. "I most enjoyed watching the kids figure out how to bend and connect the box, using flap-slot type instructions," she said. Richardson was intrigued by the included story of the kit's creators and their mission: "It made me feel like I was participating in a bit of 'Americana,' hearing about why these toys were created and the roots of the company."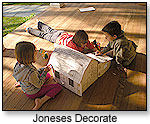 Jones liked the break from coloring books and that Reece (10), Cameron (8) and Meg (5) were able to work on a three-dimensional creation. She anticipated that since the cardboard is heavy-duty, the completed building will hold up well to repeated play. Richardson appreciated the various facets the kit offered, "from learning a bit about the environment, to designing through the coloring and painting, building by putting the pieces together, and then using the space to play with once it is assembled."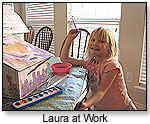 What the Kids Thought: Laura (3) and Abbey (5) "loved it!" They were quickly engaged in the activity and "painted with enthusiasm," commented Summers. "Abbey (5) was particular about how the barn would be painted and integrated the barn with her play with Polly Pockets and Little People."

Alyssa (9), Ethan (7) and Lexi (6) thoroughly enjoyed the creativity and open-ended possibilities for decoration and play. "It was a blank canvas where they could do whatever … and it was three-dimensional," lauded Tong.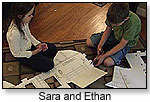 Ethan (10) and Sara (7) were pleased to find the finished size larger than they had anticipated; "large enough to accommodate smaller stuffed animals," noted Dawson, adding, "I'm positive that Ethan enjoyed the challenge of construction." Reece (10) was most interested in the assembly. Sara (7) most enjoyed painting a three-dimensional structure, while Cameron (8) and Meg (5) used crayons on the barn.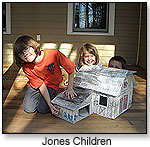 Richardson observed that although Alexander (9) and Jessica (7) both enjoyed decorating and assembling the barn, only Jessica (7) played with the finished structure. "[They] were intrigued by the focus on the eco-friendly nature of the product," she said, "which started a discussion for us on what other toys they have that are as eco-friendly, and we could not come up with many!"

What the Kids Learned from this Toy: Ethan (10) and Sara (7) "learned how to follow a new style/type of instructions," observed Dawson. Laura (3) and Abbey (5) learned a bit about watercolor basics. Tong listed "art (painting, gluing, coloring), color coordinating, space-planning, creative play, imaginary play," as educational aspects of this toy. Alexander (9) and Jessica (7) learned to work together on decorating and assembling. Richardson said the kit "encouraged them to think about the environment, and what happens to toys once they are finished playing with them."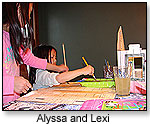 How to Improve It: Dawson found the price point a bit high, and thought omitting the watercolor set could make the kit more affordable. Jones thought if the barn were able to open and close for play, her children's interest would have lasted longer. Jessica (7) also encountered difficulty in playing with the completed barn. "When she puts her animals in and out, she inevitably makes pieces come disconnected," Richardson commented.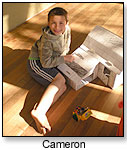 Jones, who loved the concept of children designing a three-dimensional structure, observed that in reality, "it was cumbersome" due to "limitations when it came to working on it and understanding how to play with it." She added, "If the barn could be designed with cardboard supports so it could be opened and closed, it would be easier to work on artistically, and I think it would be used to play with long after it was done being colored."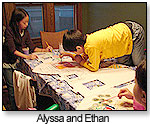 Summers suggested, "More boldly displayed examples would probably make this item more attractive." She recommended the kit have "more accessories, including some of the suggested items like glitter, stickers, etc." Tong, who loved the toy as is, also thought the packaging could be improved; Dawson and Richardson appreciated the minimal packaging.

Tong would like to see a kit for a child-sized house. "Kids love to get cardboard when neighbors get new appliances and love to play in them," she explained.

Would You Want Another Toy Like This? Ethan (10) and Sara (7) have already been inspired to use scissors on various other boxes around the house, Dawson commented. Richardson reiterated the difficulty Jessica (7) encountered in playing with the barn, but stated, "I would buy one of these sets for friends who are more environmentally focused and whose children enjoy craft projects."

Participants were homeschool mom Robbin Dawson with Ethan (10) and Sara (7); stay-at-home mom Heather Jones with Reece (10), Cameron (7) and Meg (5); World Bank policy advisor Gail Richardson with Alexander (9) and Jessica (7); stay-at-home mom Crystal Summers with Abbey (5) and Laura (3); stay-at-home mom Mildred Tong with Alyssa (9), Ethan (7) and Lexi (6).

Writer's Bio:
Susan Ledford is the writer, editor and publisher of the "Homeschool Resources Directory for S.C." She has been evaluating toys and games for
TDmonthly
's Roundtable reviews since 2005. She also is a homeschool veteran of seven years.
Read more articles by this author
THIS BANNER IS AN AD:
---
---