---
Toys in the News: 5-29-09
Click Here for Current News

"Up" Opens WIth High Expectations. May 29, 2009 — Today marks the long-awaited U.S. debut of the Disney/Pixar animated feature "Up," reported Variety. It's booked at 3,766 theaters, including 1,530 that project in 3-D. The family pic has earned top marks with critics, and it's hoped that theatergoers will also be uplifted by this tale of an elderly man who soars through skies and a series of adventures when a bouquet of balloons is attached to his house.

ASTRA Responds to FAO Schwarz Acquisition. May 28, 2009 — The American Specialty Toy Retailing Association will not hold its annual Toy Fair party at the FAO Schwarz flagship store on New York City's 5th Avenue this coming February, but that's not due to the store's acquisition by Toys "R" Us, which was announced Thursday. "After Toy Fair last year, we had already decided not to host our annual Toy Fair party at the store again," ASTRA President Kathleen McHugh told TDmonthly of the well-known "Party With the Stars." "We felt it was time for a change and so we are pursuing our options." As for FAO's changing of hands, McHugh said she doubts Toys "R" Us "will instigate a relationship with ASTRA including renewing its ASTRA membership under the FAO Schwarz brand again," but said the organization "wish[es] TRU the best of luck with this new venture."

Toys "R" Us Purchases FAO Schwarz. May 28, 2009 — Toys "R" Us announced in a press release Thursday that it has acquired FAO Schwarz, the specialty toy retailer well known for its flagship New York City store and appearance in the Tom Hanks movie "Big." "We will work tirelessly to preserve the distinctiveness and integrity of the FAO Schwarz stores and brand as we grow the business and, indeed, take the brand to even greater heights," CEO Jerry Storch of Toys "R" said in the release. The mega toy retailer will operate the FAO Schwarz stores in both Manhattan and at Caesars Palace in Las Vegas, as well as manage the company's catalog and online sales. FAO Schwarz has encountered financial difficulty in the past, the Associated Press reported, and sought bankruptcy protection twice back in 2003. The Business Courier of Cincinnati further reported that, come November, FAO Schwarz will no longer have a toy presence at 260 Macy's stores under an agreement that was struck in May 2008. The toy retailer will not launch boutiques at more than 600 Macy's locations as originally planned.

Step 2 Recalls Play Sets Sold at Toys "R" Us. May 28, 2009 — The U.S. Consumer Product Safety Commission, in cooperation with The Step2 Company, has announced a voluntary recall of about 4,300 Step2 Play Up Gym play sets because the hangers that secure the swing's ropes to the top of the play set can break and cause children to fall. There are no reported injuries, but 17 hangers have been reported as breaking. The sets retailed exclusively at Toys "R" Us stores from January through April 2009 for about $400.

Wal-Mart: No New Plans for Companywide Toy Reduction. May 27, 2009 — In statements sent to TDmonthly on Tuesday, Wal-Mart Stores Inc. responded to an article titled "Wal-Mart Cuts Toys and Crafts in Clean-Up Campaign," saying the retailer "has no new plans to reduce allocated shelf space for toys companywide" and "has made no such new announcement on new plans to reduce assortment in crafts companywide." Author Lutz Muller maintained Wednesday, in an email to TDmonthly, that his research supports the contention that the retailer's "fast, friendly, clean" policy and its influence on inventory will eventually affect Wal-Mart stores across the country. The article also covers Muller's predictions that such changes will take a toll on major toymakers Hasbro and Mattel, but could stand to benefit fellow mass retailers Target and Toys "R" Us.

Disney Channel Expands Reach in Europe. May 26, 2009 — The Walt Disney Company, which broadcast Disney Channel series via the Jetix schedule in Hungary, Slovakia, Bulgaria, Romania and Czech Republic beginning in 2008, is now rebranding Jetix to the Disney Channel in those markets, according to a press release. The programming to 12 million households in Central and Eastern Europe will include shows "Hannah Montana" and "Phineas and Ferb," as well as the "High School Musical" and "Camp Rock" movies.

American Girl Goes to Hester Street. May 24, 2009 — American Girl has produced a new 18" Jewish historical character doll named Rebecca Rubin, reported The New York Times. As with all the American Girls, she has roots to the past; Rebecca's extend to New York's Lower East Side at the beginning of the 20th Century. She comes with a storybook. Separate accessories include a sideboard with a challah loaf.

Judge Nixes Temporary MGA Receiver. May 23, 2009 — After a brief stint under a court-appointed receiver put in place to handle moving Bratz assets from MGA Entertainment to Mattel, MGA is back to sole leadership under CEO Isaac Larian. U.S. District Court Judge Stephen Larson ordered the removal of the receiver, attorney Patrick Fraioli, Thursday, also ruling that MGA can keep selling 2009 Bratz items through Jan. 21 of next year. The Los Angeles Times reported that MGA is seeking an emergency motion to continue producing and selling Bratz until the company can bring its case to appeals court.

Hasbro Investment Complete in Venture With Discovery. May 22, 2009 — Toymaker Hasbro has secured a 50-percent interest in a partnership with Discovery Communications that will rebrand the current Discovery Kids television network — changes that are scheduled to debut in late 2010, according to a press release.

TLC Casting for Female Inventor Show. May 21, 2009 — TLC has teamed up with Kelly Ripa and Milojo Productions to find outgoing women with innovative ideas for products they can help produce, market and then sell on the Home Shopping Network as part of a new "TLC Woman Inventor Show" produced by Discovery Studios. Interested inventors may send in a video submission or attend an open casting call in New York, Dallas, Los Angeles or Chicago.

Gothic Cabinet Craft Recalls 1,500 Bunk Beds. May 21, 2009 — The U.S. Consumer Product Safety Commission, in cooperation with Gothic Cabinet Craft Inc., has announced a voluntary recall of about 1,500 Twin, Twin Extra-Large and Twin Over Full Bunk Beds because of insufficient guardrails, headboards or footboards, as well as gaps in the upper bunk, which could cause children to fall or become trapped or strangled. No injuries have been reported. The metal and wooden bunk beds retailed at stores in New York and New Jersey from June 2000 through October 2008.

WWE-Jakks Pacific Lawsuit Dismissed. May 20, 2009 — A U.S. Court of Appeals backed up a previous ruling dismissing World Wrestling Entertainment's lawsuit against Jakks Pacific based on accusations of bribery and unlawful agreements with a former WWE licensing agent, PW News Now reported. WWE's licensing contract with Jakks extends through 2009, and will then switch over to Mattel.

Online Merger: Babytime Organics and Prodigy Toys. May 19, 2009 — Online children's store Babytime Organics, which offers everything from baby bedding and furniture to strollers and safety products, has announced a merger with a fellow online retailer, educational toy store Prodigy Toys. "Our goal is to become the ultimate online source for parents seeking safe and educational children's products," Brian Santana, owner of Babytime Organics, said in a press release.

Build-A-Bear Violates Child Labor Law. May 18, 2009 — Build-A-Bear Workshop Inc. faces a fine of $25,600 for employing 14 minors in jobs restricted under child labor law, including operating trash compactors and riding in a freight elevator without an operator, the Minneapolis-St. Paul Business Journal reported. Following investigations from January 2006 to April 2008, the company vowed in September to only hire workers 18 and older.

Little Golden Books Turn to Plush. May 18, 2009 — Classic Media and YOTTOY have inked a deal for a new line of stuffed toys based on the Little Golden Books collection. Plush versions of the The Poky Little Puppy, The Shy Little Kitty and Tawny Scrawny Lion will debut this summer, with more designs to come, according to a press release.

Wal-Mart Launches Trade-in Video Game Centers. May 18, 2009 — Web reports have noted the introduction of video game trade-in kiosks at 77 Wal-Mart stores in the Northeast over the weekend. Shoppers can bring their used games, scan them, accept the value quote, insert the game disc into the machine, and then receive credit on a credit or debit card. The machines are part of a pilot program and don't seem to be working perfectly just yet, according to at least one tester. See Kotaku and NeoCrisis. Check out "Old Games see New Competition" for coverage of the used-game market at GameStop and Toys "R" Us.



Kid to Give Away 100 Pianos. May 15, 2009 — Today marks the opening of the inaugural TDmonthly Charitable Kid Contest: Schoenhut Piano Co. Inc. has generously agreed to donate 100 25-key My First Piano IIs, suitable for children ages 3 and up. The contest closes on June 15, 2009, with the winner announced on July 15. TDmonthly may arrange to have the toy pianos shipped directly to the winner's nearest specialty toy store. They'll come in several batches over a series of months and will be given to up to five different charities, so it will be an ongoing event, creating lots of good feelings and excitement for all involved.

You may print out this page of Contest Rules, hang it in your store, and add the link to your website to get your community involved.
PlayFair Toys is already Twittering and blogging about the contest and, if a Colorado kid wins, they will donate a Schoenhut "Baby Baby Grand Piano" to the Rocky Mountain Center for Musical Arts in Lafayette, "a non-profit, community-based music school founded on the principle of making music available to all, regardless of economic status," Professor PlayFair wrote. But that's not all! The winning Colorado kid will also get a $100 gift certificate to spend at the PlayFair Toys store in Boulder.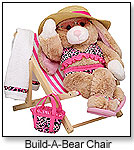 Build-A-Bear Recalls Toy Beach Chairs. May 15, 2009 — The U.S. Consumer Product Safety Commission, in cooperation with Build-A-Bear Workshop, has announced a voluntary recall of about 260,000 Folding Toy Beach Chairs for Stuffed Animals in the United States and 9,700 in Canada because the legs of the chairs can pinch, cut or bruise fingers while folding. Eight injuries have been reported. The chairs were sold at Build-A-Bear Workshop stores and online from March 2001 through October 2008 in the United States and from March 2003 through October 2008 in Canada.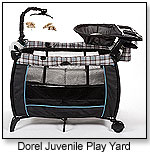 Dorel Juvenile Recalls Rocking Bassinets. May 13, 2009 — The U.S. Consumer Product Safety Commission, in cooperation with distributor Dorel Juvenile Group Inc., has announced a voluntary recall of about 71,000 Eddie Bauer Soothe & Sway Play Yards in the United States and about 5,600 in Canada because the bassinet attachment can become a tilted sleeping surface, resulting in infants rolling to one side and possibly suffocating. The play yards were sold at Sears, Target, Burlington Coat Factory and online from January 2008 through May 2009.

Mrs. Tiggy Winkles to Open Museum Store. May 13, 2009 — Mrs. Tiggy Winkle's Toys of Tucson, Ariz., is expanding with a second location in the Tucson Children's Museum, set to debut Monday, May 25, the Arizona Daily Star reported. The toy store will offer educational toys and European selections as well as various activities for kids.

TIA Appoints TSCP Council. May 12, 2009 — The Toy Industry Association has appointed an Oversight Council to track development of and review and propose potential changes to the Toy Safety Certification Program, which is designed to help ensure that all toys sold in the United States meet required safety standards. Members of the Council are as follows: Tom Castino, former president/CEO of Underwriters Laboratories; Anne Craigmyle, consumer representative for the American Fireworks Standard Laboratory Standards Committee; Carol G. Dawson, former commissioner of the CPSC; Gordon Gillerman, conformity assessment advisor at the National Institute of Standards and Technology; Myung Kang-Huneke, VP and general counsel for Sesame Workshop; Alan Kaufman, VP of quality assurance, safety and compliance for Toys "R" Us; Arthur Kazianis, senior VP of global quality assurance at Hasbro; Kathleen McHugh, president of the American Specialty Toy Retailing Association; Arnold E. Rubin, president/CEO of Funrise Toy Corporation; Beth Schommer, VP of product safety and compliance for Wal-Mart; and Jim Walter, SVP and chief regulatory officer, global product integrity for Mattel.

EU Passes New Toy Safety Requirements. May 12, 2009 — The European Union tightened toy safety laws Monday, restricting or lowering limits on such substances as arsenic, nickel and cobalt, as well as allergens including fig leaves and Alanroot oil. The EU also urges manufacturers to make choking warnings, age requirements and other safety notices more visible on product packaging, Deutsche Presse-Agentur reported.

MGA Bratz Hearing to Take Place May 18. May 11, 2009 — MGA Entertainment has announced U.S. District Judge Stephen Larson's decision for an expedited hearing, scheduled for Monday, May 18, on the toymaker's right to keep manufacturing and selling Bratz until the issue goes to a U.S. Court of Appeals. In the statement, MGA points out that Mattel's rights to only one sculpt and two-dimensional drawings of the Bratz dolls, bestowed upon Mattel last fall after an extended trial, give the company little use of the existing Bratz and prompt a need for redesign of the line. The company stated that "the vast majority of the Bratz brand ... still belong exclusively to MGA," further commenting "that creativity and innovative thinking are not Mattel's strong suit."

L.A. Police Shoot Boy With Toy Gun. May 11, 2009 — A teenage boy is recovering after being shot in the torso by a Los Angeles County sheriff's deputy Sunday night in Palmdale, Calif. The teenager, reported by a witness to be 15 years old, was shot after pointing a toy gun at deputies who were responding to a firearm report and asked him to drop the weapon, the Los Angeles Times reported.

China and EU Talk Trade. May 8, 2009 — The European Union and China are counting on abolition of trade barriers to boost economies and import/export statuses in the midst of what is nearly a worldwide recession. The two parties called for global talks Friday to establish agreements regarding trade relations, and have decided to be more open about sharing data and monitoring safety of various products, including food and toys, the Associated Press reported.

TIA Welcomes New Board Members. May 7, 2009 — The Toy Industry Association has elected the following members to its Board for a two-year term, May 2009 to May 2011: Joel Berger, president of Cardinal Industries; Leigh Ann Brodsky, executive vice president of consumer products for Nickelodeon Consumer Products; John Gessert, president/CEO of American Plastic Toys; Peter Henseler, president of Learning Curve Brands; and Jeffrey Katz, president/CEO and chairman of LeapFrog Enterprises. Jim Engle, president of Little Kids Inc., will serve one year as secretary-treasurer on the Executive Committee, and Al Verrecchia, chairman of Hasbro, will remain chairman of the Board through May of next year. These elections and announcements were made at TIA's annual meeting Thursday in Phoenix, Ariz., according to a press release.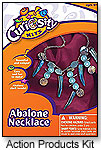 Action Products Recalls Craft Kits for Lead. May 6, 2009 — The U.S. Consumer Product Safety Commission, in cooperation with Action Products International, has announced a voluntary recall of about 2,900 Abalone and Venetian Carnevale Necklace Craft Kits in the United States and 36 in Canada due to high levels of lead in the lobster clasps in both kits and the pendant in the Abalone kit. The craft sets were sold from June 2007 through April 2009.

Jakks Pacific Tapped as Bella Sara Toy Licensee. May 5, 2009 — Bella Sara fashion dolls, plush, costumes, stationery and more will be introduced to U.S. and Canadian stores through a licensing deal with Jakks Pacific brokered by ITV Global Entertainment, a press release announced. Bella Sara hit the U.S. market in 2007 and has experienced worldwide expansion with its signature trading cards, animation, virtual world, toys and more.

Marvel's Movies Make Money. May 5, 2009 — Marvel Entertainment's superheroes are rescuing the company from the worst of the recession; "Iron Man" and "The Incredible Hulk" generated $90.4 million for Marvel in the first quarter, mostly owing to DVD sales, according to The Hollywood Reporter.Though earnings from licensed products, such as toys, were down 4%, that hit was smaller than expected, considering the widespread cutbacks in consumer spending. Marvel is currently shooting "Iron Man 2," due out next summer, with other comics-related flicks in the works.

Obama Names New Safety Chief. May 5, 2009 — President Obama today named Inez Moore Tenenbaum to lead the Consumer Product Safety Commission. Once confirmed by the Senate, Ms. Tenenbaum would replace Nancy Nord, who's been criticized by Democrats and consumer advocates. According to the L. A. Times, the president will also increase the size of the commission and boost its budget.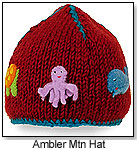 Ambler Mountain Recalls Winter Hats. May 5, 2009 — The U.S. Consumer Product Safety Commission, in cooperation with the firm named below, today announced a voluntary recall of Amber Mountain Winter Hats. Consumers should stop using recalled products immediately unless otherwise instructed. The eyeballs on the Erwin Beanie and the octopus legs on the Poseidon Beanie can come loose, posing a potential choking hazard. The firm is aware of one incident involving the detachment of the legs of the octopus. No injuries have been reported.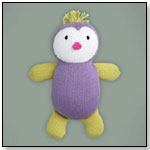 Icy Penguin Aces Nat'l Parenting Center. May 4, 2009 — Fair Indigo's "Joobles - Icy The Penguin" received a spring 2009 National Parenting Center Seal of Approval, according to a press release. Parents were impressed with the quality of the construction, that it was made of 100% organic material under fair trade conditions, and that it was very easy to wash. Joobles stayed soft and kept their shapes even after several runs through the washing machine. The National Parenting Center was founded in July of 1989 with the intention of providing the most comprehensive and responsible parenting advice to parents everywhere.

Hasbro-Discovery Deal Already Under Fire. May 4, 2009 — According to Multichannel News, the Hasbro-Discovery deal announced last week has raised the ire of some children's advocates. Hasbro plans to use Discovery shows as a way to promote various toy brands, a move that some say blurs the line between advertising and entertainment for kids. "The planned network is the latest indication that the deregulation of children's television has been an unmitigated disaster for children and families; no longer do companies feel compelled to even pretend that their programming is beneficial for children or about anything but pushing product," accused Campaign for a Commercial-Free Childhood, or CCFC.

Toy Loan Center Plans New Branches. May 3, 2009 — The Toy Loan Center in Los Angeles, which is run by L.A. County's Department of Public Social Services, has seen a 30% increase in borrowers compared with last year, according to the L.A. Times. The program was started during the Great Depression, after two boys were caught shoplifting small toys and materials to make other playthings in a local dime store,

director Sylvia Bratincevic

told TDmonthly in 2006. The first center opened in a garage in 1935 and functioned like a library for toys, a concept that continues to this day. Kids check out a toy or game for a week and, if they bring it back in good condition, they earn points toward receiving a free toy to keep. The Toy Loan Center plans to extend its 51 locations to include new branches in South Central and Pomona, among others. Specialty toy-store owners have found value in running their own toy-loan programs, particularly for games. TDmonthly regularly donates toys to the L.A. Toy Loan Center and other local children's charities.

Doll Surgeon Dies. May 1, 2009 — Irving D. Chais, owner and chief surgeon of the New York Doll Hospital in Manhattan died on April 24 the age of 83, reported The New York Times. The New York Doll Hospital had been in the family since the early 1900s. Chais joined the business in 1945 and bought it from his siser in the 1960s. He was still stitching up teddy bears and fitting dolls with new eyes until one month ago. The business will close at the end of May, according to his daughter Alison.

Swine Flu Achufy! Plush Infringes on Copyright, GIANTmicrobes Says. May 1, 2009 — A blue plush toy representing the H1N1 virus is now being marketed and sold by a man from Mexico as "a souvenir of the 2009 Epidemic," according to WQAD-TV. As many have noted, the stuffed toy named Achufy! bears striking resemblance to the Common Cold (rhinovirus) plush available from GIANTmicrobes. David Callahan, director of sales and marketing for GIANTmicrobes, told TDmonthly Magazine on Friday that the product "is an infringement of our copyrighted intellectual property, and our attorney in Mexico is already handling the situation." GIANTmicrobes has been working on a swine flu stuffed toy that will have "its own unique design based on microscopic images" and is scheduled for release in about a month's time, according to Callahan. "It's always a concern when anybody tries to take advantage or rip off your intellectual property," he added, "but we're so protected internationally, copyright-wise, that I think we'll be able to have it settled pretty quickly."

Hasbro and Discovery Partner for Kids' Programming Ventures. April 30, 2009 — Hasbro and Discovery Communications are joining forces to create a television network and Web programming featuring educational and entertaining shows for kids based on such properties as Trivial Pursuit, Game of Life, Scrabble and Transformers, as well as Discovery content including "Bindi the Jungle Girl," "Flight 29 Down" and "Tutenstein." According to a press release, the network is expected to take off in 2010; until then, the Discovery Kids channel will function under its current name.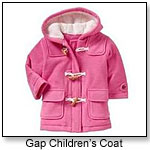 Gap Recalls Kids' Coats for Toggles. April 30, 2009 — The U.S. Consumer Product Safety Commission, in cooperation with Gap Inc., has announced a voluntary recall of about 19,200 babyGap Children's Coats in the United States and 3,900 in Canada because the toggles can break and come off, posing a choking hazard. No injuries have been reported. The coats were sold at Gap stores and online from October 2008 through April 2009.

Pumpkin Patch Recalls Rain Coats for Drawstrings. April 30, 2009 — The U.S. Consumer Product Safety Commission, in cooperation with Pumpkin Patch LLC, has announced a voluntary recall of about 800 Hooded Girls' Raincoats because of a drawstring in the hood that could pose a strangulation hazard. No injuries have been reported. The coats retailed at Pumpkin Patch stores and online from July 2008 through February 2009.

THIS BANNER IS AN AD:
---
---