"Aurora's position in America changed dramatically when we hired the right American management team to partner with us ..." — K.S. Hong, Aurora World
How does a company expand its horizons without taking a financial plunge? Just ask K.S. Hong, CEO of Aurora World (ToyDirectory). This plush manufacturer changed his company's operating procedures while keeping costs down.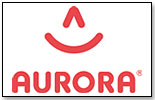 A&A Plush was founded in 1992 in Korea and developed its own distribution center — a key factor in its success — the same year. The Korean headquarters, along with offices in Hong Kong, constitutes its largest division. The United States, Aurora's biggest market, is the company center for North and South America.
The company changed its name to Aurora World in 2002. Aurora is known for high-quality yet affordable plush items, and its products can be found in upscale toy and department stores as well as in gift chains and zoo shops. Licensed brand names such as the Pink Panther, and the work of designer Sharon Lea Larson, a collection that features Pearls of Wisdom and Precious Gems — plush cats with pearl or simulated gemstone crowns — round out an extensive catalog of must-have collectibles.
Though the company's target customers are infants to tweens, the appearance of Aurora's cute, cuddly animals in shops that normally attract adults indicates that their appeal is broader. Aurora markets to all age groups.
This month, Aurora will introduce 200 of its newest products, including many new line extensions, for Dress Up — elaborate costumes and accessories for stuffed animals. This could prove even more successful than their best-selling item in 2005, Fancy Pals Pet Carriers, which are travel purses for miniature plush pets.
Hong became CEO for the U.S. division in 1998. "I worked at Aurora Korea developing international business for 10 years before coming to the United States to start Aurora USA," he told TDmonthly Magazine. "Although I graduated college with a degree in electrical engineering, I started working for Aurora when it was a very small company and have been there since."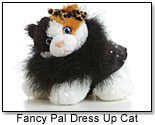 Aurora USA advanced quickly when it changed its procedures. "Our most noteworthy moment was when we decided to stop working through distributors and started Aurora's own distribution company in the United States. It was very difficult learning the personal and business culture, and finding and working with the right people in America. Aurora's position in America changed dramatically when we hired the right American management team to partner with us for the future."
Hong sought savvy marketers with experience and explained that the company keeps the cost of its products affordable because Aurora is both manufacturer and distributor. Products are made in China and Indonesia. "The unique designs are highlighted by exceptional fabric and value pricing."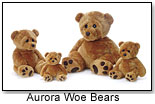 The U.S. distribution model was replicated in the United Kingdom and throughout the world. Aurora's products are sold in 42 countries.

How has he gained the upper edge and adapted to current trends?

"That's always the biggest challenge," he told TDmonthly. "Every year we spend hundreds of thousands of dollars researching and developing new product. We develop 2,000 items and boil it down to 400 new products, keeping in mind trends in every aspect of our varied customer base."

His secret to staying on top comes down to three things. "Hard work, good people and profit. If we don't make a return to our investors, we're not successful."

Here are some of Aurora's popular and new products:

Just in time for the release of his new movie, the beloved feline is on the loose again. These poseable plush figures come in 12" and 18" versions. Whether he´s taking his bows or making his escape, this Pink Panther is irresistible.

.

AD

Now kids can make a fashion statement just like Paris Hilton and Reese Witherspoon, and take their favorite animal pals on outings. From Aurora's newest plush line Fancy Pals, Pet Carriers (8") are a stylish plush purse and best friend in one. Fully lined Pet Carriers have plenty of room for belongings, handles and a unique dual zipper closure.

.

AD

These soft, floppy, plush 8" animals are nearly as cute as the real things — and a lot quieter while playing dress-up. Mini Flopsies are the latest incarnation of fashion dolls: Various Fancy Pals Dress Up outfits are separately available. Outfit themes range from Hip to Soccer, so no cat will be bored by wearing the same dress day after day. Button eyes and nose and an embroidered mouth give the Flopsies personality and expression. This kitty´s ears are even authentically lined with soft pink. More than 70 designs of Mini Flopsies are available, including animals from the sea, jungle, forest and farm as well as special holiday versions. Each of the bean-filled Mini Flopsies stands on its own and is double-bagged for durability and safety. Fancy Pal Dress Ups sold separately.

.

AD

Fancy Pals Dress Ups are outfits for the 8" Mini-Flopsies animals. Each of the four outfit themes (including Hip and Glamour) feature three styles. Aurora will offer new outfits several times per year. Parents and kids can choose from boas and dresses to hats and sweaters for their plush pets. There are even jogging clothes, soccer garb and a cheerleading set complete with pom-poms. Each Dress Up is packaged in a sturdy, clear carrying case, with an illustrated backer showing the existing Fancy Pals Dress Up collection. Fancy Pal Dress Ups and animals sold separately.

.

AD

New longhair dog breeds are coming for the Flopsies line in 2006. This Lhasa Apso is 12" long. He comes with a comb to keep the messes out of his tresses.

.

AD

The 3.5" Mini-Pet Carriers, a portable plush key chain "carrier and animal in one" escalated to the top of Aurora's hottest products last year. It is available in three new themes, highlighted by Jungle and Sea Life. Styles include Elephants to Hippos and Dolphins to Whales. Each Mini-Pet Carrier is embroidered with a word such as "Sweetie," "Loveable" or "Smile."

.

AD

The Mini Flopsies are long on hair for 2006. These Lhasa Apsos are 8". They come with their own combs to keep them looking snappy for photo shoots. Each Flopsie is sold separately.

.

AD