Cell phones are the new "coming-of-age markers," — Fred Bullock, Firefly Mobile
According to research commissioned by
Firefly Mobile
, 90 percent of kids ages 8 to 12 do not yet have their own cell phones.
Oh my.
Can you spell "opportunity?"
Fred Bullock, chief marketing officer for Firefly Mobile, didn't believe the numbers until his company rechecked the research. But the numbers were indeed good, so in March 2005 the company launched a cell phone designed to meet the needs of kids and their parents. Bullock said that they could have taken an adult phone and stripped some functions but instead decided to design from the ground up.
The Firefly has only five buttons on the face; one each for Mom and Dad, one for the phone book and one each to answer and hang up. There's no way to surf the Internet, download new ring tones or take pictures. With no keypad for numbers, there's no opportunity for text-messaging.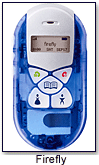 That's something that parents appreciate in a kid's phone.
And can you get more chic than this? Firefly Mobile and tween store Limited Too have inked a deal for the cute mobiles to be sold in-store. The preteen mannequins will even hold a Firefly Mobile in their mannequin hands.
According to Kellie Bean, English professor and mother of two in Huntington, W.Va., "Kids put the things on vibrate so they can text in class without [audible] rings. Families like the pre-pay phones for kids. Kids rack up huge text messaging bills. They also memorize the keypad and can text without looking. It's amazing because certain letters require knowing both the key and how many times to press it." Her son and daughter received their phones when they were 11 and 14.
Phones also cross gender lines, according to Firefly Mobile's research. When children in the 8-to-12 range were asked if the phone would be a good gift for both a boy and a girl, about half of each group answered in the affirmative.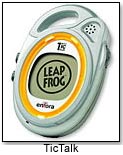 The TicTalk from enfora is similar to the Firefly Mobile: no keypad and a few simple buttons. TicTalk, unlike Firefly Mobile, includes learning games from LeapFrog Enterprises Inc., suitable for children from first through sixth grades. Children earn reward minutes for playing the educational games. It made the Toys "R" Us 2005 Joy list, which predicts by age what will be the 36 top-selling toys of the holiday season.
Both TicTalk and Firefly Mobile are heavy on parental control. Parents program phone numbers that children can call or receive. The TicTalk 87-page user guide should answer any questions about how to do anything with the phone. Firefly Mobile's guide runs about 30 pages for the grown-up version and four fold-out pages for the kid-friendly one.
Meanwhile, ChatNow from Hasbro is a walkie-talkie with extras. Retailing at $74.99 for a set of two, the ChatNow has a two-mile radius, built-in digital camera and text messaging. Since it is a two-way radio, not a phone, the talk and text is only between ChatNow phones. At least there's no roaming charge.
Hasbro's ChatNow is in all major retail toy stores. Firefly Mobile is fielding calls from independent retailers while also selling the product at Target and various wireless stores throughout the country.

Cell phones are the new "coming-of-age markers," according to Bullock. One child in the study figured that if he could keep his phone charged, his dad would also decide he was old enough to take care of a puppy.

In fact, the market is becoming so rich that Firefly Mobile recently secured $31.8 million in funding to augment their company.


In addition, there has been a buzz since early 2005 that Mattel has been working on a My Scene-themed cell phone of their own. However, Lauren Bennett, of GolinHarris (PR Firm) — told TDmonthly: "It's on hold at the moment; Mattel has had difficulties getting a carrier, everyone is scrambling. They have a demo, but nothing in production. Perhaps at Toy Fair, but for now it is on hold indefinitely."

Meanwhile, Disney licenses its images for faceplates and character voices for ring tones. (Take a look at all of the cell phone accessories that have hit the market.) Can a Goofy phone be far behind?

The following is more information on the cell phones mentioned in this article:

Kids can be kept a phone call away with this child-sized cell phone with 5-button keypad. Parents can program the phone to reject incoming calls not in the 20-number phone book. It includes 12 ring tones, 5 animations and 7 LCD screen backlight colors.

.

AD

This cell phone for kids is easy to use. Parents can maintain complete control of all functions and features using a secure TicTalk Web page.

.

AD