"Ohhhh ... I am such a bad politician!" — Cabot Lee Petoia

While evaluating 4 new toys for TDmonthly Magazine, 5 homeschooling families in Western North Carolina discovered that their kids were greedy and electrifying: Politics by Chum Chum Games (ToyDirectory) and Snap Circuits Jr. by Elenco (ToyShow) tied for being the most fun, the Hit Kit by DK Publishing Inc. created intense excitement and Speed Spell by Speedspell (ToyDirectory) was valued for adaptability and … well … speed!

Participating were former teacher Lynn Costine with Sarah (12 years), Anna (10), Emily (8) and Will (6); former business owner Julie Petoia with Cabot Lee (11), Talia (9) and Malynne (8); Susan Ledford, editor of the Homeschoolers Resources Directory, with Victoria (10) and Joe (6); former corporate workshop manager Shawna Hughes with Alexa (10);; and Allison Seagle with Sara (11). (Click here to view the full results of the survey: Homeschool Families Rate Toys.)

Snap Circuits Jr.

by

ELENCO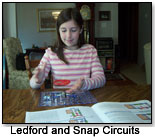 The Seagles gave this kit straight "10"s.
"This was one of, if not the best kits of its type we have ever seen," enthused Ledford.
Hughes said that Alexa had received a Snap Circuits kit last year and had already requested another one.
"I can't wait to build something even bigger!" the 10-year-old exclaimed.
"I liked that it was a problem-solving activity; my kids had to reason why something did or didn't work," added Petoia.
All of the mothers praised the kits' comprehensiveness. "Everything you need … is included in the package," commented Costine, "which is why I think it would be a good homeschool toy."
Politics by CHUM CHUM GAMES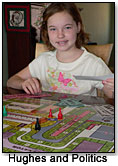 The parents were sure that Politics would bomb: the packaging was drab, the subject boring and the instructions daunting. But their kids were soon off and "running."
"My kids are actually power-hungry monsters!" laughed Costine. "They desperately want to be President."
"Politics gives depth to a subject that is dull three years out of four," said Ledford. "It explains the election process on every level … and shows the impact of a scandal on an election."
"I'm President, Mom!" cried Victoria. Competing against her brother to be President was "way cool."
"My kids thought it was challenging and hilarious," commented Petoia.
"Ohhhh. I am such a bad politician!" lamented Cabot Lee.
"It's a game where everyone in the family has an equal chance to win," noted Hughes.
Sara Seagle was President for one term. "Yes, she'll run again," verified her Mom.
Speed Spell

by

SPEEDSPELL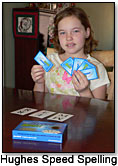 The best thing about Speed Spell, said the parents, was that the kids were able to devise their own solitaire games — an important attribute in a homeschooling environment.

"In a sibling group, the 12-year-old is going to whip the 8-year-old [at spelling]," noted Costine.

"I like that it's interactive and fast-paced. It requires concentration and thinking ahead," said Petoia.

The parents agreed that Speed Spell would be a good game for kids who have trouble spelling.

Hit Kit

by

DK PUBLISHING INC.

All of the kids couldn't wait to try the Hit Kit. Unfortunately, just one parent had the computer and music savvy to make it work:

"My husband's a musician," explained Costine.

After Dad came to the rescue, the Hit Kit was a hit. "They loved it!" exclaimed Costine. "The [accompanying] booklet was very informative."

Her kids recorded a Beatles song, "Orphan Girl" by Gillian Welch, and an original composition. They especially liked being able to add the included sound effects.

"They really enjoyed it … I'd recommend this kit to people who know how to record music," concluded Costine.

The following is more information on the products reviewed and related products.

This challenging game brings players laughter, tears, and pure fun as it allows them to experience the American government in action first hand. Politics offers players of all ages the highs and lows of a political career, as they rise from mayor to president, all competing to become the richest and most popular politician.

.

AD

.

AD

.

AD

The Hit Kit is a complete guide to setting up, recording, producing and mixing music. The kit contains a 240-page instruction manual that follows the production process and is packed with hints and tips, an audio CD containing essential drum tracks and loops, and a CD-ROM containing an exclusive version of the industry standard sequencer package Hit Kit Logic Software. Logic Audio software can be installed on any home computer that meets its system requirements. Also included is a high-quality dynamic microphone that is ideal for both vocals and instruments. The kit's author is top record producer, Steve Levine. The Hit Kit requires Mac OS 10.2 or higher, 9.2 or higher, G3 with 250Mhz or faster Windows 98 SE/Me/2000/XP, Athlon/Duron or Pentium with 300 MHz or faster 128 MB RAM or more, and a CD-ROM or DVD drive for installation.

.

AD

Kids can make an erupting volcano, complete with light and sound effects, using this kit.

.

AD

Learn and build your own AM/FM Radio Kit. Safe,solderless,educational and fun!

.

AD

For all those kids who have a burning desire to launch a rocket, this is another creation from the man who created the Ultimate Robot Kit and the Robot Challenge Kit, David Eckold. The Ultimate Rocket Kit contains four different rockets, each with its own mission. Read up on rockets in the enclosed book, build one and get it ready to soar into space.

.

AD