Abramowitz has found that events, along with postcard mailings and radio advertising, bring in a good amount of foot traffic.

"He's a billionaire. I'm just a human," said Matthew Abramowitz, owner of Storyopolis, referring to the store's previous owner, former Microsoft executive Paul Allen.

"Paul Allen had a vision of [Storyopolis] being a vehicle to produce movies and shows for children's TV. The art gallery and book store were a secondary concentration," said Abramowitz. "While this is an intriguing part of the business to grow on, my strong retail background saw the under-realized economic potential in making the art gallery and the book store great."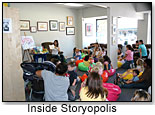 In Abramowitz's words, it's "the ultimate niche company." Storyopolis, according to Abramowitz, is the original children's art dealer and editorial gallery for the world.
For 11 years, its gallery openings have showcased well-known illustrators and authors that appeal to both young and old, from Eric Carle ("The Very Hungry Caterpillar") to Tim Burton to Holly Hobbie. To attract people of all ages, Abramowitz holds numerous in-store events from daytime story hour readings for children, newborn to about age 7, to evening gallery openings that are better suited for adults.
When walking into Storyopolis, a patron's first impression is that it is a warm, inviting place for both kids and their parents. The art gallery at one end of the store offers an open space for kids to be active and for people old and young to examine and appreciate the featured art, as well as discreetly placed benches for nursing mothers.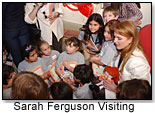 At the other end of the store, the shelves are stocked with every children's book imaginable, plus a deliberate selection of educational toys with a classic feel. Every weekday features a themed story hour, with books read by the store's staff. For example, at one Tiny Tuesday reading, the featured books revolved around body parts, so Dr. Seuss's "The Foot Book" and Cindy Crawford's (yes, the supermodel) "About Face" were the literary choices of the hour.
Abramowitz has found that events, along with postcard mailings and radio advertising, bring in a good amount of foot traffic. Superhero Sunday, held a week before Halloween, encouraged children to dress up as their favorite superhero, while launching Gina Misiroglu's "Superhero Book." The Saturday before Halloween featured a kids' party and the release of the book "We're Off to Find the Witch's House!" And on October 31, which fell on Mini & Me Monday, a Halloween story hour and costume contest were held.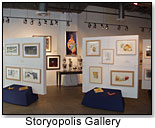 Under Abramowitz's ownership over the past two years, Storyopolis, already successful, has doubled its book and toy sales by playing up its art gallery, focusing on children's literature and continuing to be a fun, friendly place for the whole family.
Business savvy aside, what he loves best about owning and running Storyopolis is the kids. "The looks on their faces when they meet an author or illustrator are priceless. I believe that these meetings with the wonderful talent in my industry will leave an incredible imprint and memory for years to come."