---
Have Music Video Games Strummed Their Final Chord?
Guitars and Bands Rock on Out of the Spotlight
"'Wii Music' was a dud, coming in at 81,000 units in October."

When Activision Publishing's "Guitar Hero III" and Harmonix Music System's "Rock Band" were released last year, the consensus of opinion was that a new genre had been born — one that would relegate the shooter to its well-deserved second place. Numbers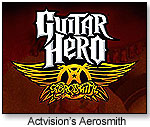 seemed to bear this out: "Guitar Hero III" sold an astonishing 1.4 million units in its first week and "Rock Band" sold a very respectable 364,000 units. Everybody thought "Rock Band" would have done better had it not been for supply chain issues that resulted in widespread shortages and distribution problems.

Guitar Heroes Lose Fame

To cash in on the popularity of the music genre within the video game market, "Guitar Hero: Aerosmith" was released by Activision at the end of June. It sold 567,000 units in the first week and another 400,000 units in the following 10 weeks. These numbers, while good in anybody's book, were thought to be somewhat disappointing. But everybody assumed that "Guitar Hero IV: World Tour," to be released Oct. 27, 2008, would do much better.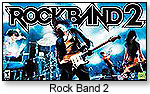 The first "Rock Band" never caught up with "Guitar Hero," but my friends at GameStop firmly believed "Rock Band 2" would do what "Rock Band" did not — match or even overtake "Guitar Hero IV." The release date was designed to steal a march on "Guitar Hero" by being on the shelves six weeks earlier, on Oct. 19, at least for Microsoft's Xbox 360. The Sony PS3 version was released two weeks before the "Guitar Hero IV" date (and the Wii version appears to be delayed into January 2009).

Wii Music Not So Fit

Nintendo, not to be left behind, also decided to cash in on the music bonanza with "Wii Music," for release on Oct. 20. Everybody expected the game to do as well as the phenomenally successful "Wii Fit" released in May 2008.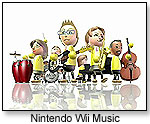 Unfortunately, none of them kept their promises. "Rock Band" sold only 238,000 units in September and October — well below the 364,000 units sold a year earlier. "Guitar Hero IV" was not any better. It clocked in at 534,000 units this year versus 1.4 million a year earlier. And "Wii Music" was a dud, coming in at 81,000 units in October. In comparison, "Wii Fit" sold 667,000 units in its first week on the market.

In November, the picture was not any better. According to GameStop, all three were running way below expectation: "Wii Music" ranked about No. 25, "Rock Band 2" about No. 50 and "Guitar Hero: World Tour" out of sight. One positive is that the World Tour Band Kit is moving well and clearly outstripping supplies. In the overall scheme of things, however, this does not change the picture materially.

I also looked at Web traffic for the three games as being indicative of purchase interest: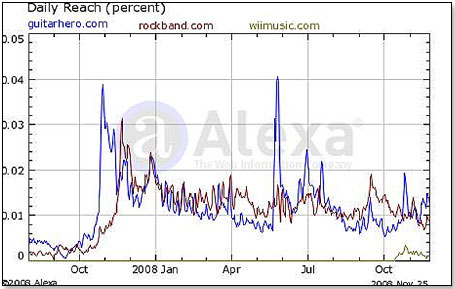 "Guitar Hero" is clearly way below where it was a year ago and so is "Rock Band." "Wii Music" barely makes it above the zero line. Incidentally, the "Guitar Hero" spike middle of this year relates clearly to the "Aerosmith" release.

I also looked at blog metrics because these denote consumer interest levels overall: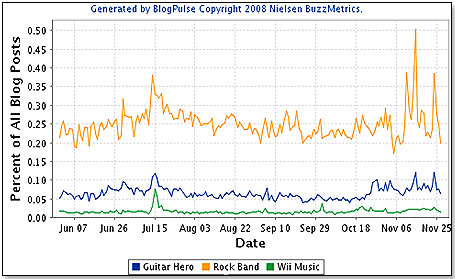 While "Rock Band" does much better than the other two games, interest levels have not budged materially over the past six months.

There are those that argue that the music genre has not done that badly in relative terms since the entire video game market in the United States is suffering from the economic factors besetting all discretionary items. That, unfortunately, is not the case. While clearly flattening out, the video game market is not falling off a cliff. Software grew in October by 35 percent and again in double digits during the first half of November.

Writer's Bio:
Lutz Muller is a Swiss who has lived on five continents. In the United States, he was the CEO for four manufacturing companies, including two in the toy industry. Since 2002, he has provided competitive intelligence on the toy and video game market to manufacturers and financial institutions coast-to-coast. He gets his information from his retailer panel, from big-box buyers and his many friends in the industry. If anything happens, he is usually the first to know. Read more on his website at www.klosterstrading.com.
Read more articles by this author
THIS BANNER IS AN AD:
---
---