---
TDmonthly's Music Expert
She'll Tell You Which Albums Hit the Right Notes
If you want to know which children's CDs may be worth carrying in your store, see what TDmonthly's Music Expert has to say. Each month, she listens to music from various publishers and rates each album with from 1 to 5 TD (for TDmonthly!) stars — 5 is the highest rating. She was blown away by the musicianship, lyrics and creativity found in the following albums: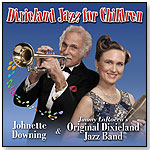 Dixieland Jazz for Children by WIGGLE WORM RECORDS
Age: 4 to 8
Gender: Boys and Girls
MSRP: $15.99

TDmonthly rating:




My Impressions: These musicians know Dixieland jazz style and have produced a really fun CD for kids! At the very beginning of the CD, the lead singer gives a brief story about when and where Dixieland jazz originated. In addition, they introduce each instrument on the CD, one by one, so that kids can hear the difference in the sound. As a music educator, I love how the musicians have put this one together.

Kid's Perspective: One of the great things about this CD is that it is truly not age-specific. Many CDs on the market are targeted at a very small age group, and your child can only enjoy them for a couple years at most. At age 2, my daughter thinks this CD is really fun to dance to, but I know she will be able to continue listening to it for years to come.

My Recommendation: As a musician and a mom, I give this CD a very high rating! The musicians are very good and this music is easy for all ages to enjoy. As a side note, my husband and I thought the last song, "Someday Your Dreams," was very pretty and even romantic.

---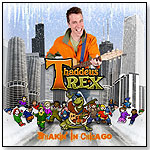 Thaddeus Rex: Shakin' in Chicago by THADDEUS REX PRODUCTIONS
Age: 4 to 10
Gender: Boys and Girls
MSRP: $16.98

TDmonthly rating:




My Impressions: Although there is a small picture of a dinosaur on the front cover, Thaddeus Rex is actually the name of the award-winning singer-songwriter who made this CD. The cover art is well done — whimsical and appealing for kids. The best part, I thought, was the inside of the cover, where, next to each song, the artist tells the story of what inspired him to write the lyrics for that tune. This is a story not often told, and the listener is usually left to wonder what inspired so many great pieces of art. From strictly a musician's perspective, I thought the musicians were all quite good and the songwriting creative and very well done.

Kids Perspective: My 2-year-old daughter immediately latched onto the lyrics. She is trying to sing along, while I'm writing this review, and it's only the second time through the CD! She also seems to comprehend, even at her age, what Thaddeus is talking about. The first song, "Running in the Sun Again," talks about everything you can do while playing in the backyard. My daughter told me right away that she wants to go "swimming in her backyard!" She also said, "He's funny!" She's a big fan.

My Recommendation: I would highly recommend this CD to any wanna-be writer kids. Within the cover of the album, Thaddeus does an amazing job of encouraging kids to write down their thoughts and musical ideas. He also sponsors a writing contest for kids each year called "Write Like a Rock Star." What a great mentor for the next generation!

---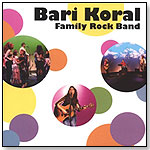 Bari Koral Family Rock Band by LOOPYTUNES
Age: 2 to 7
Gender: Boys and Girls
MSRP: $10.00

TDmonthly rating:




My Impressions: This is a great CD! It only has six songs and is not equipped with a fancy, expensive cover, but it is a quality musical product of which the artists should be proud. The style of the tunes is pretty traditional pop-rock, like something you would hear on pop radio. The lead singer has a pretty voice, and great control over pitch and diction. I love being able to understand every word she sings! The band should also be applauded for their excellent time (control of rhythm) and great choice of musicians.

Kid's Perspective: You would be hard pressed to find a kid who would not love this album — from baby to teen! My 2-year-old daughter was really happy and excited from the minute we turned it on. She immediately started swaying and trying to sing along. The lyrics are easy to learn and also include some fun, nonsense syllables, such as "la la la" in "Dad's New Car" and "moo" in "The Farm Song." My daughter caught onto these right away and was singing along and jumping around the room to the song "Jump."

My Recommendation: This is a fun album for kids of all ages and provides easy listening for parents, too. It would make a great holiday gift for any family!

Writer's Bio:
Anna Bendorf received her Bachelor of Music in Piano Performance in 2004 from the University of Oregon, where she gained extensive experience as an accompanist and solo performer. While studying music, she won several piano competitions and sang in the University audition choir and the Symphony Chorus. She has been teaching piano for the past 14 years, and she and her husband, Adam, run Alberti Publishing, a music publishing company. They co-authored a book for piano teachers called "The Right Notes" (November 2008). Adam and Anna have two daughters.
Read more articles by this author
THIS BANNER IS AN AD:
---
---