---
Retailer Spotlight: Pun's Toy Store
Shop Maintains Comfortable and Creative Environment for "Guests"
"The trick was to hire a new staff and instill in them the concept of treating customers as if they were guests in your own home." — Joe Berardoni Sr.

For Joe Berardoni Sr., owning a toy store came as a natural outcome of a job he landed 28 years ago. It involved managing a toy department and purchasing product for a privately owned small department store — experience that eventually opened the door for him to purchase Pun's Toy Shop in Bryn Mawr, Pa., from its original owner in 1996.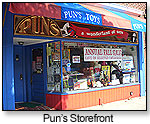 QUICK START REQUIRES LOANS

"I had come to know him as a friendly competitor, and he asked if I was interested," Joe told TDmonthly Magazine. "I was offered Pun's with the stipulation to act quickly, so I was without any personal start-up capital. All the money had to be borrowed, and that still presents problems to this day, paying back those initial loans. At the end of each year, a decision is made as to how much debt can be reduced according to that year's receipts."

Other than raising capital, Joe felt he had an idea of what to expect, since the store had been in business for 13 years and he had 16 years of experience himself.

"The trick was to hire a new staff and instill in them the concept of treating customers as if they were guests in your own home, where no reasonable requests could not be handled," he told TDmonthly.

PATRIOTISM AND FAMILY TIES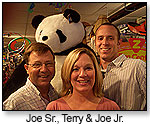 Over the years, Joe's philosophies have worked, and he has gained a loyal following. His biggest success, he said, came on 9/11.

"I had been in the hospital for tests and called my son, who was working at the store," he explained. "I told him to put an American flag in the window and close up. He told me he couldn't, because several moms had picked up their children from area schools and gathered at Pun's. We stayed open most of that day, just talking to people who said they came in because they felt comfortable here. I'm most proud of that."

Joe's son, Joe Jr., has worked with him since he bought the store, even though he was in high school at the time.

"Since then, he has been the driving engine behind our success," Joe said. "My wife, Terry, left her career in hospital administration to work with us full time three years ago. She has been a truly valuable addition along with my daughter Jaime and daughter-in-law Danielle, both teachers who help part time."

Pun's has won awards for selection and service, which Joe feels sets them apart from the competition. Joe has learned to fill the store with products he is truly excited about, and has stayed true to the "specialty toys" concept.

FROM CENTS TO OPULENCE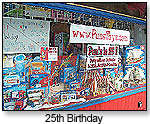 "We give outstanding customer service and an unusual mix of quality products to separate us from the mass market," he said. "The mix is, we feel, a bit more unique than even our fellow specialty stores because of several items we find at gift shows — ones that stretch the toy concept. Although a bit extravagant, we have sold a couple of exquisite music boxes retailing at over $3,000 each. On a shelf nearby are figurines selling for 59 cents."

Exciting toys and gifts don't equal an easy job, though. As Joe told TDmonthly, "Any retail, including toys, requires hard work, and lots of it."

Of course, a bit of fun doesn't hurt. This September, Pun's celebrated its 25th anniversary with a storewide sale, free raffles, giveaways, and cake for everyone.

Writer's Bio:
Brenda Ruggiero is a freelance writer from western Maryland.
Read more articles by this author
THIS BANNER IS AN AD:
---
---