---
Regional Reports: What's Selling … And Where
Find Out What's Going on in Stores Near You
Only interested in what's going on in your market? Take a peek by region to see what to stock and when to think twice: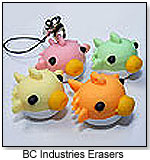 New England Trends by Chris Lundy

Uglydolls by Pretty Ugly, Iwako Japanese erasers from BC Industries, and Ganz's Webkinz are still strong. Schleich and Breyer lines are doing well, but air guns and other outside toys seem to be waning as the temperature cools.

In the hobby arena, remote-controlled helicopters still rule the air. One storeowner attributed this to television ads for the toys. Storeowners that have a sense of trends noticed that people want more bang for their buck. They want to make sure that the toy they buy inspires creativity and is used for a long time.

"More and more people are buying kits as opposed to ready-to-run. I think that has to do with the economy," said Craig Trachten, owner of HobbyTown USA in New Milford, Conn.

Toy stores that carry electronics said they focus on the creative kind, such as Snap Circuits by Elenco.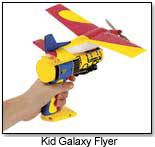 Mid-Atlantic Trends by Brenda Ruggiero

Most toy stores said they don't carry hobby items. Dean Smith of JaZams in Pennington and Princeton, N.J., noted that there were fewer people working with hobby items, and they weren't requesting these things at his store.

The flying toy that stood out was the Backyard Flyer by Kid Galaxy, mentioned by six of the 10 retailers interviewed. In addition, the majority of the retailers stated that they don't really carry electronic items, and recommend board games to customers instead.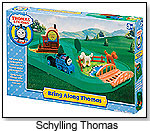 Southeastern Trends by Sharri Hefner

In the Southeast specialty toy market, Kid Galaxy Morphibians tops the RC arena, even though one owner thinks a newcomer called Extreme Wall Climber will take over soon. Thomas the Train has made a comeback in the train field. Due to the current economy, many owners believe customers are buying more games for the whole family rather than individual gifts for each child. Educational Insight's Kanoodle, Mayfair's Settlers of Catan and Bananagrams seem to be the strongest performers. Additionally, toys that can be accessorized are popular, as a child's interest can renew with each new accessory.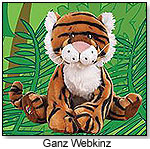 Midwestern Trends by Terri Hughes-Lazzell

Most specialty toy stores are not in the hobby business. This area seems to be difficult to handle with limited space and so many high-end items. Electronics are also not popular in most specialty toy stores, where the focus is more on toys that require imagination and analytical thinking. Webkinz remain a hot commodity.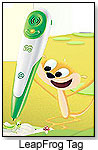 Western Trends by Claudia Newcorn

The majority of 13 toy-store owners interviewed said they don't have a hobby section. One mentioned that cloud b toys are becoming more popular.

Aircraft and flying toys are not the most popular items, but mentions included Jet Hawks, SkyBlades, Kid Galaxy, Stomp Rockets, Pump Rockets, Aerocopters, and Guillow's balsa wood planes. Almost no store claimed to carry electronic toys, but three shops said they stock LeapFrog products and Radica's 20Q.

Retailers sometimes try to steer customers in an alternate direction, although several observed that customers coming in for an electronic game are often "set" on getting that type of game. Suggestions include eeBoo's Towers, BearyTales plush bears, Uncle Milton's remote-controlled snake and spider, and Learning Curve educational toys.

No one toy or game received more than one mention with regard to being a current best seller.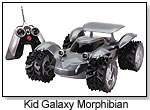 West Coast Trends by Marie Raven

In terms of hobby product, most retailers said they did not sell very much that they would consider "hobby level" RC or trains. Kid Galaxy's RC line had good representation particularly with the Morphibian, as well as with its Backyard Fliers in the aircraft/flying category. Specialty retailers also tend to stay away from electronics, preferring more kid-driven toys.

Here are some of the toys retailers across the nation talked about last month:







.

AD
---






.

AD
---






.

AD
---






The plush is also a nightlight that projects an entire night sky onto the ceiling and side walls of any room. Additionally, it brings awareness to five endangered wildlife creatures, each highlighted on the turtle's shell. Simply press on each button to learn about a different creature, such as the California sea otter and the blue whale. A little storybook is included to provide facts about each endangered creature. Launch date: February 2008.

.

AD
---






This 4" mini version of Plunko, who's a businessman and owner of a car wash and tire store, is ideal for toting around on a purse or backpack.

.

AD
---






.

AD
---






.

AD
---






The unit functions as a database of virtual flash cards, displayed on a 2-1/2 screen. One GB of information can be stored on the unit's built-in flash memory drive. The system also features music-playback, language translation and software download capability. Launch date: Fall 2008.

.

AD
---






This game is a friendlier version of the classic 20 questions game, created with younger children in mind. The game itself features simplified questions and answers and is built to better fit in small hands. To play, kids simply think of an object and then answer a series of 20 questions about the object. 20Q Junior is programmed to engage in child-friendly banter and enthusiastic encouragement. Kids can use color-illustrated and themed picture cards to help them identify an object.

.

AD
---
THIS BANNER IS AN AD:
---
---