---
In This Issue
Retailers' Tips and Gifts for the Holidays
If you're going to Toy Fair in February, prepare with TDmonthly Magazine's videos and tips here. And if you're looking for a quick daily rundown of new specialty fare and best-selling toys, hit our redesigned homepage at ToyDirectory.com for at-a-glance research that will make your job easier. Read on to see how else this issue can brighten your holiday season.

MAKING DAYS MERRY AND BRIGHT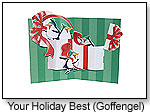 Keeping customers and staff happy throughout the month of December will no doubt make for a more lighthearted holiday season. In "Retailing Tips: Keeping Customers' Spirits Light," find out how to avoid doom-and-gloom predictions, see what covering sales tax did for one store's sales, and catch retailers' advice on maintaining your store's appearance and promise of play. As ASTRA President Kathleen McHugh said, "You set the mood."

FREE FOR THE TAKING … AND SHARING!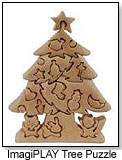 'Tis the season for giving, and that's why TDmonthly is thrilled to let you know about its newest feature: an ongoing FREEBIES article that points you toward demonstration videos, research links and reviews that you can easily share with your customers to help answer their questions and encourage them to appreciate specialty toys even more. In the latest installment, tap into videos for dolls and games, as well as links to the comprehensive consumer version of TDmonthly's Specialty Toys Report, "Positive Toys for a Promising Future."™

FORGET THE SAME OL' TOYS

Ready for something new? Check out some of the latest specialty toys in our Staff Picks article for December. We'll even given you a sneak peek below: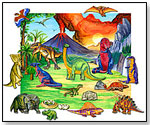 MSRP: $16.95

Age Range: 3 to 7SKU or Item #: 54019Launch Date: November 2008Gender: Boys And Girls





Step back into the alluring world of the dinosaurs. The colorful and dramatic illustrations make this felt play board a fun and educational activity that will captivate the attention of young children for hours. This product will encourage expression, exploration and creativity through play. Launch date: November 2008.

ToyDirectory Product ID#: 21138

(added 10/29/2008)

.

AD
---




MSRP: $25.00

Age Range: All AgesSKU or Item #: W10004Launch Date: January 2008Gender: Boys And Girls





Wezens have descended from outer space and come to Earth with one objective: to cuddle. Mobelli is an industrial alien who gets no greater joy than accomplishing as much as possible. With four arms to hold onto things and three eyes to see three times as much, Mobelli would surely be the most successful alien ever — if only he had opposable thumbs. Wezens are cuddly stuffed critters in lively bright colors. Each character is designed by Dutch designer Rogier van Zijp and Dutch comic artist Boris Peeters. Wezens are "fun for adults but loved by babies and children as well," Rudi Besseling, general manager of STUDIO SPOON B.V., told TDmonthly. They feature a "completely different design compared to what's available on the common plush market, and [are] still round and 3D-shaped unlike most other designer plush." Launch date: January 14, 2008.

ToyDirectory Product ID#: 21057

(added 10/27/2008)

.

AD
---




Age Range: 2 and upSKU or Item #: TBDLaunch Date: March 2009Gender: Boys And Girls





These building blocks have soft connectors so children can easily build with them. They are tactile and great for early spatial learning.
Awards: Parent's Choice Award 2010. Launch date: March 2009. (Product was formerly dist. by PlaSmart)

ToyDirectory Product ID#: 21019

(added 10/27/2008)

.

AD
---

Writer's Bio:
Julie L. Jones has written articles for both newspapers and magazines. Before joining the staff of TDmonthly Magazine, she worked as a communications writer and provided editorial support for a market research company.
Read more articles by this author
THIS BANNER IS AN AD:
---
---